BP Eric Adams To Cops: 'This Bullet Isn't The One Shot You Need'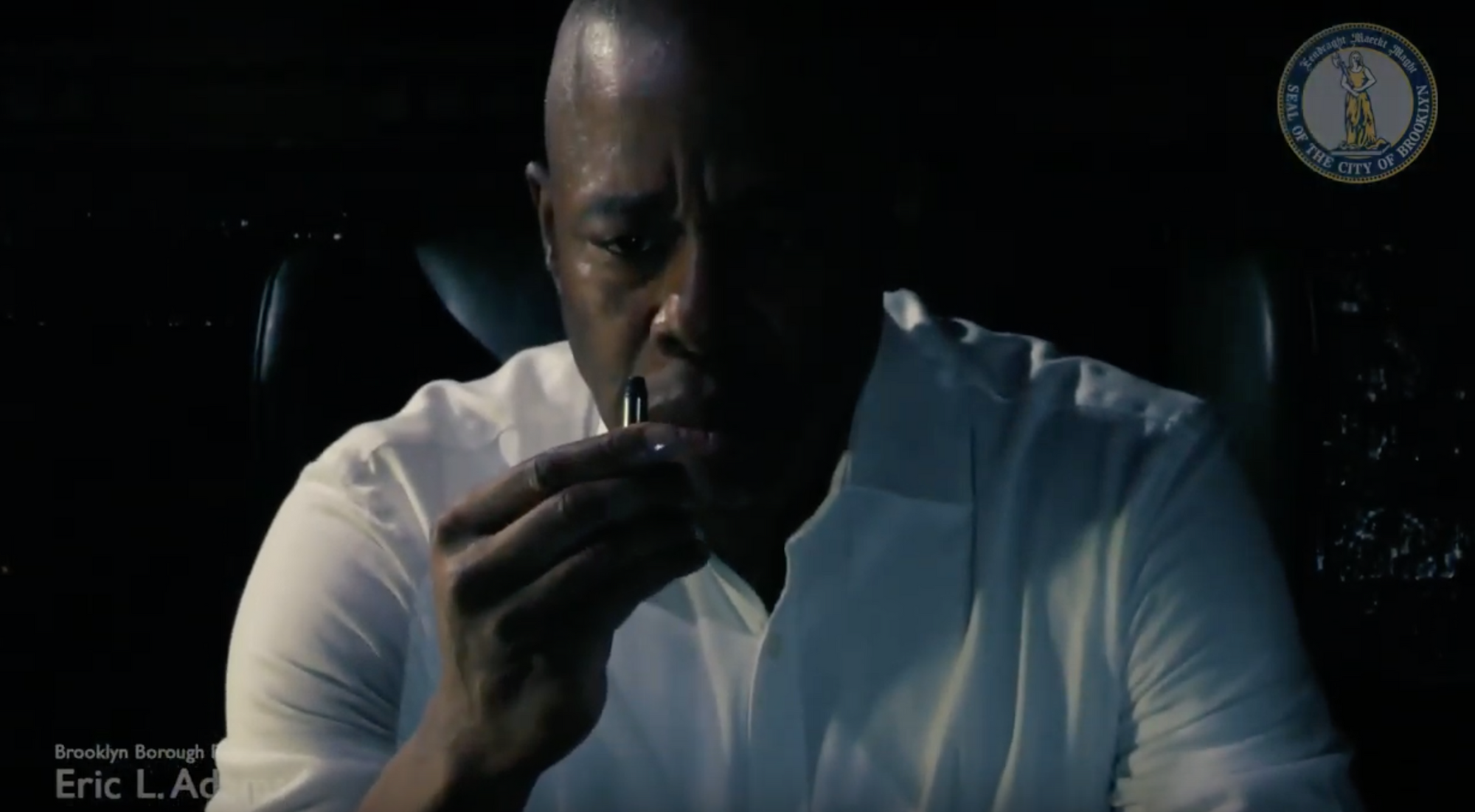 BOROUGH HALL – In an effort to raise awareness and help end the stigma for seeking help for cop's mental health, Borough President Eric Adams released a very powerful, vulnerable video this morning.
The 2:30-minute video features Adams, a former NYPD cop, sitting in a dark room. He picks up a bullet and says in a voice-over, "This bullet is one shot. We may think we only have this one shot. But don't use this one shot to miss out on the many others you have."
"You were trained to respect and support the community in need. But we may not know we need support."
This video comes after the nine NYPD officers have killed themselves this year. In fact, last year, the suicide rate in NY jumped to nearly 30 percent. Seeking help for mental health is a tough task for anybody, especially for cops who deal with traumatic events every day. Though Adams himself has never contemplated suicide, he does know many who have, he told Bklyner.
"PTSD and vicarious trauma are silent killers. We often expect officers to maintain their physical abilities, but we rarely assist with addressing their mental needs. New tools must include re-training on how to deal with the stress of the job," Adams told Bklyner. "The video is meant to underscore that anyone could go through this mental trauma and help is available."
In the public service announcement, he speaks directly to cops about his personal experience, saying he needed his family, friends, and community to deal with the trauma that came with being a cop.
"I began to overcome the stigma for seeking help going beyond the idea that it makes you less of a person. And I know what some of you may think. But, getting help won't go in your file. And there are organizations you can trust like Police Organization Providing Peer Assistance (POPPA)," he said. "For me, it was meditation. And it continues in my life today to protect my mind and my body. Because no matter how physically strong you may be, the kind of mental strength required to witness and ingest hatred, violence, and stress in this career takes its toll on you"
The video mostly features shots of Adams solemnly sitting in a dark room with a bullet. At one point, the voice-over went away and Adams spoke directly to the camera.
"When I look down at this one shot, I started to process that this one shot wasn't what I needed to fix anything in my life," he said staring at the camera. "Instead, it will ruin all the other shots I had."
He got more personal and spoke about his son.
"The one shot I had to be a father to my son, the one shot I had to be there with my family, the one shot to be a part of the lives of my friends," he said. "During my turbulent law enforcement career, we may not have agreed on everything, but I am here to tell you that this is the moment to make a decision. Not just for yourself, but for your loved ones."
Then, his son walks into view and sits down next to Adams. All of a sudden, the darkness goes away and the room gets brighter – as if it were done on purpose to acknowledge how family could make a difference.
"The one shot you need is in you to not miss any shots in life," his son said. "When dad got help, it helped me."
When asked why seeking help is so taboo, Adams told Bklyner, "We have stigmatized the individual who says they need help. Although the system says you can get help, the trust isn't there."
"Until we build the trust by reaching out to stakeholders and create a system of trust, people will continue to be reluctant to get help," he said. "We also need to be clear on what the definition and symptoms of trauma are, so it's easier to identify."
Just this week, Congressman Max Rose helped introduce legislation to establish "9-8-8" as the universal telephone number for the national suicide prevention hotline system.
"What we've seen with these tragic suicides among NYPD officers is that all too often, the barriers for getting help are just too high. When people make the difficult decision to seek help, every second counts," Rose said. "We're in the midst of a mental health crisis in this country, especially among law enforcement, first responders, veterans, and the LGBTQ community. The data shows that suicide hotlines save lives, and we need to be doing everything we can to make them as accessible as possible."
Adams agrees and believes that even though people don't recognize the trauma that comes with being a cop, cops don't recognize it either. And that needs to be changed.
"We don't realize PTSD and vicarious trauma happens to those who interact with people experiencing trauma," he said. "Neurologists have shown that the brain does not know the difference between going through a traumatic experience and thinking about that experience. It's time for our treatment of each other to follow the science."
To get help or speak to someone, here are some organizations: POPPA (888)-267-7267, NYC Well (888)-692-9355, and the National Suicide Hotline (888)-273-8255.