Equality For Flatbush & Community Members March Against Gentrification, Tenant Abuse & Police Violence In Flatbush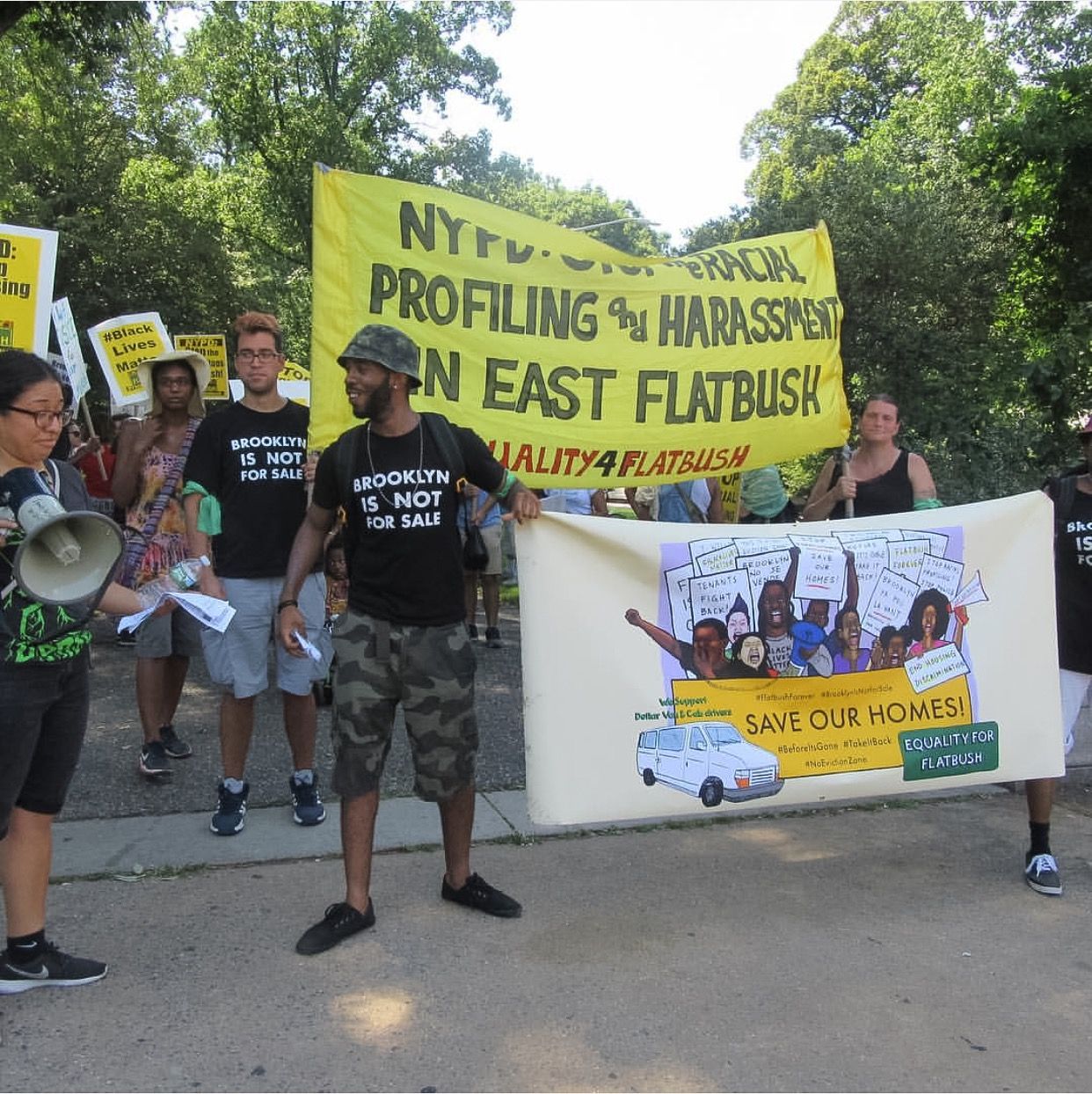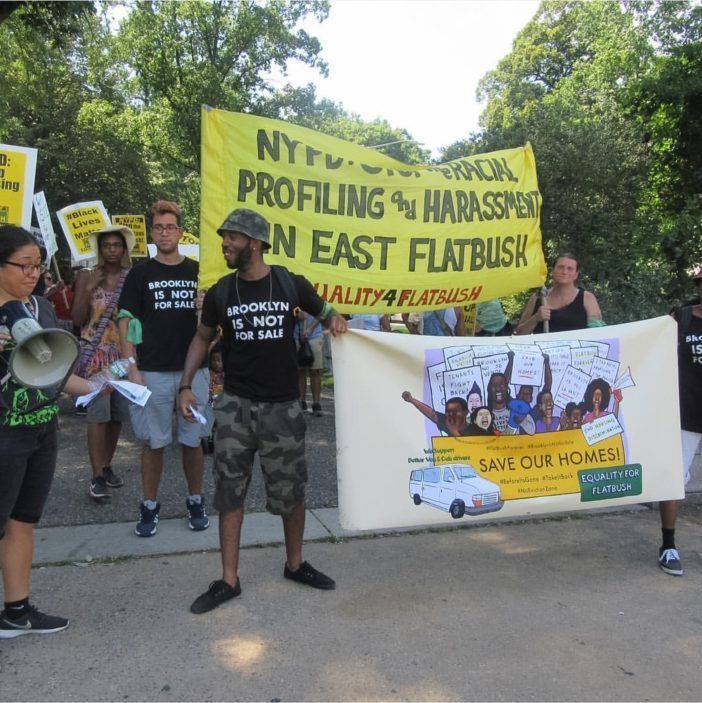 On Saturday, August 13, protesters converged near the corner of Flatbush Avenue and Empire Boulevard to march against gentrification, tenant abuse, racism and police violence. Armed with water bottles, signs, and banners on one of the hottest days summer, this group was part of the inaugural event to protest this combination of issues in Flatbush and East Flatbush, according to Imani Henry.
Henry, an organizer with the Equality for Flatbush, said about 250 people participated on Saturday but many more contributed work behind the scenes.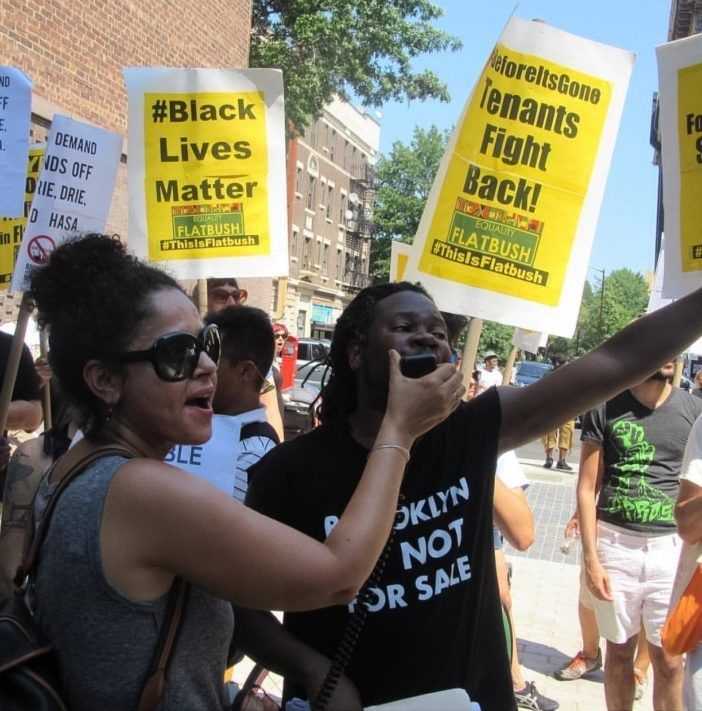 "Two hundred and fifty people from all over Brooklyn braved the heat to march in the sun, but there were hundreds more who participated in this effort beforehand. Many people went door-to-door to get endorsements from businesses, who then put up flyers in their windows or on their walls. All the folks who were out leafleting late into evening or the people in the community who asked for more flyers for their buildings and churches," Henry said.
During the initial rally, community members and organizers addressed the crowd, then the group marched through Flatbush to raise awareness on the dangers of higher rent prices, gentrification, tenant abuse and police violence. Equality for Flatbush posted the march live through social media, widening the event's reach.
The protesters made several stops along the route, including one in front of the real estate office Myspace NYC located on Flatbush Avenue, before making their way down Bedford Avenue to the 67th Precinct.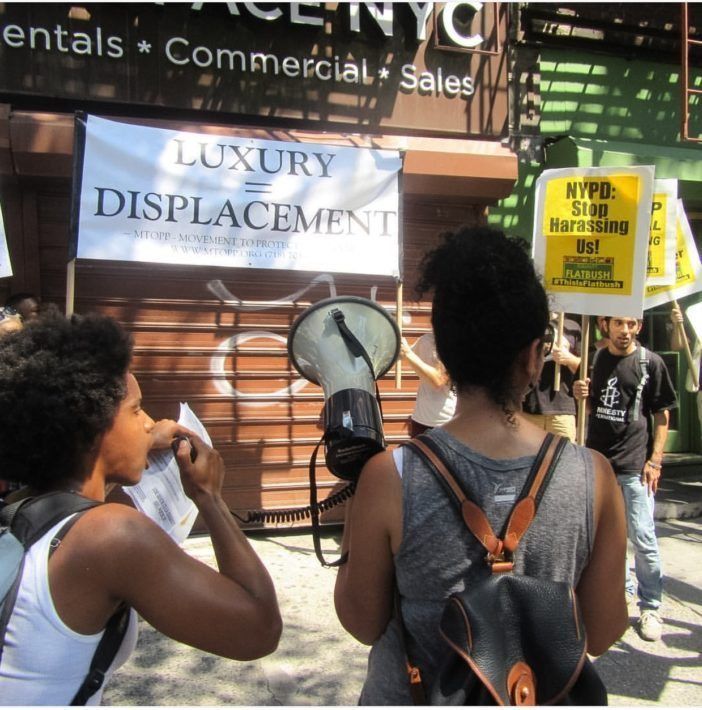 For participants, the issues hit close to home. "It's important for all residents of New York City, and in particular those of us who live in Flatbush and East Flatbush, to support this march," said Judy S. Jones, a tenant leader who lives in Westbury Court. "To stand up against police violence, gentrification, and racism. To have a voice in the future of the shaping of this community, where we can all prosper in peace, love and unity."
Other Flatbush residents echoed Jones' sentiment. "I am marching with Equality for Flatbush because I live in an amazing community and I'd like to keep it that way," said Sonya Palmer, Equality for Flatbush activist. "I have lived in Flatbush all my life. On my block, people say hello to you on the street and ask you how your mom is doing. We have some of the most beautiful architecture in all of NYC. We have some of the best doubles and jerk chicken in all of NYC. My neighborhood doesn't need to be "developed." My community's worth shouldn't be based on how many white people live here or how many coffee shops we have. This is why I'm fighting."