Epoxy Gravel Laid Down As Latest Part Of Vision Zero Changes In Sheepshead Bay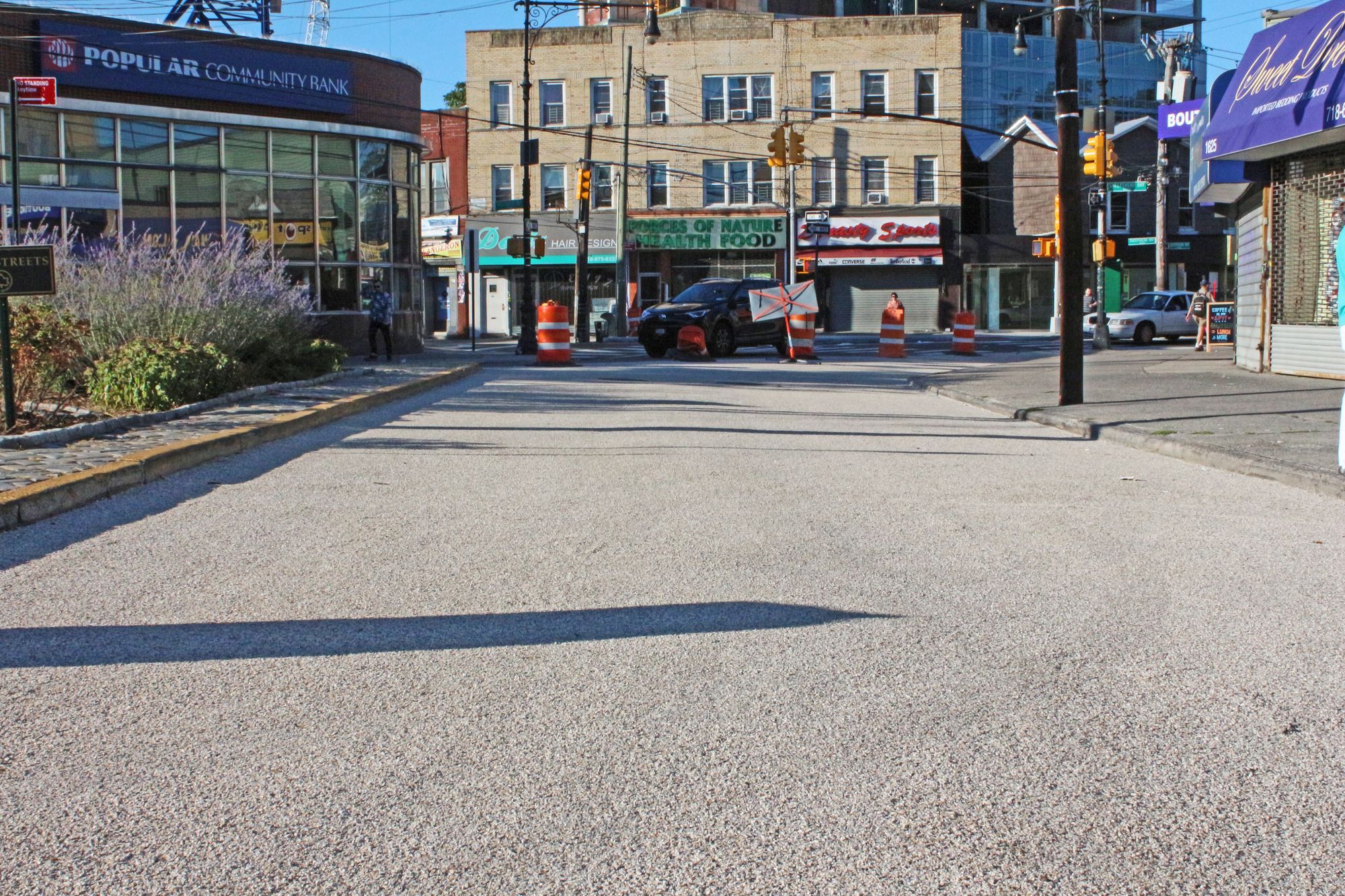 You may have noticed the light brown gravel that was laid down on East 15 Street between Avenue Z and Sheepshead Bay Road as well as the Jerome Avenue slip from East 17 Street to Sheepshead Bay Road. This is the latest change to that area in the Vision Zero plan to improve pedestrian safety at Sheepshead Bay Road.
The two roads that were paved with this gravel are closed to traffic, and have been since April. They are now for pedestrians to safely move between the B36 bus stop on East 15 Street and Avenue Z and the subway station on Sheepshead Bay Road and East 15 Street.
"The material is used by DOT to delineate street closures," said a Department of Transportation (DOT) spokesperson. "East 15 Street between Avenue Z and Sheepshead Bay Road and the Jerome Avenue slip have been closed to vehicle traffic as part of the project since late April. Flexible delineators will also be installed to reinforce the street closures."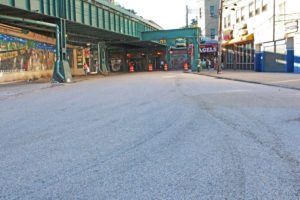 The DOT says the project makes the area safer. Between 2007 and 2013, there were 74 injuries from motor vehicle collisions in the area, seven of which resulted in serious injury or death, according to the city. DOT acted quickly to roll out the proposal after a 62-year-old woman was struck and killed by a B36 bus at at East 17th Street and Avenue Z.
The changes to the B36 bus route have hurt businesses in the area. Last week we reported that Bay Pizzeria, a food staple of the area, closed down. When the bus route moved, the owner complained that his business was depleted.
"The whole street is quiet now. That B36 stop helped a lot. People would run in and grab a slice while they were waiting for the bus," he explained. "Since it's not there, that revenue is not coming in any more."
The logic behind moving the bus route was to avoid buses making unnecessary turns that slow traffic and pose risks to pedestrians, according to the DOT. The B36 now moves straight down Avenue Z rather than winding between Avenue Z and sheepshead Bay Road via East 15 Street and East 17 Street.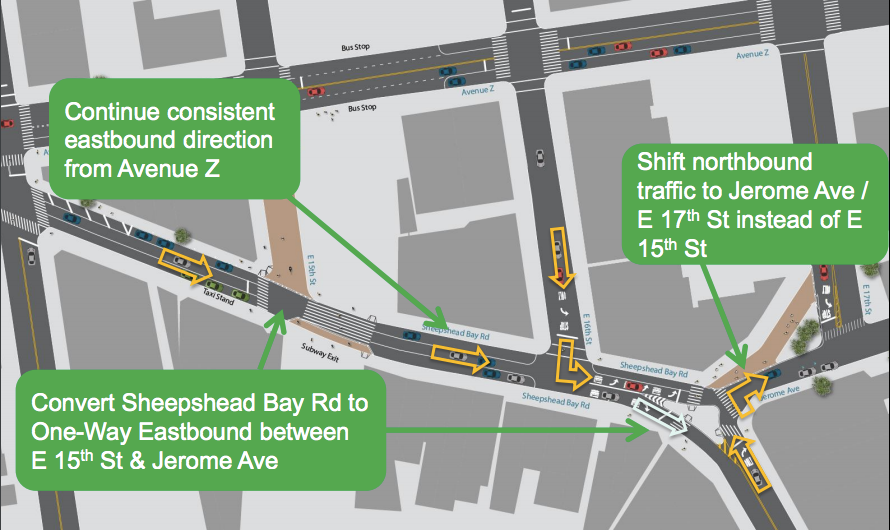 Also, a taxi stand was installed just west of the subway station on Sheepshead Bay Road and East 15 Street.
These closed streets with the light brown gravel, called epoxy gravel, set up a possibility of having a pedestrian plaza such as the closed street areas in Times Square, Union Square, and Madison Square Park. The DOT lists options for these areas such as public bathrooms, and public art displays, but says there is no formal plans for a pedestrian plaza.
Community leaders and civic groups have been nearly unanimous in their opposition to the Times Square-style pedestrian plaza. At a civic group meeting, neighbors seemed ready to tear the limbs off city officials for steamrolling over opposition from the community board.
"Looks as if the two streets will become pedestrian malls, something we've never had in the bay before," said reader Bob De Thomas. "Adding bistro tables and chairs would be a nice touch. I guess we'll see what happens in the days and weeks ahead."
A poll conducted by Sheepshead Bites in June showed that most members of the community like the plans but think it needs minor tweaks. It is upon us, so tell us what you guys think about the changes.