Embed a Piece of Yourself in the Newkirk Mosaic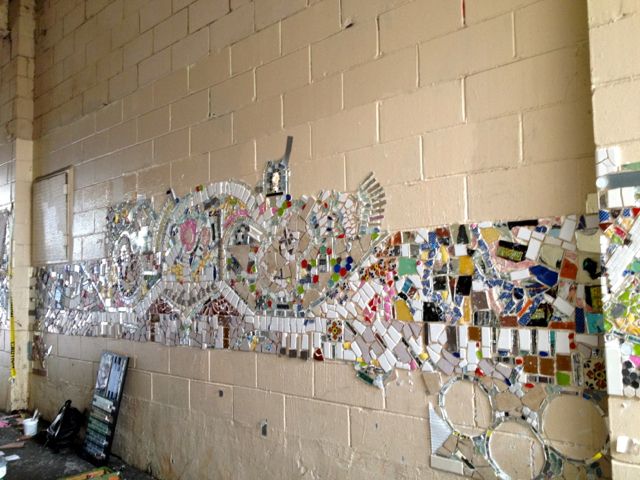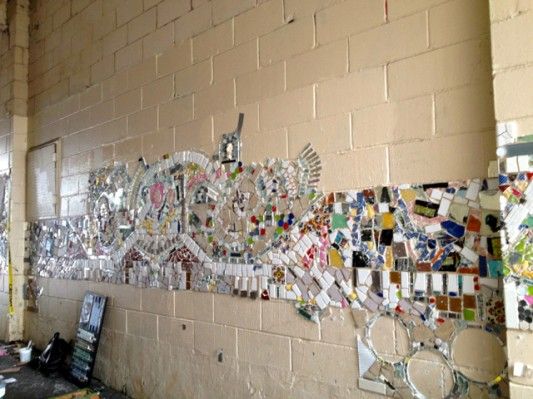 If you'd like to see a piece of yourself in the expanding mosaic mural in the Newkirk Plaza passageway, here's your chance. The Brooklyn Recycle Project could use some materials for the mosaic, so if you've got broken pieces of tableware, leftover tiles from a home renovation project, or even a broken mirror, it could become a part of the art. It just needs to be somewhat thick (like a plate, or a heavy mirror). If it's something they can incorporate into the project, you might end up seeing it as you pass through every day.
The crew will be working on the piece tomorrow, Thursday, January 17, so you can drop items off with them directly during the day. If you can't stop by tomorrow, Leon's Fantasy Cut on Newkirk Plaza is also collecting pieces, so you can drop them off there during his regular business hours, Monday-Saturday, 8am-7pm.
This community support will add to the donations that have been the base of this project, which has come about without any public funding. Artist and neighbor Carlos Pinto explains that the money they have raised has been from friends and community members, money that's been used for supplies. Carlos and his crew are volunteering their time.
"I live here in the neighborhood, and I want to help make it beautiful," he tells us. "A lot of the people who pass by while we're working have been encouraging, especially the children. When kids see it and it makes them smile, it's really nice to see."
Because the weather is getting colder, they will pause the work. Grout will be applied to the part that is already complete, which will serve as an anchor for the parts what will be added above.
They could also use a temporary storage space for materials. If you happen to live nearby and have space they could use, or would like to help with the project when it continues, contact the Newkirk Cares Collaborative at newkirk.collaborative@gmail.com.