Em Brings Delicious Fusion of Vietnamese and Chinese Food to 86th Street
BENSONHURST/BATH BEACH – About three weeks ago, Em, a new Vietnamese restaurant quietly opened at 1702 86th Street. The bright, friendly space is the creation of Partick Lin, his wife Thi Ly Nguyen, and Ricky Hu, and showcases Ly's recipes –  a fusion of Chinese and Vietnamese flavors.
Ly grew up in Tu Bong, and later in Saigon, where the couple met during one of Patrick's trips to source Longans for his family's fruit import business. She won him over with her Hu Tieu, now on the menu at Em.
We had stopped in for lunch and ended up chatting with Patrick over a bowl of what else –  Hu Tieu Em, the signature noodle soup, with pork ribs, quail eggs, chives, cilantro, and scallions, served in rich yet not at all greasy pork and seafood broth. Ly was cooking.
There seems to be a story behind every dish on the menu?
Hu Tieu Em is a recipe my wife did a lot of research on by asking family & friends, as it is usually something associated with the local Chinese & Cambodian community in Vietnam. The origins of the noodle soup are in the Chaoshan region of China, the region where all four of my grandparents were born.
There are many Chaoshan people that immigrated to Southeast Asia at the turn of the century but over time a lot of local flavors from Cambodia & Vietnam were added to the noodle soup recipe (and every vendor in modern Vietnam also does it a little differently). She did add some of her own flair to the dish, usually it is not served with the pork ribs.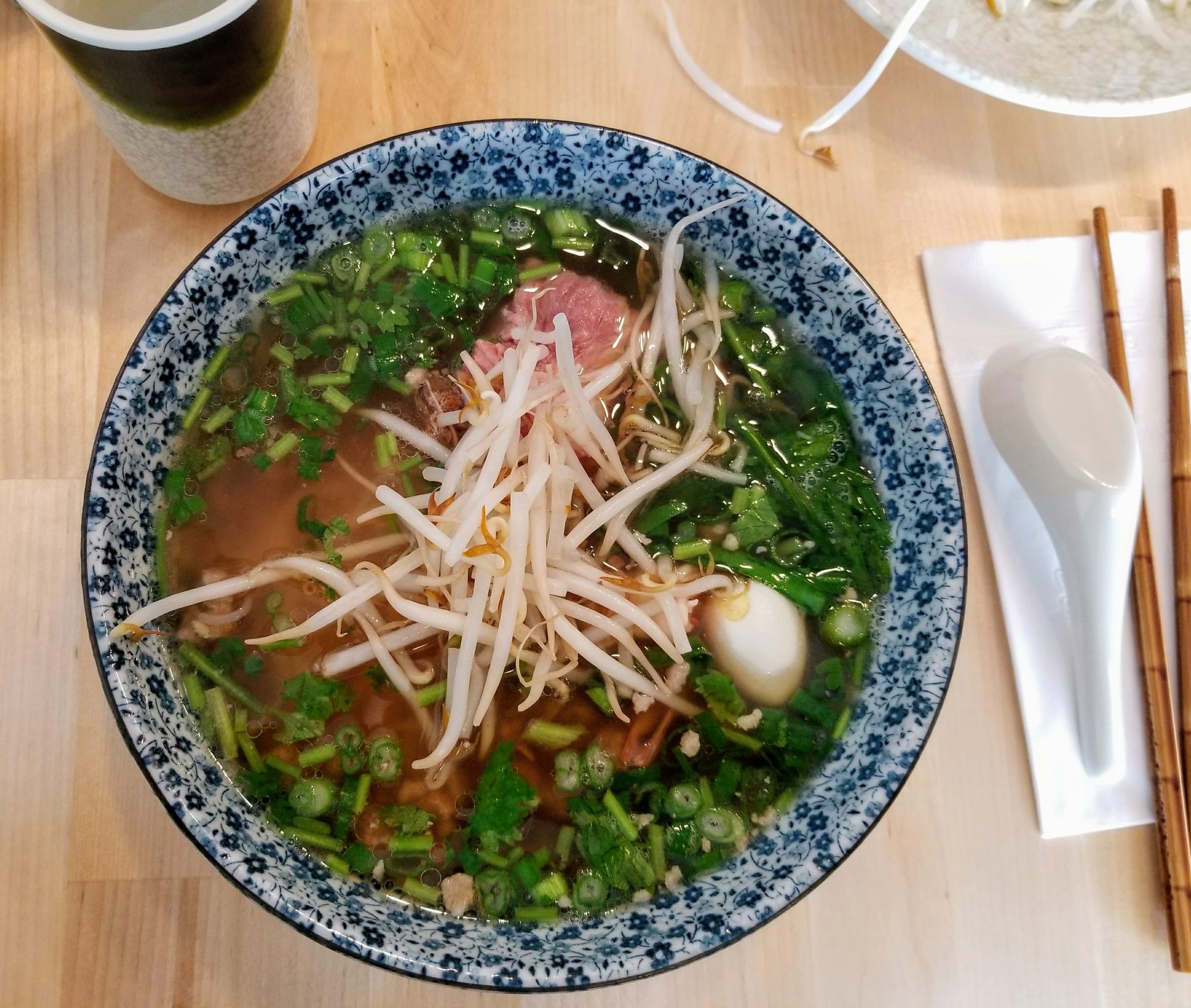 Our Pho Ga recipe was modified from Ly's mom's recipe, who owns a catering business in Vietnam, and we went through a lot of trouble to source the right variety of chicken. We actually deal directly with the chicken farmer in New Jersey and then a meat processor in Brooklyn to process the chickens, so it's as close as farm to table as it can get – the chickens are extremely fresh and never frozen. The result is a very clean, fresh tasting chicken broth, where you can taste the very essence of the chicken itself.
Both our noodle soups are rarely found in Vietnamese restaurants in New York.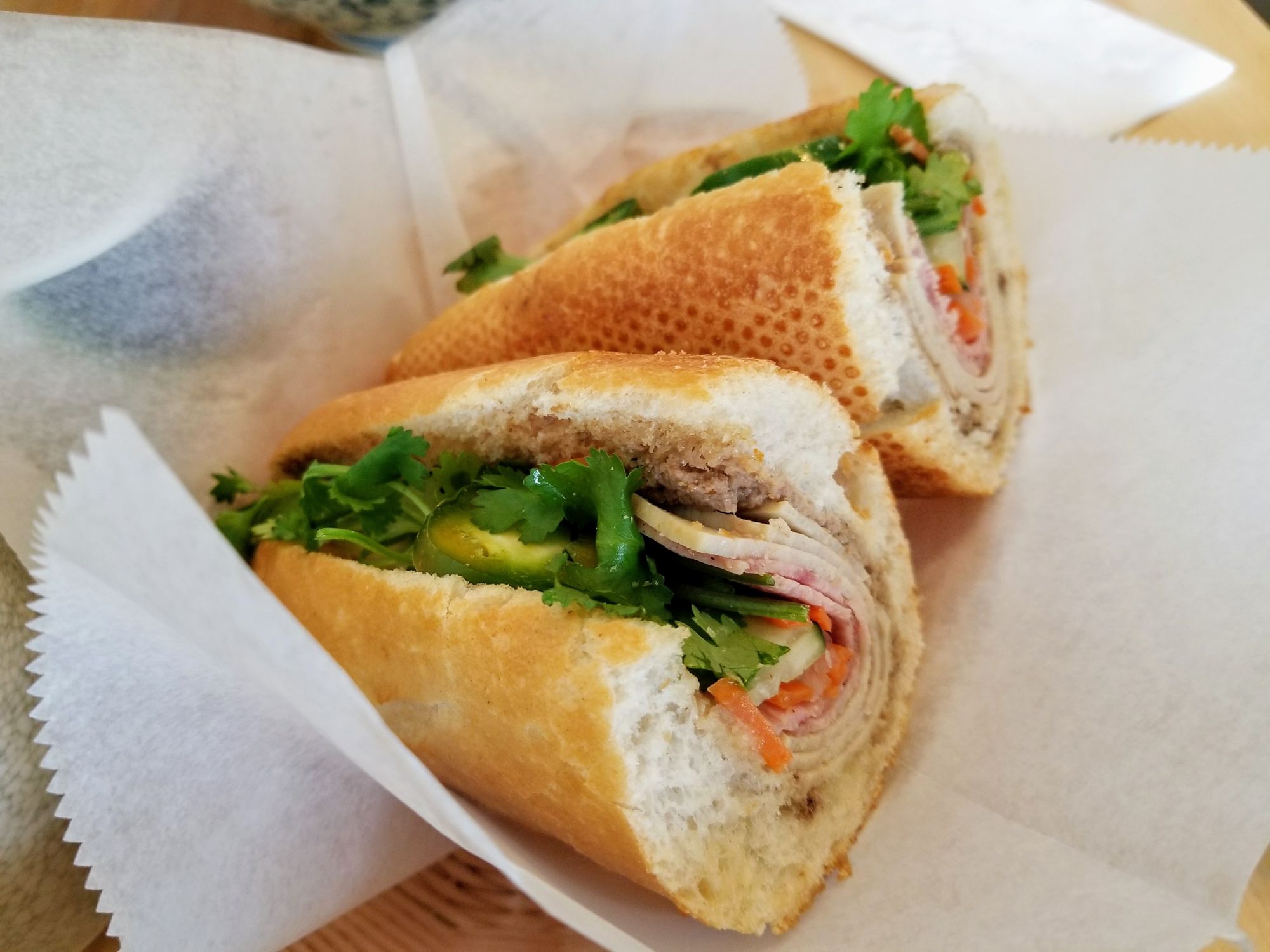 The Bahn Mi was a balanced sandwich, which we devoured even though we did not think we could possibly want anything more than the soup. They make the pate and mayo in-house, and the bread was excellent, too. Perfect soup and sandwich combo, which seemed to be what just about everyone was having for lunch.
What's in stock for the future?
We will be adding a rotating weekly  or bi-weekly special to the menu – they'll all be dishes that would be hard to find on other Vietnamese menus in NYC – we are trying to change the perception that Vietnamese food is just beef pho!
In Vietnam and also in many Vietnamese communities in the United States many street vendors and restaurants specialize in just selling one item – the Pho Ga guy only sells Pho Ga, if you wanted smoothies you could order it from the smoothie stand next door and they'd bring it over to you. We wanted to focus on quality and freshness and not try to add things to the menu just to have them (also – our kitchen is small).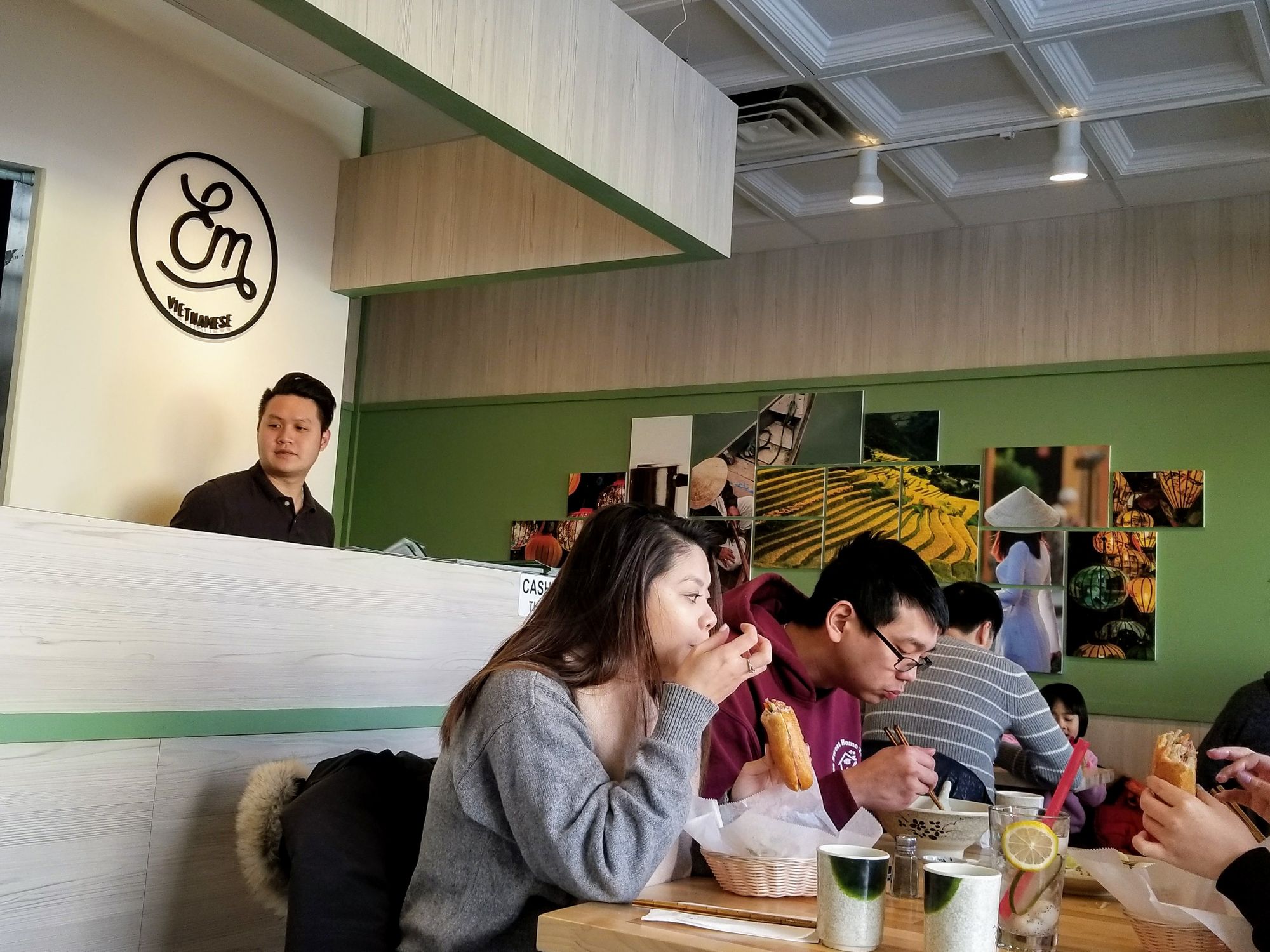 We did not talk about your smoothies – your family is in the fruit business?
You really should try the Aloe, It's Me (yes, a riff on that Adele song) when you are next here. The Aloe Vera comes in as this big cactus-like leaf, we cut it up and then boil it down to remove the bitterness. After it cools down we refrigerate it, and when a customer orders the drink we add lemon, mint, and basil seeds to the aloe. It is wonderful.
My dad and Uncle's company, Fong Shing International, is a fruit wholesaler. My paternal grandmother used to own a fruit stand in the 80's on Mulberry St in Chinatown between Bayard and Canal, there were once a lot of Chinese-Vietnamese immigrants on that street. She had 8 sons and they all ended up in the restaurant supply business in one way or another.
Before he got into the produce business with my uncle, my dad actually was in the meat business and sold a lot of Vietnamese restaurants their beef bones, eye round, and brisket used for making beef pho. After college my father and uncles sent me on sourcing missions throughout the world – Lychees in Mexico, Jellyfish in Honduras, Dragonfruit in Nicaragua, Mangosteens from Thailand, and of course Longans in Vietnam where I met Ly.
My parents were childhood sweethearts when they lived in the Cho Lon district of Saigon. My father left Vietnam with his older brother for Hong Kong as teenagers fearing they would be drafted into the military. My mother left as a refugee a few years later and winded up living in Paris, France (where she worked at a bistro and learned to make mayonnaise). She actually was in Hong Kong on vacation and bumped into my father randomly on the street. The rest is for another story.
Why in Bensonhurst?
I grew up in Gravesend & Midwood and had a lot of friends in the Bensonhurst area. I remember taking the bus to my friend's houses to play video games together or to play basketball or handball at the parks. Ricky had opened KooKoo Cafe, a Chinese breakfast restaurant at the current Em location, but it was not doing so well, so we adapted our menu to the existing kitchen, redesigned the entire seating area, and launched Em.
Em is open from 11 am to 9 pm daily, except Wednesdays, and you can order takeout (delivery starting soon). The space is lovely and offers excellent people watching as the B1 stops right outside.  Soups start at $7.50$ + toppings if you want, drinks between $3 and $6. Em is located at 1702 86th Street (at 17th Avenue, 2 blocks from 18th Avenue D train). 718 232 3888. Folks are loving it on Yelp as well.