El Mexicano Restaurante: Chicken & Pork Tacos – The Bite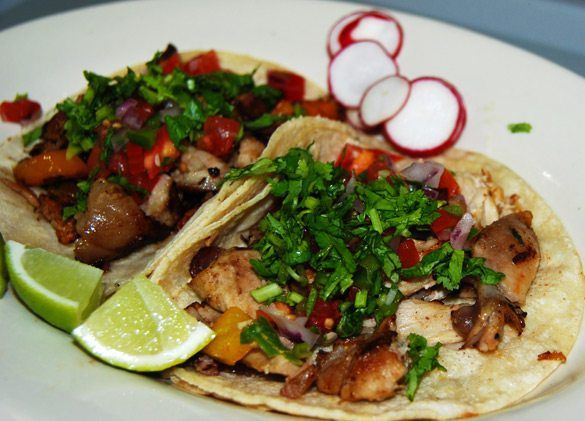 THE BITE: I've always considered Sheepshead Bay as having particularly discriminating tastes, but rather than preferring bougie "artisanal" branded organic tofu made by a Wisconsin native in skinny jeans, we prefer practical food: delicious food priced just right.
Half-price sushi, anyone? I kid!
I guess it's also my Russian sensibilities that attracts me to this type of food, whether Uzbeki samsa, Japanese takoyaki, various forms of street meat, foods born out of necessity, or good ol' New York pizza.
Mexico is a treasure trove of this kind of food but New York, as it seems, has a reputation for lacking good Mexican food. While Ned keeps his favorite Mexican place a secret, one seems to have popped up serving fresh made Mexican fare that might just shut up any whiny Southern California transplant.
Opened one month ago and occupying the former location of Magic Touch 4 U Hair Salon on East 15th Street, off the corner of Avenue U, El Mexicano Restaurante isn't very large, having only 16 seats, and shares its name with another restaurant a block away (no relation).
As you enter you have to navigate some oddly arranged chairs to get to the counter and place your order. The kitchen is completely open and visible and what I noticed immediately was how clean it was.
Of the 20 or so menu items, I have a preference for tacos – and theirs deliver. These are not your Taco Bell hard shell, over-processed quasi-food tacos. These are traditional corn tortilla tacos. The tacos come in a few varieties: chicken, pork, and beef and others, such as tongue for those who ask. Pork carnita tacos and chicken tacos, one of each, have become my "regular" order.
Priced nearly identically to nearby Donut Shoppe at $1.99 each, they belong in a different league, particularly since you'll see them season the meat while it's cooking (what a concept!).
The tacos are loaded with the moist flavorful meat of your choice. It holds its own and is balanced well with a pico de gallo made of tomato, red onion, bell peppers, and jalapenos. If you're averse to bits of fat then avoid the pork, though I personally love the savory mini explosions of flavor and have no problem with the texture.
They're topped with just enough cilantro to complement the taco, which is nice since it's all too common that I find myself removing more than half of the cilantro, but not here since it's added with reservation. This intentional reservation will become obvious if you ever watch them meticulously assemble a burrito, making sure to get the proportions perfect.
The order comes with juicy lime wedges, sliced radishes, which I treat as a palate cleanser, and a slightly spicy and bright tomatillo salsa verde which adds heat and tang to the tacos if you want it (you do!). Two tacos will sate your appetite, and three will fill you up.
Like Louie C.K says, "The meal is not over when I'm full. The meal is over when I hate myself."
Priced well so that you can get a great tasting and filling meal for about $5.00, El Mexicano Restaurante targets the Sheepshead Bay demographic perfectly.
From this writer and Sheepshead Bites, I say welcome to the neighborhood.
El Mexicano Resaurante, 2102 East 15th Street, between Avenue U and Avenue V, (718) 676-2700 or (718) 676-2703.
Currently El Mexicano Restaurante closes at around 1:30 am but plan to be open 24/7 soon. They also offer free delivery.
The Bite is Sheepshead Bites' weekly column where we explore the foodstuffs of Sheepshead Bay. Each week we check out a different offering from one of the many restaurants, delis, food carts, bakeries, butchers, fish mongers, or grocers in our neighborhood. If it's edible, we'll take a bite.
— Lenny Markh