Edward R. Murrow High School Takes Home Eighth National Chess Victory!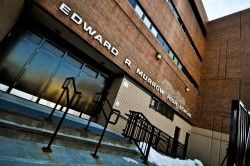 Edward R. Murrow High School is continuing to mold an army of Garry Kasparovs with its latest victory, their eighth
win at the National High School Chess Championship on Sunday, according to a
report
in the Daily News.
The tournament was held in Nashville, Tennessee, and had over 5,000 competitors from high schools across the nation going against one another from Friday to Sunday.
The team qualified for the tournament when they won the state championships for the 16th time in February. They also won the state championships last year, and took home the national title in 1992, 1993, 1994, 2004, 2005, 2006 and 2007. The school's team counts Olympic chess players and world title holders among its alumni, and an award-winning book has been written about the team's formation.
Azeez Alade, a member of the current team who hails from Nigeria, told the Daily News that now that they have secured their victory – yet again – it's time to declare check-and-mate on some burgers and video games.
"We're all going to go to Dave and Busters! No more chess! We're done with that — we're celebrating," said Alade.
Congrats to the Murrow team! We look forward to more victories in the future.