East 16th Street Mural Gets $3,800 Matching Grant and Comic Book Teaching Artist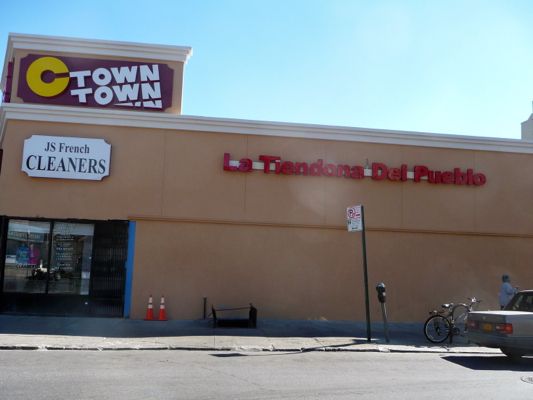 C-Town Supermarkets has pledged a matching grant of up to $3,800 in funds for getting the new mural up on East 16th Street and Newkirk Avenue (pictured above), says Robin Redmond, Executive Director at the Flatbush Development Corporation. If you'd like to donate, you can do so right now by phone (718-859-3800) or mail (send a check and make the note 'mural'). Robin is currently in the process of setting up online direct donations for the neighborhood. We will update the blog as soon as an online option is available.
Meanwhile, the FDC has found a teaching artist to lead neighborhood kids in painting the mural. Damion Scott is a 35-year-old illustrator from Flatbush best known for his work with Marvel and DC Comics. You might know Damion's work from Spider-Man, Batman and so much more. He was recently featured in the New York Times when he illustrated a comic book about Spider-Man moving to Brooklyn (from his native Queens, of course) to fight eviction and bed bugs.
Robin did stress that the wall wasn't simply a canvas for the teaching artist to make his own work (so, no, this mural probably won't be an ode to the Caped Crusader). The key is to work with and engage the kids and, Robin says, Damion is extremely excited about that. He's not the only one.
To find out lots more about Damion, check out this Comic Con interview with him. He was born in Jamaica, grew up in Flatbush on a healthy diet of Batman and has worked all over the world.
This sounds like a great opportunity for kids to work with a really talented neighbor. Parents, tell your kids. They'll want to be involved.