Earth Week Focus On Safe "Bike-to-Work" In Poor Areas
BROWNSVILLE – Bicycle riders from throughout the city share the same concerns for riding safely on city streets, so this fifth annual "Bike to Work" ride that started at the still under construction Zion Triangle in Brownsville on this Earth Day on Monday, focused on getting to work by bike in one piece.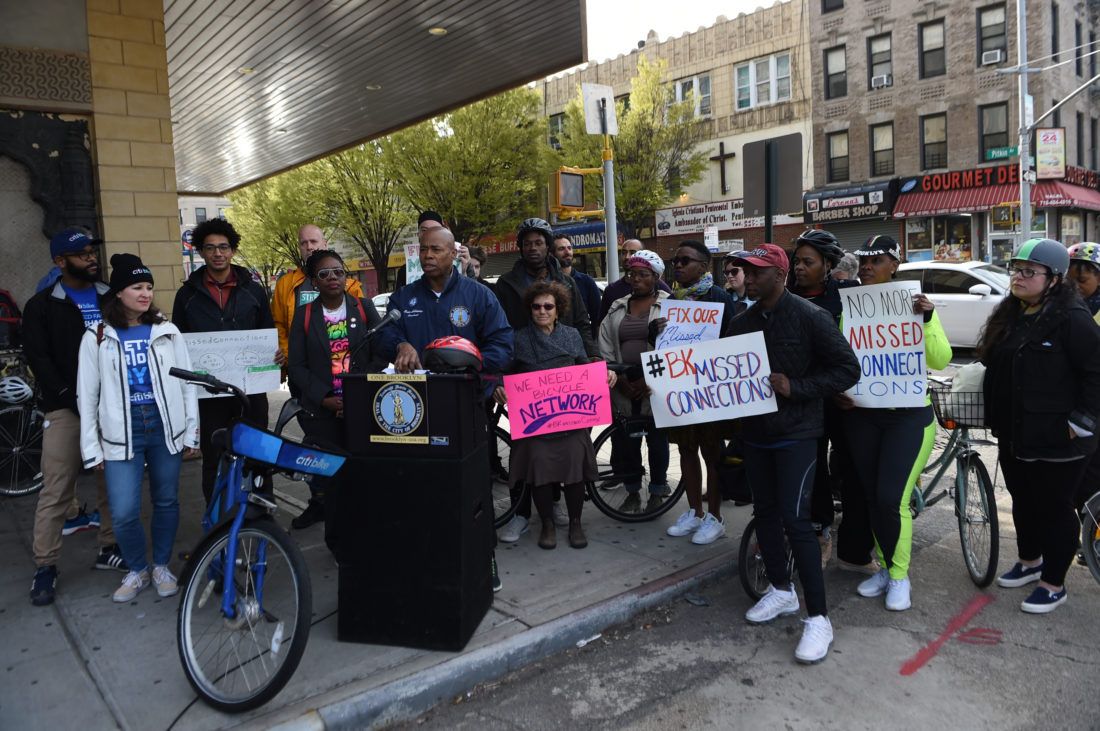 Several dozen bikers from throughout the borough and different constituencies joined Borough President Eric Adams for this annual event, part of his agenda to live a more healthy life and to follow "the Green Agenda" set for by some Democratic leaders to reduce pollution and live healthier lives. The Borough President and environmental advocates drew attention to the positive benefits of riding a bike to work but were mindful that riding a bike in the city, especially where there are no bike lanes, can be dangerous without proper bicycle "infrastructure."
There were already six bicycle-related deaths this year, eight last year according to Streetsblog. There was also a 20 percent jump in people hurt on bicycles with 191 during the first 28 days of the year, compared with 158 during the same period in 2018.
While cyclists admit that cyclists themselves must take proper precautions such as wearing bike helmets, using lights, having a bell or horn to alert motorists and pedestrians, they say it is up to the city to further expand bike lanes and make sure lanes are consistently safe. Those bike lanes are now available along about 1,000 miles of city roadways.
Borough President Adams stressed the importance of creating more bike lanes, especially protect lanes, for a cyclist to be safe on city streets.
"We highlighted the need for cyclist infrastructure – we now have that along Prospect Park in the wake of tragedies of Abagail Blumstein and others," Adams said of the death of the young woman on Empire Blvd a few years back.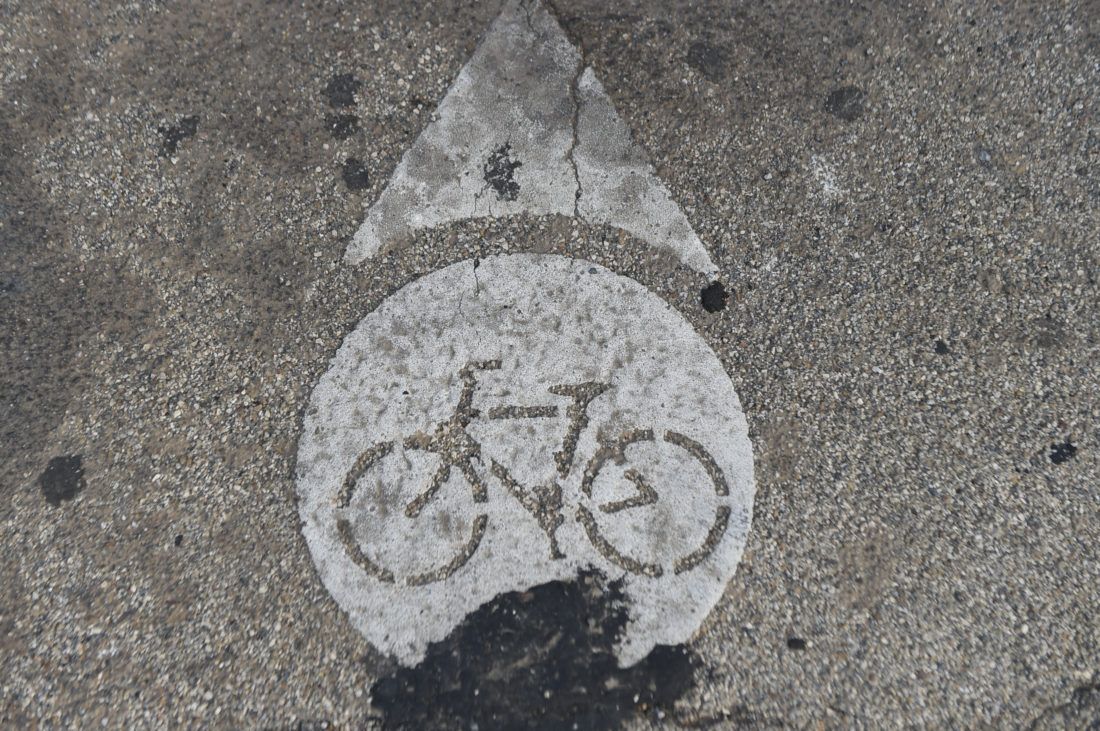 "When you look at the fatalities in the black and brown communities, the numbers are high and often overlooked. We want safe places to ride also, in various communities in New York and Central Brooklyn and that is why we are here today – to bring attention to dangerous road conditions, some difficult to navigate for cars let alone bicycles. Pitkin Avenue, (no bike lanes), to Eastern Parkway is a challenge to drive in a car let alone a bicycle. We must find safer ways to bicycle to work."
"They need to fix Pitkin Avenue – it has no bike lanes and then all these potholes, bumps and craters – it is not a smooth ride," said Ms. Silva, a resident of Bedford Stuyvesant and a Corrections Officer who is biking for more than 30 years.
She said she feels safe and credits the exercise for "good cardio," even though she's struck "a few car doors and flipped over" as people exited autos.
"I just ride with the flow and so far, I've had a safe ride," Ms. Silva said.
May Moreno of East New York, said the ride through her community is "not very safe."
"I know a bike lane is coming to Atlantic Avenue, but the other side, still hazardous and on the first day that they have raised the transit fare, it is nor more important to make it safer for people to ride," Moreno said. "Now that it's warmer, you will see a lot more of us, and yes, I've had some close calls. Many try to map their ride to use bike paths, where ever they are marked. Even those are a little dangerous – but it's worse in East New York because nothing is going to come for months."
Chris Goldin of Transportation Alternatives, a resident of Park Slope, and who joined the ride this morning said more needs to be done to protect cyclists.
"The main thing is to have safe routes, more than just painted lines because people ignore the lines, so protected bike paths are the best way," he said. "I ride to Manhattan from the South Slope, and lots of routes are really safe, but then, there will be a few blocks that a complete free for all on truck routes, tons of bikes, people turning and this needs to be fixed. And especially trucks, I know trucks and you don't mess with trucks."
Kweli Campbell of Bedford Stuyvesant she said riding a bike is "a leap of faith," because it is the only way to get out of using "late buses and bad trains."
"I ride to and from work using Citibike, and it is affordable for $140," she said of the bike sharing program that has expanded throughout the city. "The best thing to do is to map out where the bikes lanes and paths are to work. There are many safe streets, and I use the ones not well traveled."
Borough President Adams said Earth Day is a reminder that people need to reduce the impact on the environment.
"I was so excited to kick off my annual Bike to Work ride in Brownsville, the neighborhood where I was born and a community that deserves transit equity in the form of safe bike lanes. Pedal power is how we improve our environment and public health. Not only is biking a great way to commute and a therapeutic exercise, but it also provides a chance to really see the crevices of our communities," he said.
He said he will work with Councilwoman Alicka Samuel who took part in today's ride, to create more bike lanes and protected paths.
Meanwhile, Dulci Canton of Bedford Stuyvesant prepared to climb aboard her folding bicycle that she takes throughout the city – a small blue tooth speaker attached to her lapel to listen to music as she rides. She said the worst place to ride is on Pitkin Avenue.
"On streets like Pitkin Avenue, the traffic is mixed especially on a two-way street," she said. "Trucks, cars, everyone going in all directions, it is not safe. Even in some areas where there is bike lanes, people are parking in those lanes. There is however safety in numbers and if you travel with a group, there is more safety than if you are by yourself. Yes, you should have a helmet and all the safety gear, but we must also create more bike lanes."