E-Bikes: The Tale Of Two Cities
Last week, Mayor De Blasio announced that in 2018, enforcement against e-bikes in New York City would be ramped up, as they pose a danger to pedestrians, though no data has been provided by the city to back the allegations.
We are doing a series of stories, looking at what seems to be at the heart of this issue: e-bikes, be they scooters or battery assisted bicycles, live in a legal limbo, yet enable vulnerable populations to live in the city—be they delivery people, or the disabled needing to get around.
Our first story is about two stores, that may as well be worlds apart.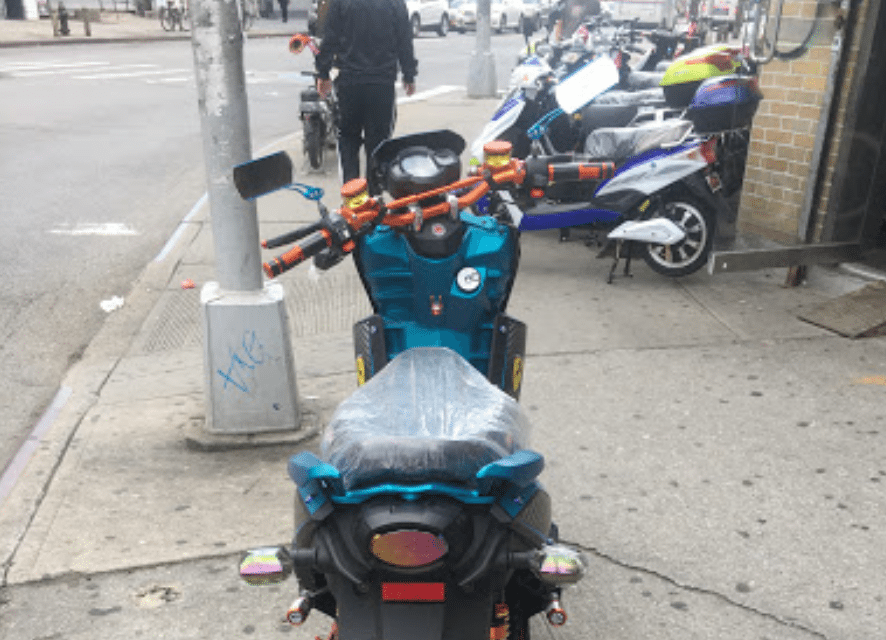 On Grand Street in Bushwick, a storefront e-bike shop works as both retail and repair shop, with new e-bikes lined against the wall, and customer's bikes in vary states of repair in every available bit of free space. Most e-bikes in Andy's Bushwick shop sell for about $500 to $1,000.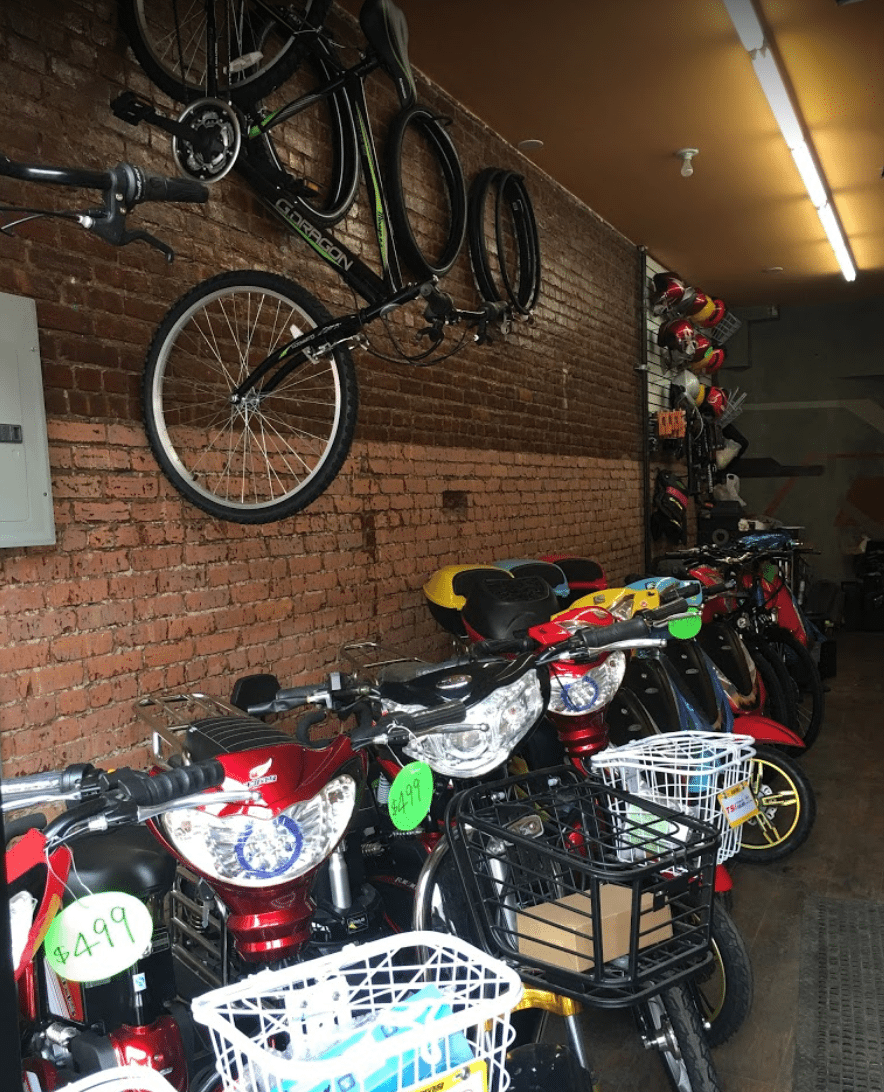 Zach, a bicycle delivery man, is in getting a brake fixed. He rides for a variety of services: Seamless, GrubHub, Postmates, UberEats—you name it, mostly delivering in Park Slope.
He's only had one ticket, running a red light late at night on his way home from work. The cost? $500 and an impounded bike. "I had to pay it to get my bike back—I had no choice," he said.
Those in the gig economy of delivery work, not employed by a specific restaurant, will continue to bear the brunt of fines and deal with impounds themselves.
"I don't know, man, it's not good," he says in response to news about more enforcement, "I guess we have to find other work."
Like most bike riders, the guys in the shop admit there are those who flout the rules—riding on sidewalks, going against traffic, not stopping for red lights—but insist the majority obey the rules. They also say the blame is to share with regular bike riders, who commit many of the same infractions.
Frank, buying a new tire for his scooter-style electric bike, is worried about the future as well. "I don't know, man, this is probably a bad investment for me," he says, holding up the $60 tire and tube he'd just purchased.
If the city really cracks down on e-bikes, he isn't sure what to do. Frank has a large cast on one foot, and a walking boot lets him shuffle around, but he uses his e-bike to get to and from the doctor's office.
He's only gotten one ticket, though he maintains the police were harassing him. "They said, 'If our sergeant was here, we'd take your bike." Instead, he got off with a $200 fine.
Still, the future is unclear for riders, and many of them depend on their bikes.
Even Andy, the owner of the shop, isn't sure how it'll all shake out. "The police visited me the other morning," he said as he worked on a customer's bike.
The officer told Andy he could keep selling bikes, but he had to tell customers that they'd get tickets if they ride them. "I tell everyone: don't go on sidewalks, wear a helmet, ride under 25 mph," he said, but once customers zip away from the shop, it's really out of his hands.
"They're gonna cancel our business—one year, maybe," he says. He seems frustrated, but not outraged—just resigned. Andy worked his way up from a dishwasher to a deliveryman before heading to Philadelphia to start an e-bike business. When that didn't pan out, he returned to New York and tried again, finally finding success with the current shop.
It's working well—for now. And in the future? Andy doesn't even look up from the wiring he's fixing, just shrugs. "We'll start a new business."
Across town, near the Brooklyn Navy Yard, the future of e-bikes looks much brighter. In the gleaming showroom of Propel bikes, a couple from New Jersey looks at electric-assist mountain bikes they'd like shipped to Colorado, where they vacation. It's a world away from Andy's storefront-slash-repair shop.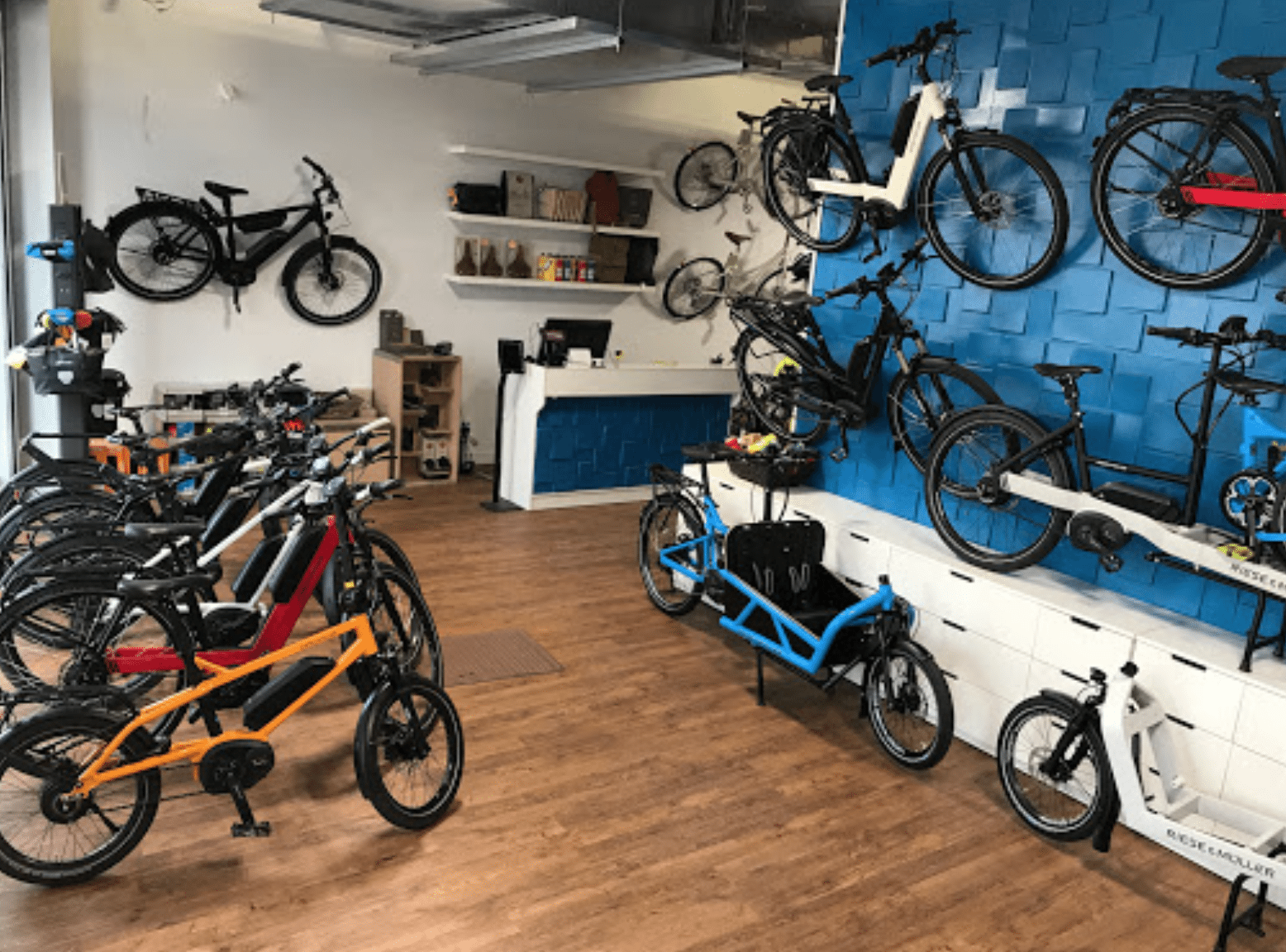 Propel's bikes run on Bosch motors and none of them are throttle activated: they amplify a rider's pedaling energy to assist. Leo, who works at Propel, is happy to tell me they're legal: they've been to court to prove it and, apparently, Mayor De Blasio has defended electric-assist bikes on camera.
The speed of e-bikes is often cited when defending the crackdown: they go too fast and are a danger to pedestrians. Yet the legal bikes in the Propel showroom are just as fast. The Class I bikes have 350W motors rated for up to 20 mph and the Class IIIs are rated up to 28 mph—the same as throttle-activated e-bikes.

The biggest difference? A few thousand dollars. "Our sweet spot is probably $3,000 to $5,000," said Leo, when asked about ballpark prices. "In the last year, though, we've sold 50 of these," he says, pointing to a nearby bike. "Spec'd like that, they're $7,300 each."
While Andy's Bushwick shop faces an uncertain future, Propel is taking deliveries of new models and planning for a big year. "We're really bullish on 2018," said Leo, "The market has really grown and we think it's gonna bloom next year."