DUMBO's Newest Bike Shop, Courtesy of Two Ditmas Parkers
Neighbors Kasia Nikhamina and Ilya Nikhamin, both artists and bike enthusiasts, were recently inspired to open their own bike shop, called Redbeard Bikes. Luckily, they didn't sustain much damage from Sandy and were able to open Wednesday, November 7, delayed by just a week. Don't get too excited – the shop is in DUMBO. But they have their reasons! We sat down to speak with Kasia and Ilya to find out those reasons and all that goes into the shop and the bikes they carry.
How did the shop come about?
Ilya: After working at a bicycle shop – Roy's down in Sheepshead Bay – I felt it was time for a change. Around this time we heard about the PowerUp! Business Plan Competition organized by the Brooklyn Public Library and sponsored by Citi Foundation.
Kasia: The way the program works is you attend a series of lectures, to learn how to write a business plan, create financial projections, market your business, and so on. And in the end you write your own plan, and hopefully, start your business!
Ilya: I'd always thought I might open my own shop – I love getting people on bicycles. And the structure of the PowerUp! program gave us a little nudge at exactly the right moment.
Some photos of the shop in progress: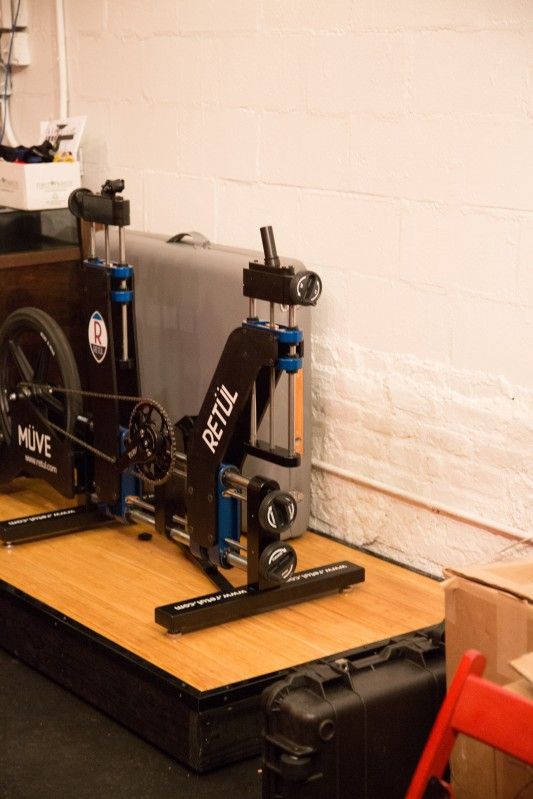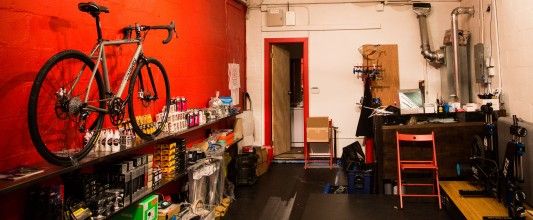 How is Redbeard different from other bike shops?
Ilya: I'll be offering professional bike fits. I look at your riding habits, any injuries you may have had, your range of motion, your foot structure and mechanics, and your goals as a cyclist. Based on this information, I make adjustments to your bicycle, including your seat, handlebars, pedals, and other components.
In terms of bikes: Redbeard will carry Brompton folding bicycles and road bikes from Lynskey and Parlee.
Kasia: You've probably seen me riding around the neighborhood on my red Brompton – I'm a huge fan. It folds up quick and easy to fit right under my desk! It's perfect for just about anything – picking up groceries or riding to the office.
Ilya: We'll also carry a selection of components and accessories – lights, helmets, locks.
You live in Ditmas Park, but the shop is in DUMBO. Did you look at spaces out here? I mean, where's the love, y'all?
Ilya: So the thing about the bicycle business is, you can't carry the same brands as neighboring shops. Brooklyn is really dense in terms of population, so it's kind of hard to find a spot where you can open and carry the brands you want.
Kasia: We think we snagged a pretty sweet spot. Redbeard Bikes is at 165 Front Street, near the corner of Jay Street, right near the entrances to the Brooklyn and Manhattan Bridges. So we think we'll see a lot of Ditmas Park riders on their way to and from Manhattan, or DUMBO!
As well as being bike enthusiasts, you're both artists. How, if at all, will that factor into the shop?
Ilya: Kasia's a writer so she is the official wordsmith of this operation.
Kasia: And we plan to have some of Ilya's photos hanging in the shop. The photo of me on the Brompton in Prospect Park across the top of our Facebook page – that was shot by Ilya. We'd also like to give a shout out to our talented friends at Anti/Anti, who designed our schnazzy logo.
Ilya: We think the bikes we're carrying are beautiful, in addition to being functional.
Will there be a special discount for us redbearded fellas?
Kasia: Come visit us and find out!
Do you think more people will try to regularly commute by bike having done so while the transit system was down, or was it really just a temporary increase?
Ilya: Obviously some folks will go back to riding the train, but we think that this post-Sandy week has opened a lot of people's eyes to the benefits of bicycling! Once CitiBike, the public bike-share system, gets implemented city-wide, we'll be better equipped to handle these kinds of transit system shutdowns.
Kasia: It's really fantastic to ride from our house to the shop and have two-wheeled company all the way – and everybody is smiling.
Redbeard Bikes
165 Front Street
424-254-9253
ilya@redbeardbikes.com