It's 2019 & Some People Don't Want Drag Queens Reading To Kids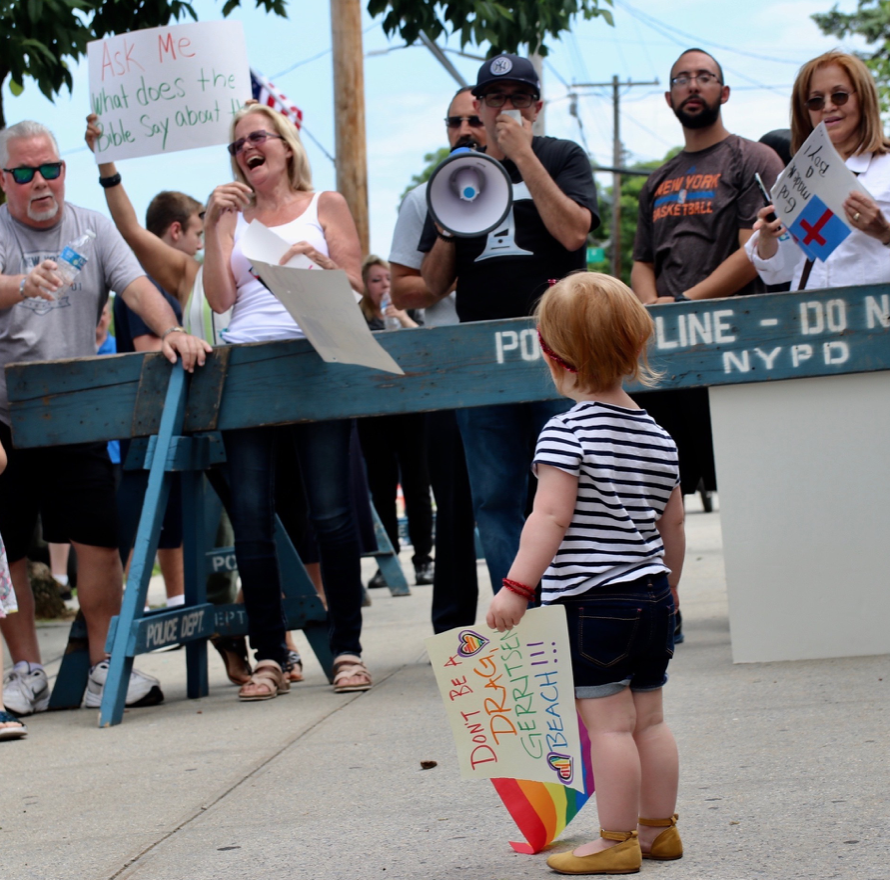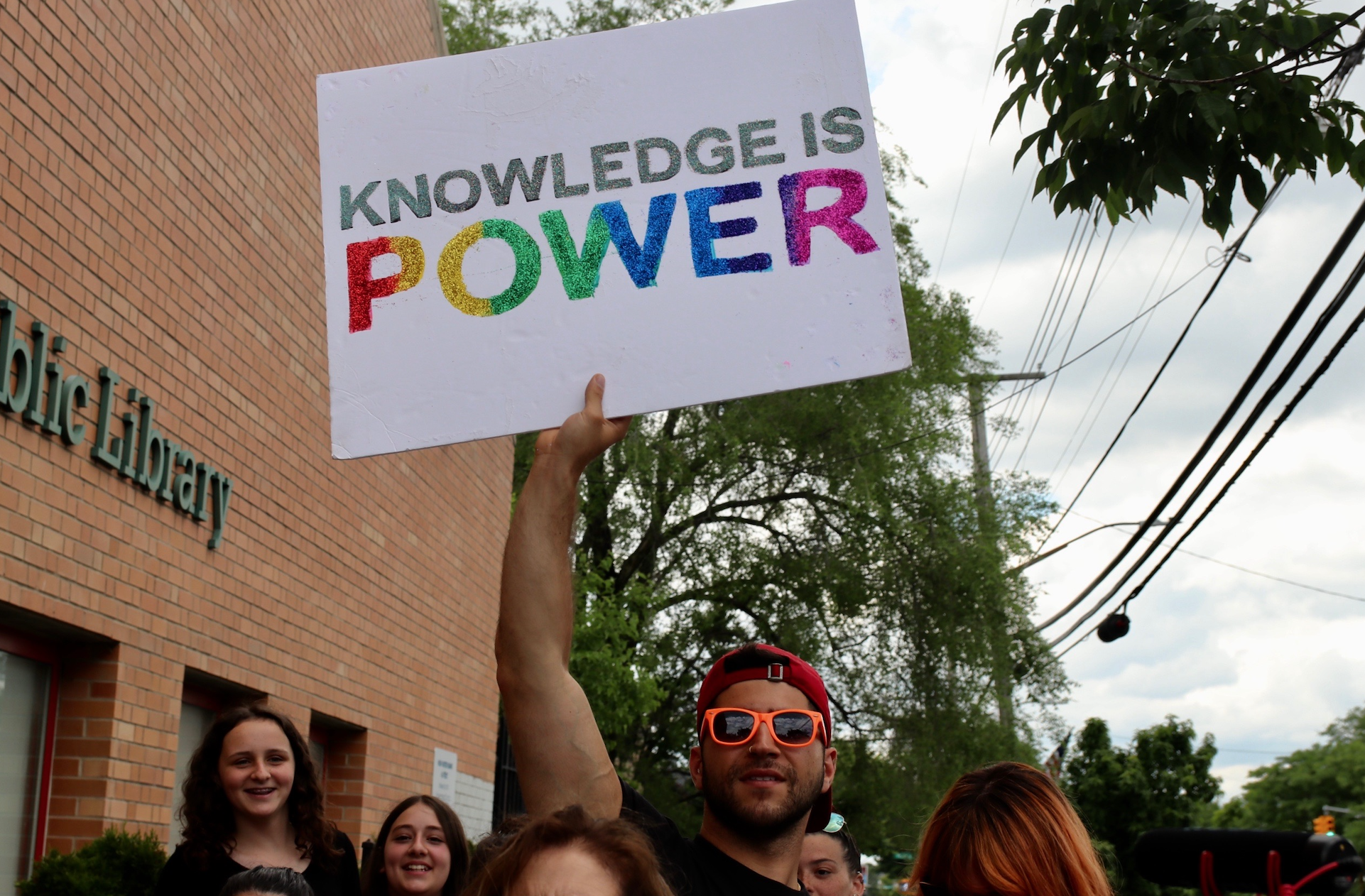 GERRITSEN BEACH – "Drag queens are robbing children of their innocence," people shouted outside the Gerritsen Beach Brooklyn Public Library branch on Thursday. Inside, a small room was packed with children listening to a drag queen read It's Okay To Be Different by Todd Parr. Everyone was smiling.
Drag Queen Story Hour is a program where drag queens are invited to read to children (ages 0 to 5) in libraries, bookstores, and schools. According to the website, "In spaces like this, kids are able to see people who defy rigid gender restrictions and imagine a world where people can present as they wish, where dress up is real."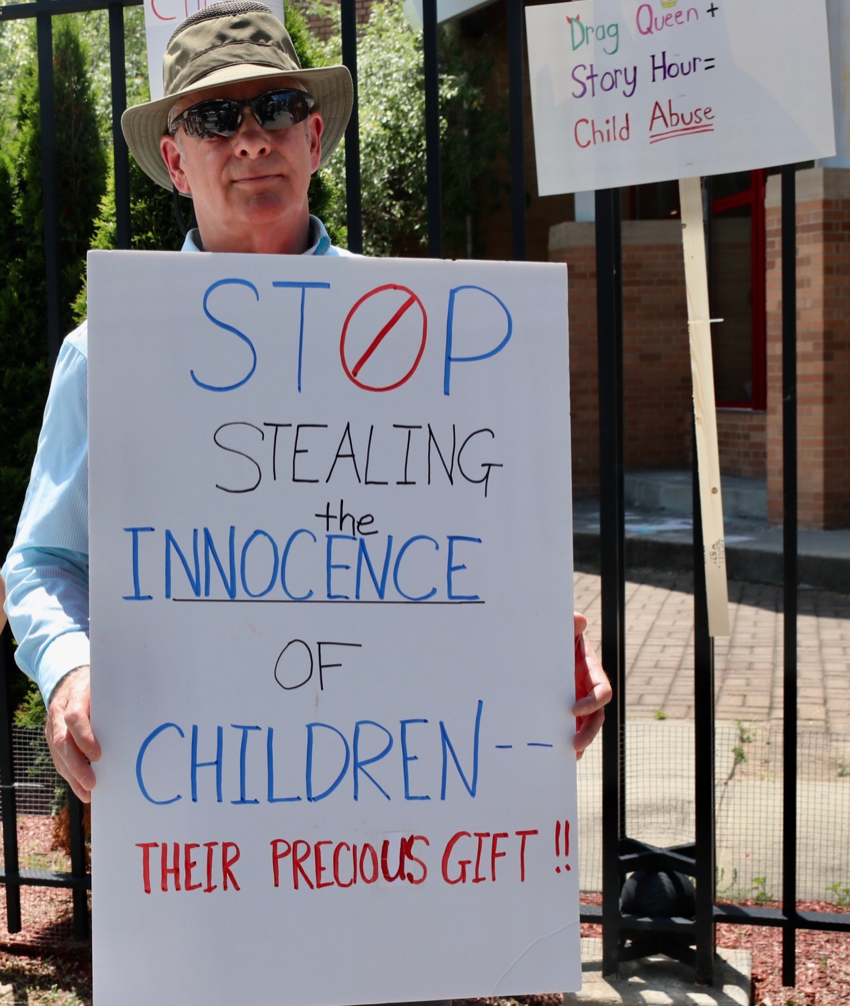 Protestors argue that they don't have a problem with the LGBTQI community—they just have a problem with drag queens reading to their kids. But, at the story hour this afternoon, the room was filled with kids and none of them were theirs.
"Don't act like they're reading Cat in the Hat in there. That's not what is happening. This is not about Cat in the Hat. This is about gender fluidity," a man who went by the name Tag said on the megaphone. "Gender is not water. Gender is binary. We are born one way and don't have a choice."
Several cops watched over the protest, which lasted about three hours. A few dividers were placed to separate the two sides from each other. The side with those saying Drag Queen Story Hour needs to end was made up primarily of older people. That side also had a "prayer station" where people were handing out pamphlets and DVDs about Jesus.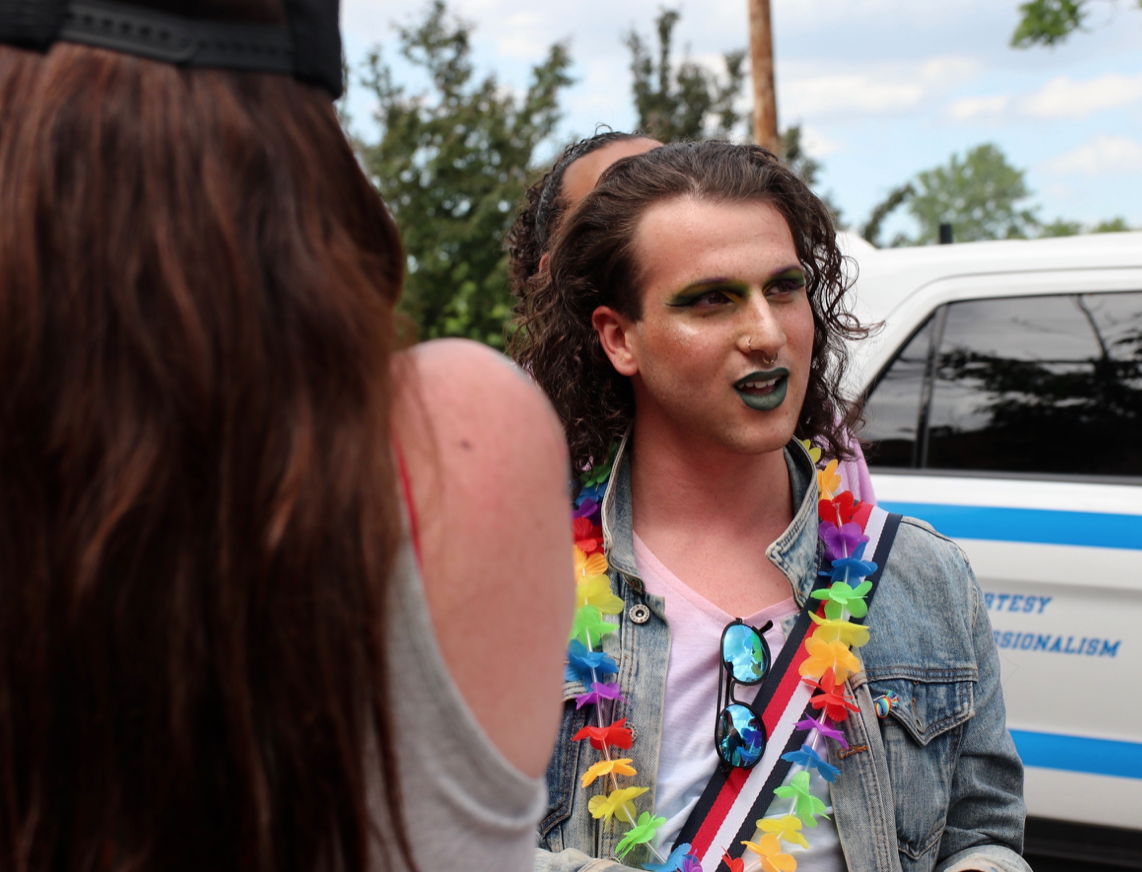 The side of the counter-protestors was mainly younger people wearing rainbow boas, colorful clothing, and blasting Lady Gaga and Kesha on repeat.
"I'm here today to support gender equality, diversity, and to keep the opposition in check," Andrea Minks, a neighbor said. "I'm not protesting the protestors; I'm just supporting the Queen. It boils my blood."
On the side of the protestors, the main speaker was Tag, who spoke through the megaphone for three hours. The counter-protesters, though, did not need a megaphone. "Say it loud, say it clear. All the queers are welcome here!" people shouted. The older generation on the other side of the NYPD divider sang "God Bless America."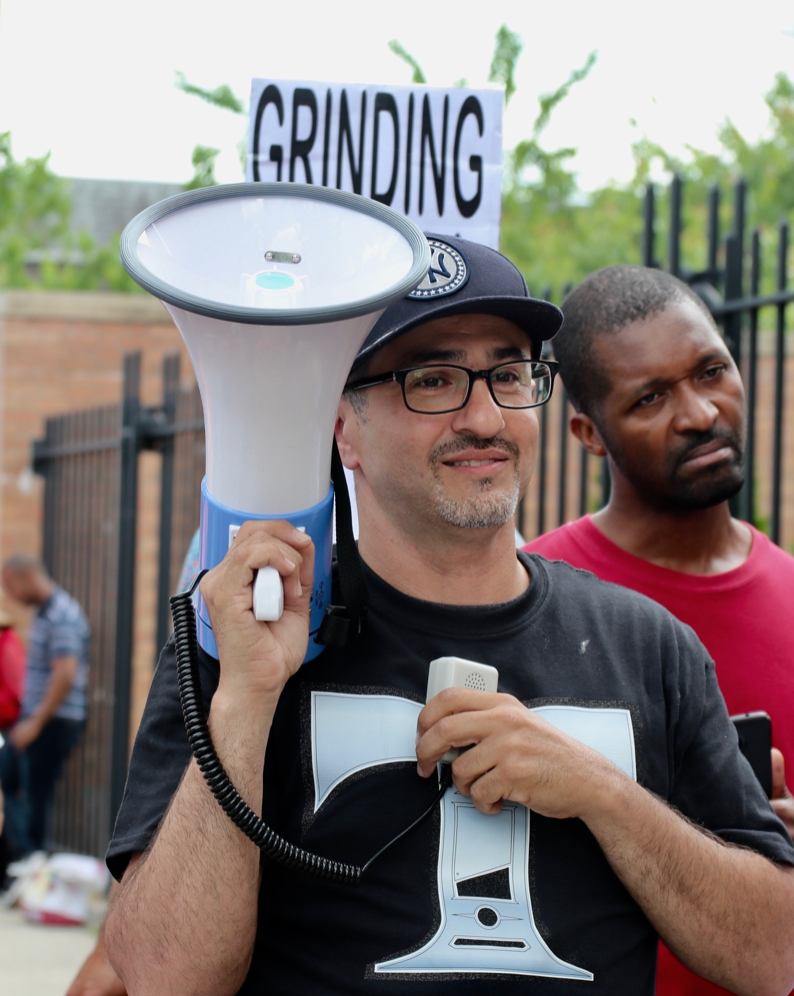 No local politicians attended the protest or counter-protest. State Senator Andrew Gounardes said he was in Albany and sent this statement: "We are proud to welcome Drag Queen Story Hour to the Gerritsen Beach Library and condemn the hate speech against it in the strongest possible terms. I stand with Brooklyn's LGBTQIA community against intolerance."
NYC Comptroller Scott Stringer had this to say: "Homophobia has no place in this city and that includes Gerritsen Beach, especially as we celebrate World Pride. Drag Queen Story Hour is a wonderful event that teaches compassion and understanding to our children. There's nothing that is more valuable."
One woman who did not want to be named told Bklyner, "We are not against loving who you want to love, but just don't take away our kid's innocence. Kids shouldn't be raped in bathrooms by men who think they are women."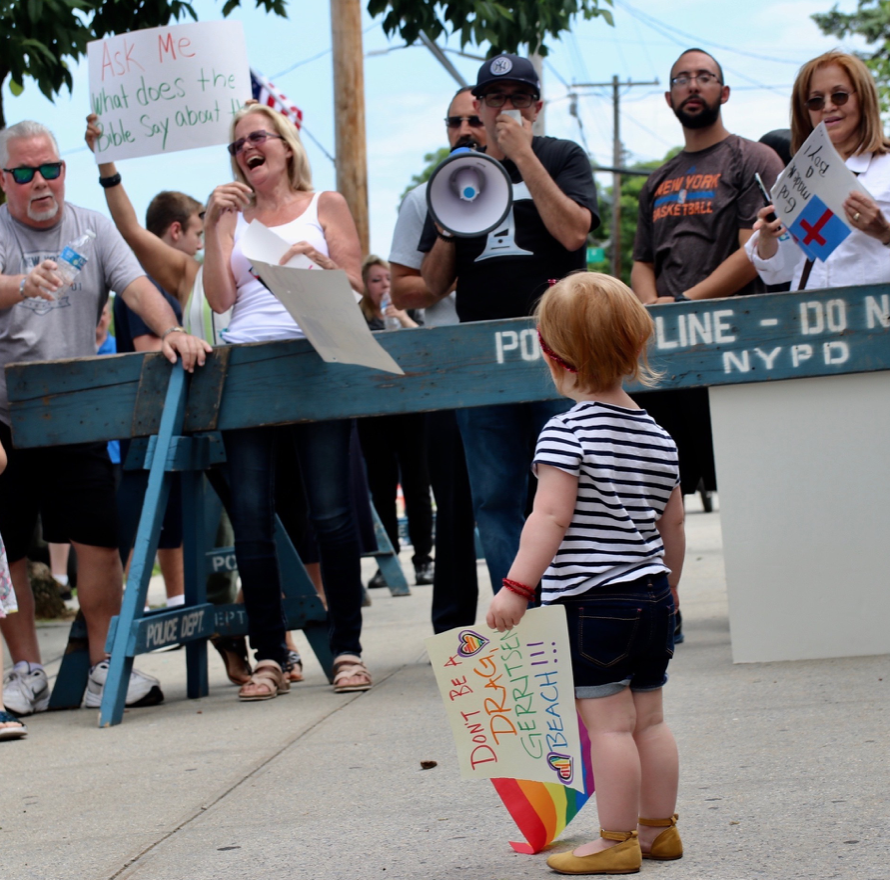 Sharlene Valenti, a 73-year-old woman, said she has a 10-year-old granddaughter who is afraid of going to the bathroom because she thinks "there would be a man dressed as a woman."
"She waits for the whole day and uses the bathroom when she comes home. That's how afraid she is," Valenti told Bklyner. "I'm not against these people loving who they want to love. That's between them and God. But kids are afraid of you. They don't want you to be in bathrooms with them."
According to the National Center for Transgender Equality, "Policies protecting transgender students do not compromise the privacy or safety of other students." A woman wearing a unicorn onesie from across the divider shouted, "Let me see your medical license. Where are your facts?"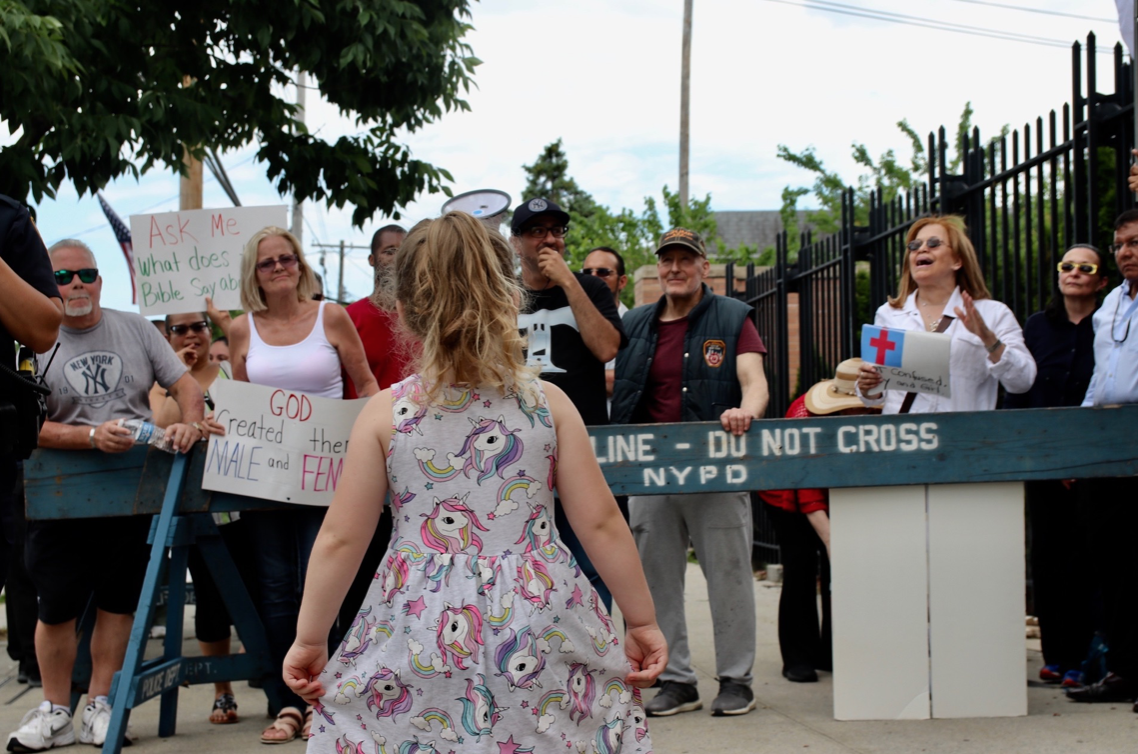 Tag continued to shout and said, "Snapchat has a filter that says love has no age. Love does have an age. No one has the right to pervert a child."
"LGBTQI community, you can live your lives," Tag said. "But why are you dragging children into your lifestyle? Let children just be children. You don't need to teach them about sex at three years old."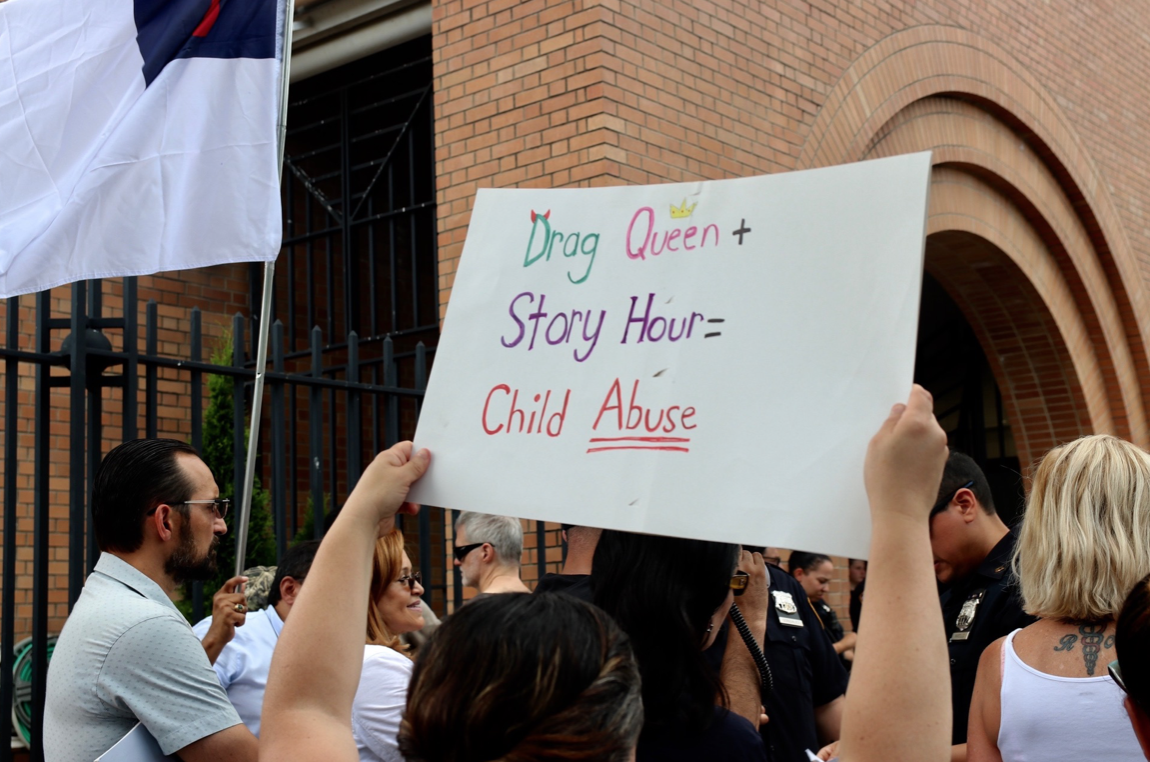 At one point in the protest, a man on a motorcycle stopped by. He was on the side of the protestors who said drag queens were dangerous for children. The man's motorcycle had two Confederate flags. At another point, a little girl stood in front of the protestors and shouted as loud as she could, "We can be whoever we want to be."
Despite the chaos outside the library, Drag Queen Story Hour was not going to stop. Around 2 p.m., about 50 children and their parents sat in a small room to listen to Angel Elektra, a drag queen, read two books. There was a lot of happy energy in the room, especially compared to what was happening outside. Kids were smiling, holding pride flags, and were eager to hug Elektra after the reading.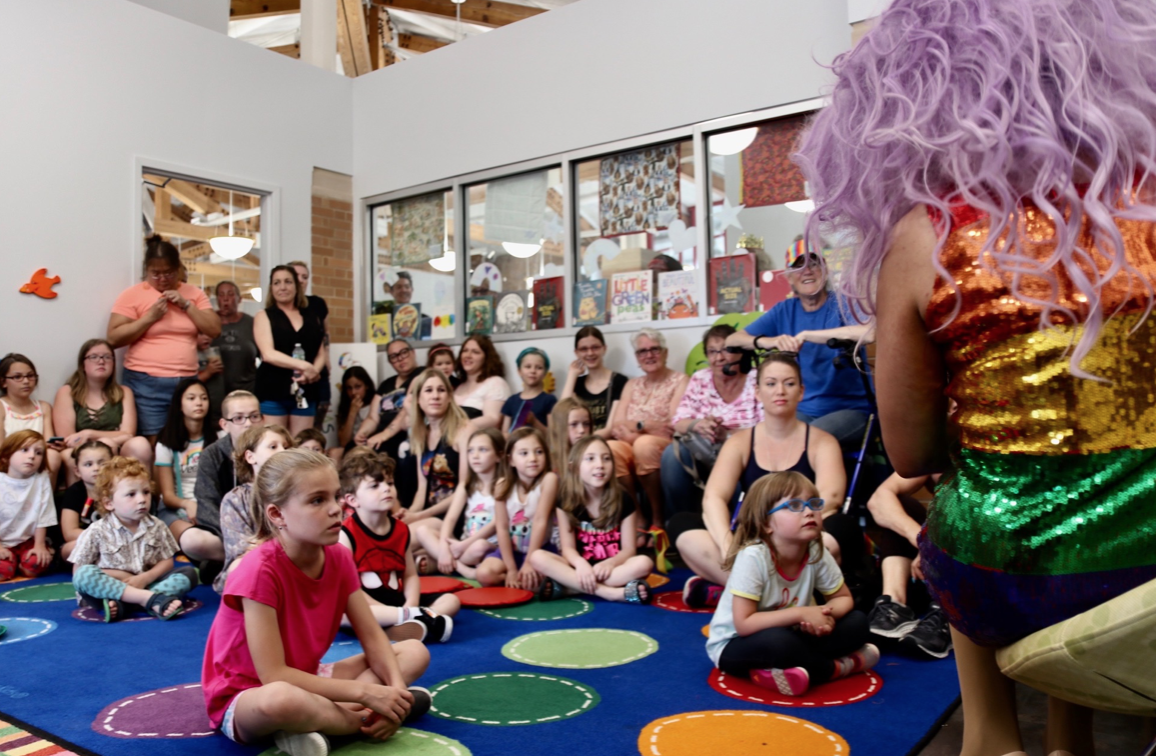 "What's a drag queen?" Elektra asked the young ones before reading. A little girl replied, "It's a boy who dresses up as a girl. It's very exaggerated and there's a lot of makeup."
Elektra agreed and said, "Anybody can be a drag queen. A drag queen does not have a gender. A drag queen is when you dress up as your favorite character. Today I am dressed up like my mom."
All the kids laughed.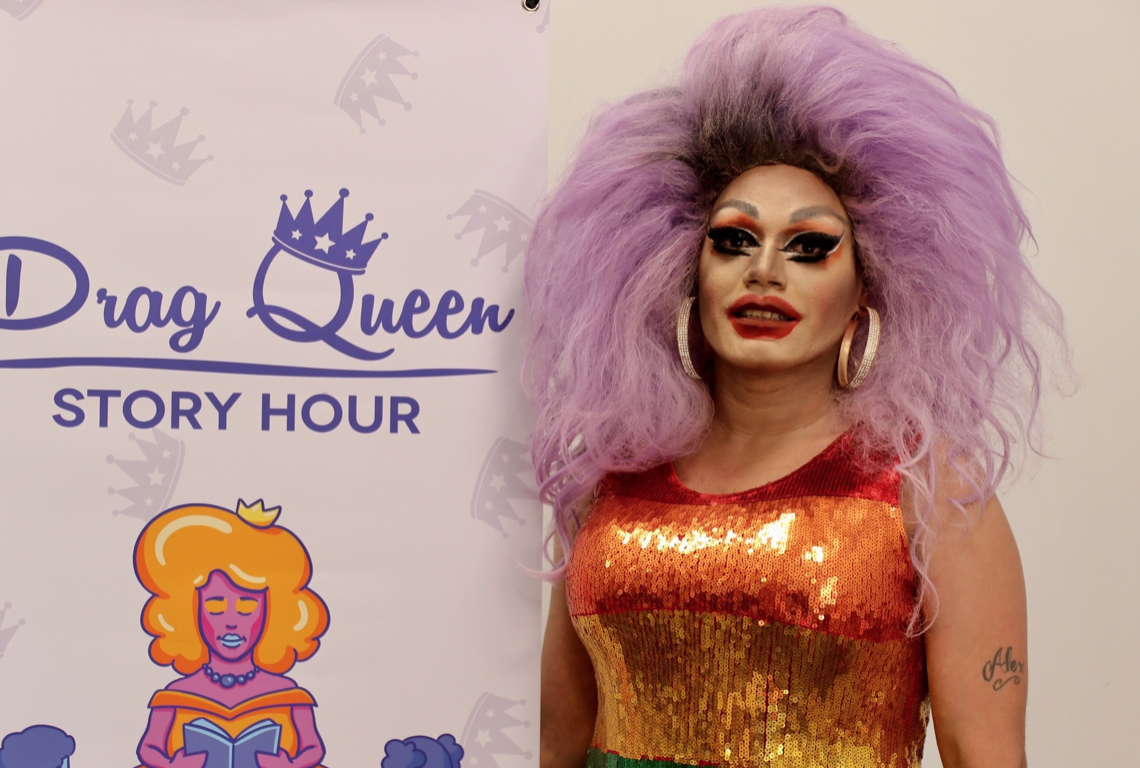 At the end of the story hour, every single child surrounded Elektra to give her a hug and take a photo. Elektra—who said she goes by the pronouns she/her when she's a drag queen, he/him otherwise—told Bklyner that she absolutely loved the support in the room.
"I woke up this morning with the determination that I'm just going to go spread love, awareness, tolerance, and acceptance," she said. "I know I am doing something positive, not negative."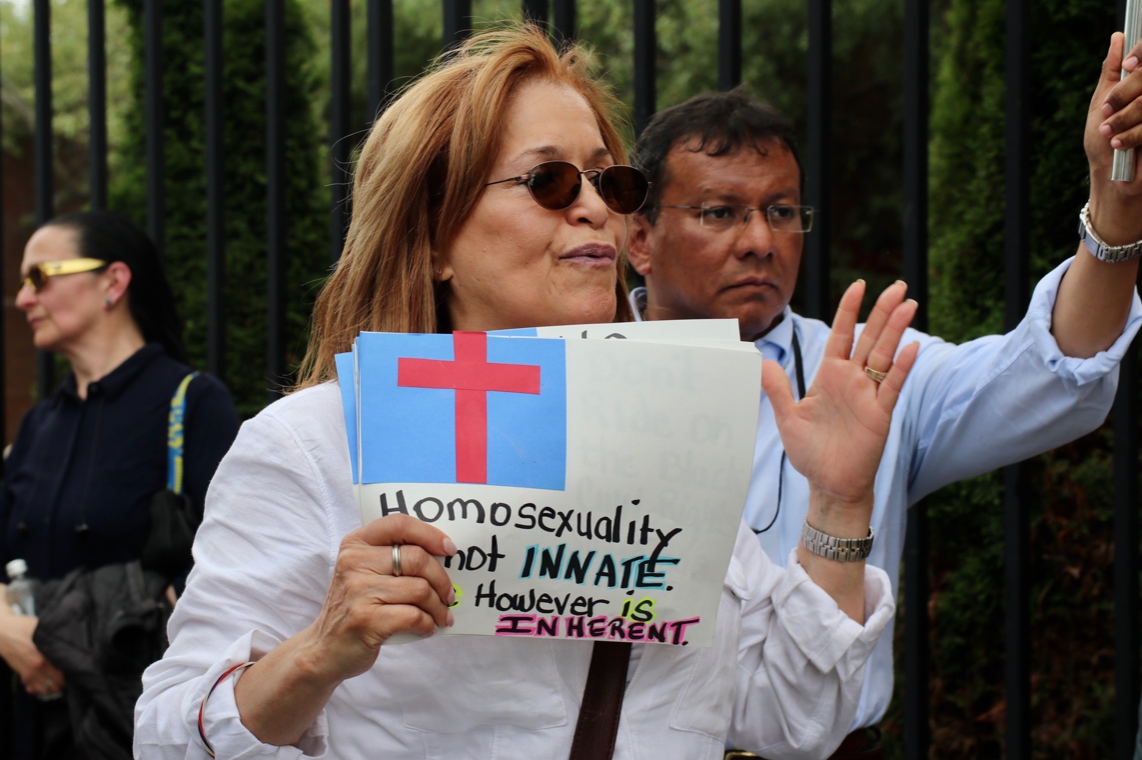 When asked what she has to say to those who argue that their children will lose their innocence, she did not hold back.
"Me reading to your child as a drag queen has nothing to do with me gendering your child, with me telling your child that your child is going to be gay," she said. "That's not what we do. That's not what we promote. We promote acceptance and tolerance."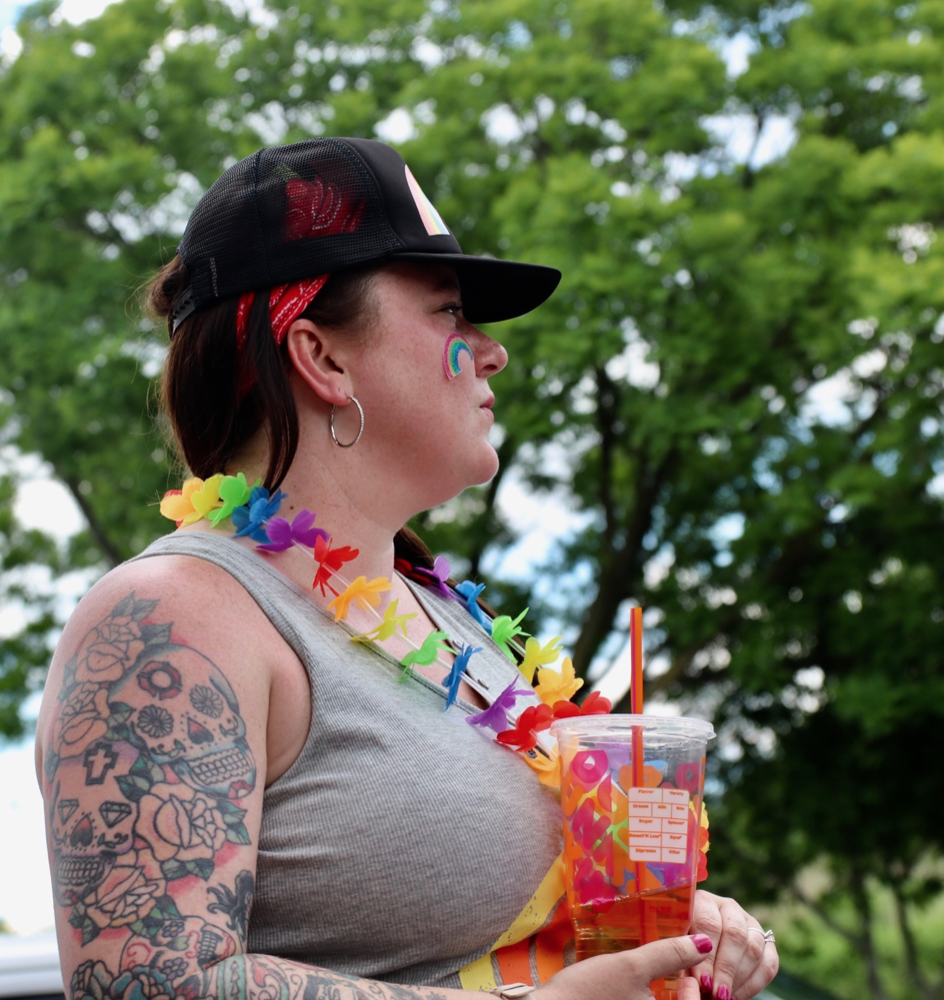 Chief Librarian of the Brooklyn Public Library Nick Higgins agreed and put out this statement:
"Brooklyn Public Library provides programming to reflect the many diverse communities we serve. The response to Drag Queen Story Hour has been overwhelmingly positive, drawing large and supportive crowds at branches throughout the borough. Children love the bright colors, songs and stories. The Library is proud to present Drag Queen Story Hour along with nearly 11,000 other free programs each year to promote early literacy."
Elektra said that when she was young, she had no role model. She doesn't want that to be the case for these children and future generations.
"I had no one to help me identify myself. So the fact that we have this program and we are enforcing acceptance in this world, that is just a gift."