"Dozens" Of Cars Vandalized In Middle Of Night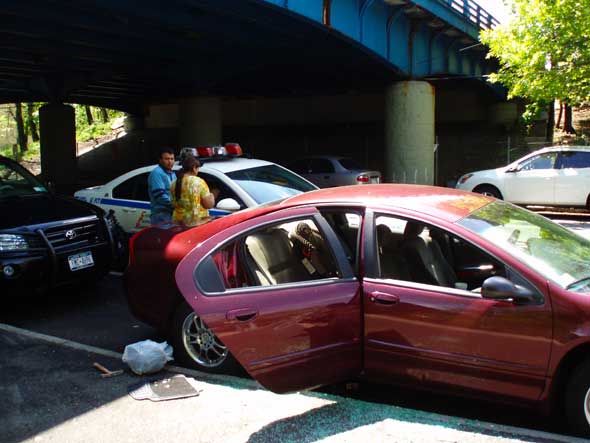 At least nineteen cars were broken into last night beneath the Bedford Avenue Belt Parkway overpass and along Shore Parkway North.
We were first alerted to the break-ins this afternoon, when a reader told us that "dozens" of cars had their windows smashed on Bedford and along Shore Parkway between Bedford and Ocean Avenue. He said police first arrived at 8:30 a.m.
When we visited the scene, we counted 19 parking spots littered with broken glass, including about 12 cars that were still parked. All of the vandalized cars were broken into from the passenger side, and every car's glove box was found open. All of the cars on both sides of Bedford Avenue underneath the Belt Parkway were broken into.
Owners of one damaged car said the only thing missing from the car was a brand new GPS unit. They said they parked their car around 11:30 p.m. last night and returned this morning to find both passenger side windows open. The couple said they first moved to the neighborhood less than a year ago, and this was the second time their car was robbed near Shore Parkway. The first time, thieves took their license plates.
Police on the scene refused comment, and would not confirm the total number of vehicles damaged. We are waiting to hear back from the 61st Precinct's Community Affairs unit.