Double-Crested Cormorant Rescued at Green-Wood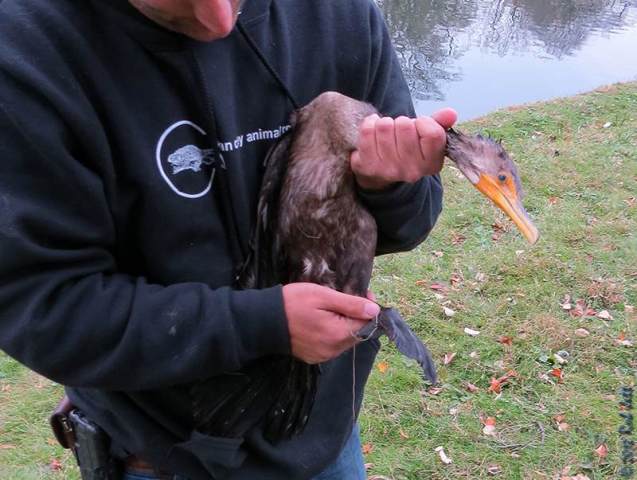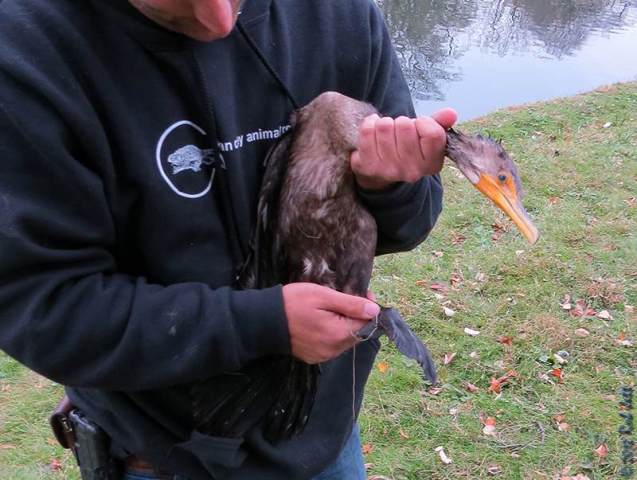 Local bird aficionado and author of The City Birder, Rob Jett, recently stumbled across a double-crested cormorant in need of help at Green-Wood Cemetery. Thankfully, Sean Casey was around to assist in a rescue.
Sean was great. He arrived very quickly with an assistant and was able to capture the cormorant. The poor bird had a fishing hook impaling his left foot. The foot appeared swollen and I assume was infected. Cormorants are diving birds that rely on underwater speed to catch fish. This bird was likely unable to feed very well and, in addition to the infection, was probably malnourished. Thankfully, this bird now has a good chance of recovery and release back into the wild.
How fortunate are we to have an organization such as Sean Casey in our midst? Community support is a vital part of their work and several options are available if you would like to lend a hand.
According to their website, "donations such as newspaper, plastic bags, bleach, dish soap, paper towels, hand soap, hand sanitizer, latex and non-latex gloves,  spray bottles, old pillow cases, sheets and towels are very helpful. These items are used every day and always need to be replenished".
Additionally, monetary donations can be made via the organization's secure PayPal site or by sending a check to the address listed below.
Congratulations City Birder and Sean Casey on a stellar rescue.
Sean Casey Animal Rescue is located at 153 E. 3rd Street, Brooklyn, NY  11218. For more information on the organization's services or how you can offer your support, visit their website.
Photo via The City Birder