DOT Bike Lane Proposal Would Add Bay Ridge's First Protected Cycling Lanes
BAY RIDGE – A representative from the Department of Transportation presented Community Board 10 it's plan for a series of safety upgrades to 7th Avenue between 67th Street and 79th Street on Monday night, including a proposed protected bike lane that would be the first one inside the neighborhood's borders, an addition some meeting attendees called a welcome idea.
As currently configured, the 12 block southbound stretch of 7th Avenue has a 21-foot wide travel/parking lane and two 11-foot wide travel lanes for cars. The DOT proposal to remake the street would turn the 21-foot wide lane into a 9-foot wide parking lane, take one foot away from the easternmost car lane and install a two-way bike lane protected by jersey barriers on the eastern side of the street.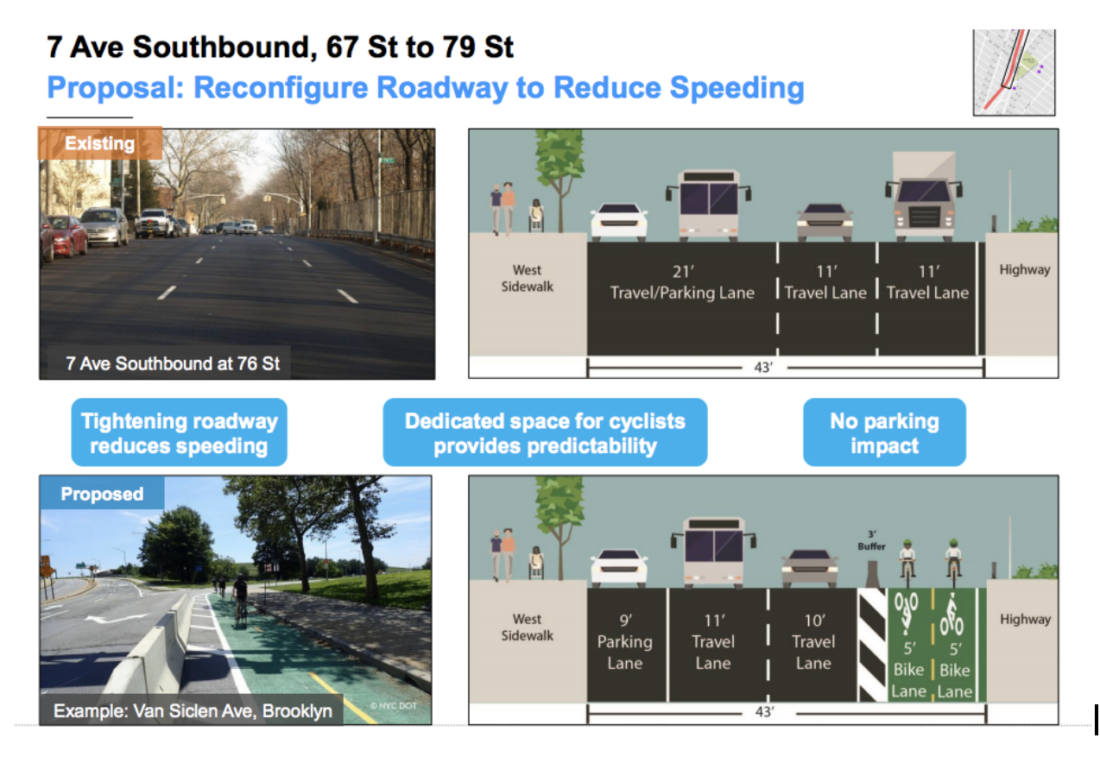 Besides the bike lane, the DOT showed the CB10 transportation committee proposals to add a crosswalk to the north side of 72nd Street in order to allow better access to a pedestrian bridge above the Gowanus Expressway and painting more explicit road markings from 79th Street to 84th Street that would better organize street traffic there.
The DOT also proposed making it easier for pedestrians and cyclists to get across 7th Avenue at 66th Street, currently a chaotic intersection that forces non-drivers to walk up to 65th Street, by adding crosswalks and a shared pedestrian/cyclist space along 7th Avenue's southbound side.
According to Juliana Dubovski, a project manager at the DOT's School Safety Unit, that change would discourage drivers from treating 7th Avenue like a highway as they do currently, a practice that endangers children getting out of nearby schools like PS 69 and William McKinley Middle School.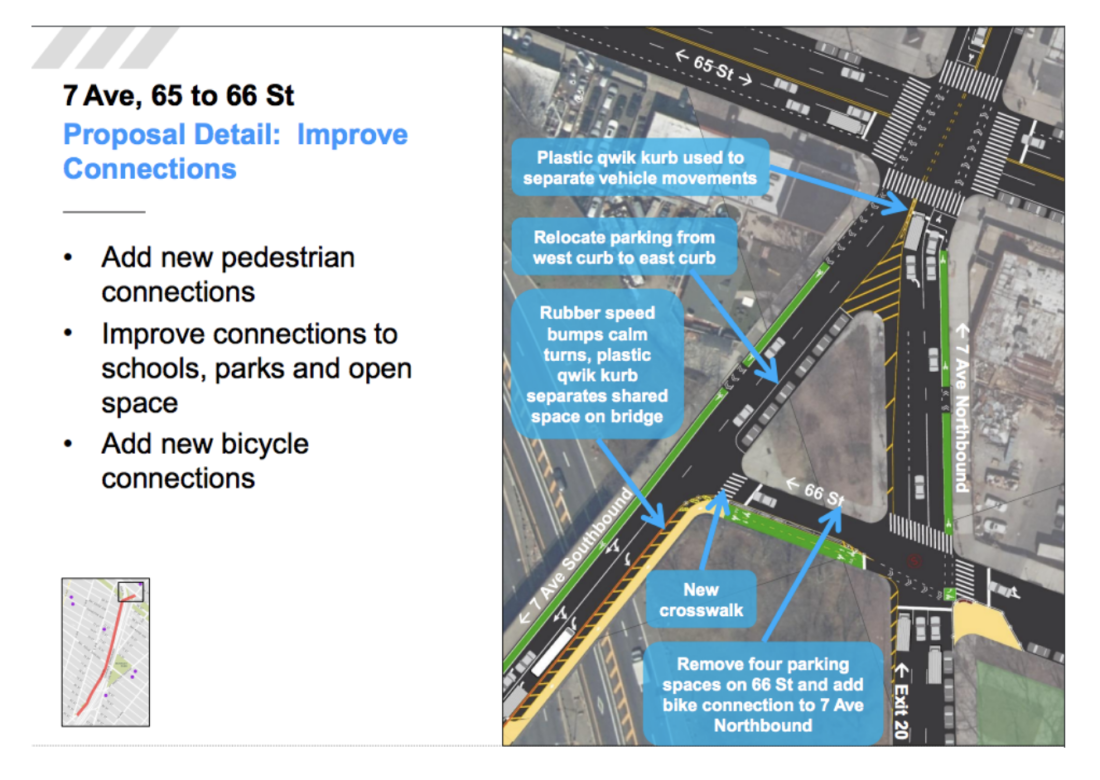 Dubovski told the agency counted 160 total crashes and 2 pedestrian deaths between 2012 and 2016 on the stretch of 7th Avenue slated for the safety upgrades. The agency also measured 61 percent of drivers on 7th and Bay Ridge Parkway and 82 percent of drivers on 7th and Fort Hamilton Parkway driving above the road's 30 mile per hour speed limit (most of the city is governed by a 25 mile per hour speed limit), including clocking a driver moving at 50 miles per hour on the block.
For Dan Hetteix, a neighborhood resident and a producer on the podcast Radio Free Bay Ridge, the proposed traffic calming changes would be a welcome addition, especially since one of his friends was killed crossing 7th Avenue at Bay Ridge Parkway when they were children. "I'm amazed it's taken this long, but I'm absolutely grateful it's happening," Hetteix told Bklyner. "And it's all thanks to local activists, local politicians, the community board shifting very much from what it used to be into something that's very focused on the safety of every single road user regardless of what mode of transit they actually take."
The Transportation Committee chose not to vote on the DOT proposal, instead opting to take into account what they called community comments and concerns for a letter they'll send to the agency after the April 15th full board meeting. And while it wasn't a "no" vote, Brian Hedden of Bike South Brooklyn likened the decision to wait for the full board to a "punt" back to the DOT.
"I guess I find that a little disappointing," Hedden said. "But it's the community board's prerogative to be as deliberative as they want to be. It's nice to see a protected bike lane proposed for Bay Ridge at all. That's not something historically the DOT has done, they get scared off by what the boards down here come back with."
Community board votes are of course advisory, but one day after this meeting, Council Member Justin Brannan announced that the city would be adding medians with turning lanes and unprotected bike lanes going in both directions on 86th Street between 3rd Avenue and Shore Road (a proposal CB10 shot down in 2017). Brannan also told Bklyner that he supports the 7th Avenue proposal.
"It's clear that 7th Avenue needs safety improvements," the council member said in a statement. "Right now it's wide open and people drive way too fast because it looks like a highway. Every day people, including kids going to several schools, cross this dangerous stretch of street—a street where a friend who I grew up with, Detective Frank Collins, lost his life in a motorcycle accident. So not only do I see the need for the 7th Avenue proposal, but it's personal as well."
As one longtime resident of Bay Ridge noted at the meeting, change is in the air for a neighborhood that has its own Twitter account devoted to documenting the area's unsafe driving.
"It's a great thing for Bay Ridge," John Murphy said about the increased interest in cycling in the neighborhood. "If you build it, it will be used. I'm winding down my career, hopefully, as a senior hipster, I'll be using the bike lanes even more. It's just a great thing."