Don't Panic! There Are Still Spots Available in Local Fort Greene Summer Camps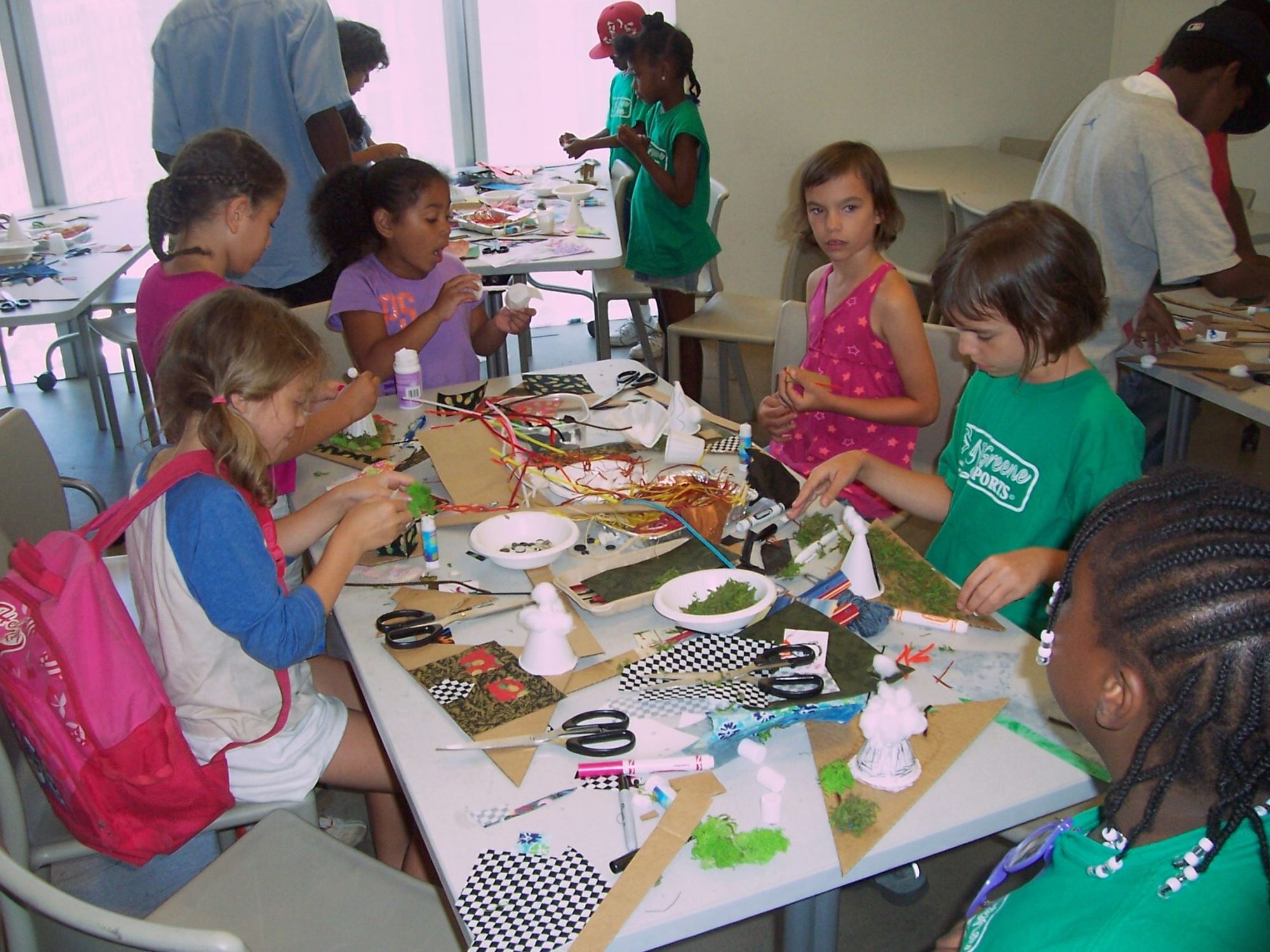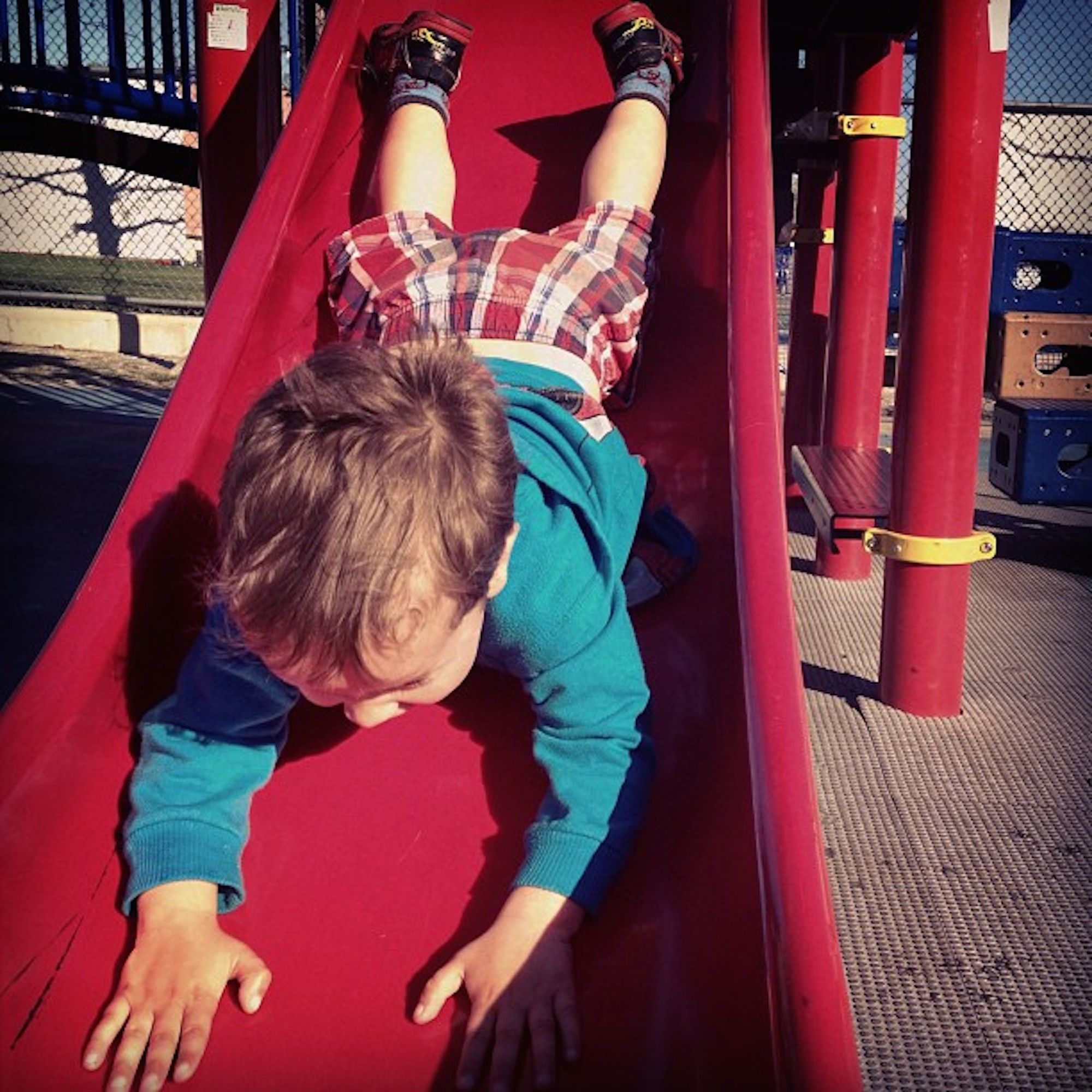 Despite next Monday's opening of the Brooklyn summer camp season being mere days away, parents have no reason to panic. Spots for children ages 6 to 18 remain available at camps in the Downtown Brooklyn, Fort Greene and the Navy Yard neighborhoods.
One of the oldest local camps is held at the Madison Square Boys and Girls Club, Navy Yard Clubhouse (240 Nassau Street) near the Navy Yard. Since 1884 the club has provided after-school and summer camp programs. The Navy Yard Clubhouse's program hasn't been around that long but it represents the organization's core values: empowering children ages 6 to 13 to achieve academic success, pursue healthy lifestyles, and practice good character and citizenship.
The Boys and Girls seven-week program costs $350 and runs Monday through Friday, 9 a.m. to 5 p.m. (with an extended day option) from July 6 through August 21. For more information contact Antonio Fort, director of clubhouse operations (AFort@madisonsquare.org / 917-547-2213). Full scholarships are available for rising 6th to 8th graders.
Four blocks from the Navy Yard Clubhouse is the Ingersoll Community Center (177 Myrtle Avenue, off of Flatbush Avenue Extension). Overseen by University Settlement, the Center's **free** summer camp program for ages 5 to 12 runs July 6 to August 30 from 8 a.m. to 6 p.m. and focuses on fitness, health and wellness in Ingersoll's impressive downtown Brooklyn location.
This summer, Ingersoll will also holds job readiness and training classes and—as a result of Department of Youth and Community Development funding—Ingersoll Community Center is open to ages 13 and up, Monday to Friday from 6-11 p.m. as well as Saturday and Sunday from 3-11 p.m. For additional information, contact Samantha Johnson, Assistant Director (sjohnson@universitysettlement.org / 718-522-5051).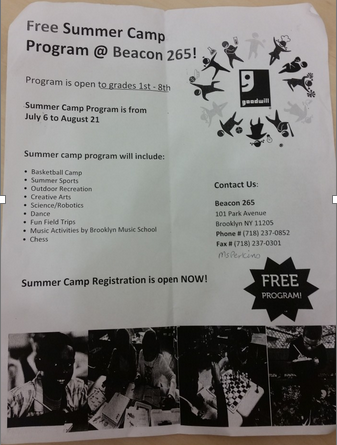 Another entirely free camp program is the Summer Camp at Goodwill Beacon 265 (101 Park Avenue, near Commodore Barry Park).
Held Monday thru Friday, from 8 a.m. to 6 p.m., between July 6 and August 21, only middle school age children entering the 5th, 6th, 7th, or 8th grades are eligible to apply. However, if a middle school child has an elementary school age sibling (at least 6 years old), both applications will be considered. (Elementary school applicants will be placed on a waiting list).
For more information contact Neil Jeter, Director, or Katrina Perkins, Assistant Director, at 718-237-0852.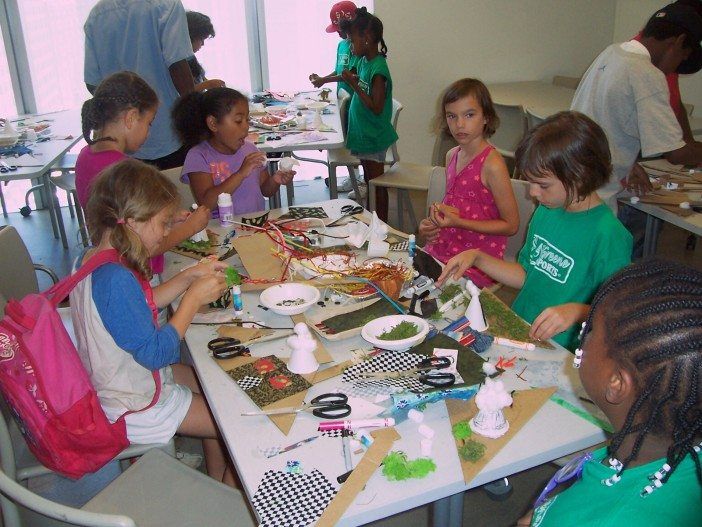 Now in its 12th year, Ft. Greene Sports Summer Day Camp (Career Development High School, 510 Clermont Avenue, between Atlantic Ave and Fulton Street) offers a full day program that includes sports (basketball, soccer and softball), performances (drama, music and dance), and daytrips to museums, local pools, the movies and professional baseball games.
The camp, priced at $200 per week, runs Monday through Friday, 9 a.m.-5 p.m. from July 6 to August 21. For more information, contact the director, Bob Byer at mail@ftgreenesports.org / 917-975-9001)
For high school-aged campers, LIU Brooklyn (1 University Plaza, corner of DeKalb and Flatbush Avenues) offers the Liberty Partnerships Summer Program, a free college readiness program. In partnership with LIU's Arnold & Marie Schwartz College of Pharmacy & Health Sciences and the American Association of Blacks in Energy, Liberty Partnerships provides college prep and career planning Tuesdays through Thursdays, 10 a.m. to 3 p.m. from July 7 to August 13 on LIU's downtown Brooklyn campus.
For more information, contact Director Roland H. Robinson (roland.robinson@liu.edu / 718-488-3399) or Program Coordinator Sandy Law (sandy.law@liu.edu / 718-780-4012).