Councilman Recchia To Run For Borough President, Sources Say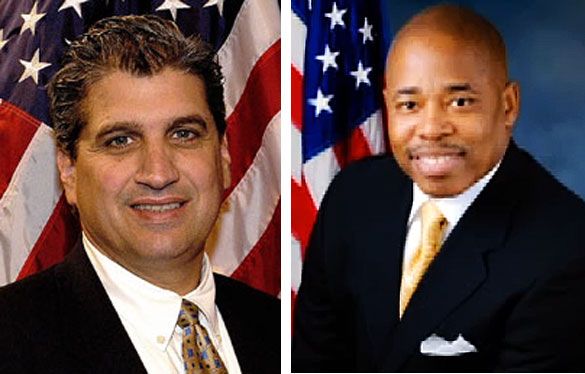 Coney Island City Councilman Domenic Recchia is reportedly eyeing the Brooklyn Borough President's office, potentially pitting Northern and Central Brooklyn versus Southern Brooklyn for the largely powerless position.
Sources told the Daily News that Recchia plans to announce his candidacy in January, confirming speculation that the term-limited pol was considering the seat after putting the kibosh on a rumored comptroller run.
Recchia has served in the City Council since 2002 and, in 2010, he became chair of the Council Finance Committee, one of the most powerful positions in the legislative body, responsible for directing taxpayer funds to nonprofits and community groups.
Recchia will be term-limited out at the end of 2013, as will the sitting beep, Marty Markowitz. Recchia was widely believed to be mulling a run for city comptroller, but squashed that rumor earlier this month when Manhattan Borough President Scott Stringer announced his candidacy for the seat and obtained Recchia's endorsement.
Currently, the only other major contender for the beep's seat is State Senator Eric Adams, who represents Crown Heights, Bushwick, Brownsville and East New York. That would pit the popular pol representing the traditionally black northern and central Brooklyn neighborhoods against the Southern Brooklyn pol, who represents the largely white Bensonhurst, Gravesend, Coney Isalnd and Brighton Beach communities.
According to pundits cited in the Daily News, that would leave the election up to the "Brownstone Belt."
"One thing is sure, the Brownstone Belt and areas with new populations will have a lot to say about the outcome of any Borough President or citywide race," said political consultant Hank Sheinkopf, who briefly represented Recchia.
The Brownstone Belt encompasses mainly white liberal voters living in Park Slope, Carroll Gardens and Brooklyn Heights.
"It's a race for that third constituency," said a political consultant familiar with the election.
Adams is likely to tie up large chunks of the minority vote, with whom he's gained popularity for his vocal stance against racial profiling, stop and frisks, police brutality and gun violence – while his vote for gay marriage may put him at odds with conservative religious groups and minorities.
Recchia, meanwhile, may be able to count on the support of Jewish voters, seniors and powerful non-profit organizations all around Brooklyn, who he's helped steer money towards as finance chair.
Of the two candidates, Recchia is also most likely to continue the Brooklyn boosterism of Markowitz, having been a key player in the Coney Island redevelopment plan, and former chair of the Small Business Services committee in the Council.
Recchia has the clear fundraising advantage, with $706,245 raised from 1,640 sources as of the latest records held by the Campaign Finance Board. However, he will be required to return tens of thousands of dollars to backers as they exceed the $3,850-per-contributor limit set for borough president – a legacy of Recchia's fundraising for the citywide comptroller job, which has a $4,950-per-contributor cap.
Adams, meanwhile, has a $215,789 warchest from 1,168 sources.