Dock 72 Plans At The Brooklyn Navy Yard Will Include Food Vendors, Lounge, And Wellness Space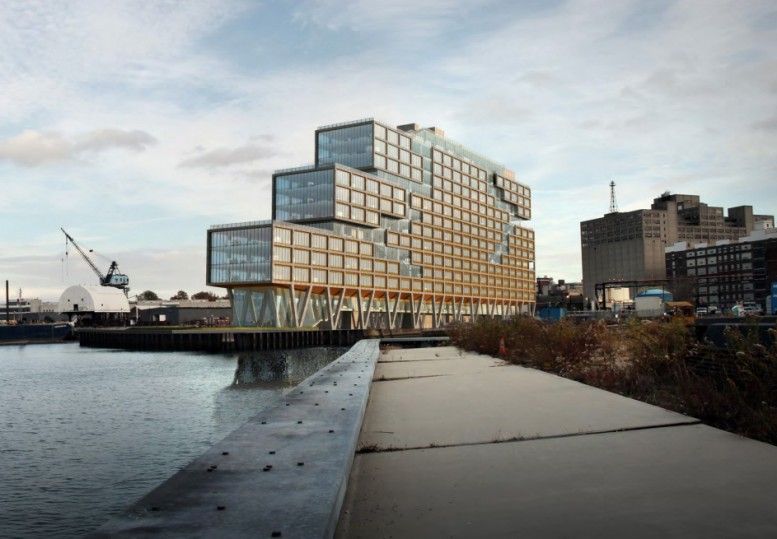 It turns out that the 14-story high, 500,000-square-foot building planned for Dock 72 in the Brooklyn Navy Yard won't just house office space for businesses such as anchor tenant WeWork; it will also be home to a ground floor food court of sorts for specialty food and beverage providers — open to the public — and a second floor fitness center for tenants, as well as an outdoor recreation space that will include a basketball court.
However, although we initially reported that the food and lounge area will be open to the public, a spokesperson for the Navy Yard, Michelle Friedman, has clarified that this is not the case. Rather, it will be open to "the entire Navy Yard workforce" — so, not just the tenants of Dock 72 and Building 72, but not the public at large.
We're awaiting word on whether any part of the space will be publicly accessible, similar to how the ground floor of under-construction Building 77 will house a food court and community space to bridge the Yard with Fort Greene, Clinton Hill, and Wallabout.
In addition, according to new details posted on the project website, Dock 72, the building is also estimated to be larger, with 675,000 rentable square feet.
This was corroborated by Robert A. Schubert, senior vice president of construction at Boston Properties, at a summer meeting of Community Board 2's Economic Development Committee.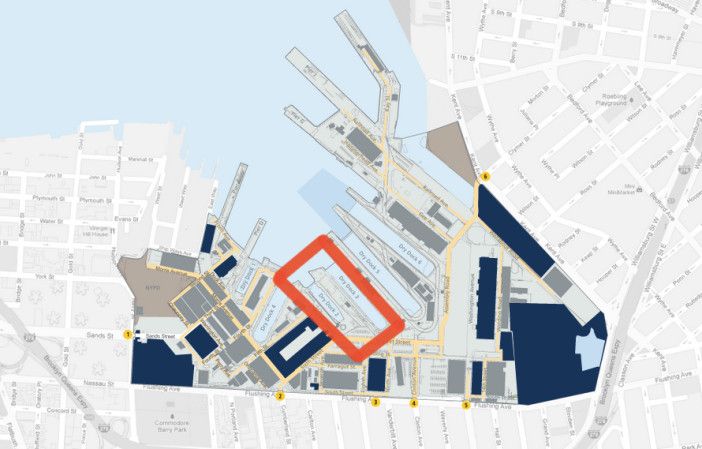 "It will be 16 stories tall, with an interior covered space, two ramps, ground bike storage, and raised flood protections," said Schubert. "And we're working with the Yard to integrate shuttle drops with the new space, which will also have a 10-foot-high fence to separate the building from where the Department of Homeland Security and the U.S. Coast Guard are."
According to Schubert, there will also be 375 parking spots for workers within the Yard, as well as "shade structures" and V-shaped columns around the interior sidewalk to the ferry.
At least 60 paid interns will also be accepted each year with the site's tenants, as a condition of the 15-year lease, said Aisha Glover, vice president of external affairs for the Brooklyn Navy Yard Development Corporation.
This latest development joins another recently announced plan for a food court and community space in BLDG 77 on Flushing Avenue between Clermont and Vanderbilt Avenues, to serve as a bridge between the community and the Yard.