Diverse Programming, An Outdoor Space & Other Updates From The Kings Theatre

This morning we were fortunate enough to get a look at the most recent progress on the enormous rehabilitation project at the Kings Theatre (1027 Flatbush Avenue between Tilden Avenue and Duryea Place). Theater Executive Director Matt Wolf led us along with representatives from the Flatbush Avenue BID, NYC Business Solutions, and CAMBA, Councilmember Mathieu Eugene, and other community members around the breathtaking building, which is still being worked on daily by dozens of contractors. Things have changed dramatically since we last set foot inside.

Once the theater opens (they're still unsure of a December 2014 or January 2015 opening date), even the lobby will be event-ready. The space's incredible size and handy slope for bleacher-style seating will suit everything from graduation and wedding ceremonies to city functions and children's events.

The theater will contain 3,200 seats, including 800 balcony seats. Because it's wide but not deep, as Matt is quick to point out, there really isn't a bad seat in the house.

The first two rows of the balcony will be "VIP seating," however, which entails different furniture and perhaps even drink service. Wheelchair accessible seating is available at floor level, and because the theater floor slopes, patrons should never run into visibility issues. A state of the art heating and AC system will be installed soon.

The stage, which is on its own 32 feet deep, can be extended with an adjustable pit area in front. That area can also be lowered for an orchestra, or raised only partway for additional audience seating.

Lighting and sound-wise, Matt says permanent sound towers will likely be placed at the front of the theater, with some other sound equipment placed around the auditorium. Only soundboards and monitors will likely change depending on an artist's preference.
The Kings has been advised by a sound expert to cover theater walls with acoustic paneling and curtains. LED lights inside the theater will allow for versatility at a number of events–if desired, the auditorium can be made to look any color of the rainbow.

Several cameos now visible to the left and right of the stage were completely hidden when restoration began. "They were just black, " says Matt. "We didn't even know they were there, but they got a good cleaning."

Other elaborate moulding around the building is being replicated using latex casts and plaster. As moulded panels are added to walls, workers use a small grouting tool to sharpen every detail by hand.

The theater's original color palette, which used to be almost exclusively red and gold, is honored–but unlike in its early days, some pops of blue have been added to break up, just a bit, the space's overwhelmingly opulent look. Still, each wall panel demands multiple paint colors.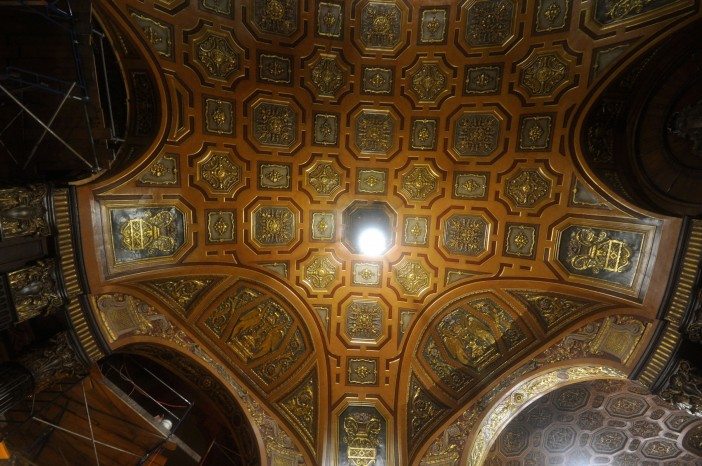 All but one wood panel in the lobby is original–particularly unbelievable given the state of the building when we first got a look at it. You'd never guess there was a sizable hole in the auditorium's ceiling just over a year ago, or that the balcony had been almost nonexistent.
The theater's original chandeliers, 2,000-pound behemoths that have been restored by a specialty company in Saint Louis, will be hung around the grand building entrance. Around 30 or 40 pieces of furniture once removed from the theater are being donated back and restored, including "the King's chair."

Both the theater lobby and balcony level will be lined with bars, where patrons can buy soft drinks as well as alcoholic beverages. As other concessions go, Matt is considering the best use of a space directly south of the theater, where three buildings used to stand, as an area to eat and drink in good weather–as well as the possibility of food trucks out front.

Most restrooms will be located in below the ground floor of the theater–where there was once, if you can believe it, a basketball court. Handicap accessible bathrooms will also be on the ground floor, and Matt hopes to add balcony level bathrooms, budget allowing.

In terms of audiences getting to and from the theater, Matt says on performance nights the Kings plans to have police and security line local blocks from the subway to the front door, both on patrons' ways in and out at night when many businesses will be closed, and both for purposes of security and navigation.

The theater will also have 750 total parking spaces–250 above Stop & Shop, and 500 behind the Kings building. Each lot will have attendants to help theater patrons efficiently find spots, and to keep traffic flowing on Flatbush.
"It's a city-owned lot, so we pay money to maintain it but we can't legally charge for spaces," Matt says of the parking area behind the theater. Discussing very unusual free lot parking in New York City is a rare instance in which he gets right to the bottom line.
"If I could charge you $20 to park out there, I promise you I would–the staff has to get paid!"

Matt is considering how to best handle parking in front of the theater, both so that people can be easily dropped off and picked up, and to make way for the aforementioned food trucks.
He doesn't see the Kings in direct competition with Manhattan venues–he looks forward to outer borough residents, both Brooklyn and beyond, coming to Flatbush as a destination. He believes major artists will choose to play at the Kings because of the building's meaning and history. And that Barclays Center? Well, they're about to lose about 1/3 of the year's available performance days to Islanders games. In a few years when the Kings is in full swing, he expects up to 350,000 visitors annually.

Matt is very clear about shaping the theater around Flatbush and not the other way around. He seems passionate about the area, which he's new to but growing quickly to love, but also acknowledges he's looking for the advice of longtime residents. Not only does he want to switch up programming (which may include film screenings after all, in addition to concerts, plays, and dance performances), marketing efforts, pricing, and concessions to accommodate neighbors from all different backgrounds and with different income ranges–he understands it's a business necessity. And besides that, he's willing to say there are things he's not 100% sure on, and that he's looking to Flatbush for guidance.

He is realistic about the good and bad changes the theater will bring to the neighborhood–while he acknowledges local housing costs and prices of amenities may rise, he hopes to try and combat some of those issues through hiring locals for the roughly 20 permanent positions at the Kings, as well as for event-specific jobs. He sees such jobs as helping retirees or low-wage workers to make ends meet, and is looking for people "who will help patrons make a personal connection to the theater." He mentions several times during the tour that he's insistent on hiring union laborers, and is all for Kings employees unionizing.

He wants Kings patrons to spend money at existing nearby businesses. He's toying with ideas like serving food in the outdoor area from Fisherman's Cove (where he loves the jerk chicken), and getting local churches involved with theater events. While he seems enthusiastic enough about the Best Western hotel being built across Flatbush and the Crunch Gym going in next door to it, he immediately follows that statement with a worried one about a rumored rent increase at another adjacent retail space.
"We want to build good community relationships; if we screw it up, it will take years to fix," Matt says. "We only get to do this once."