See A Ditmas Park Playwright Perform Her Neighborhood-Centered One Woman Show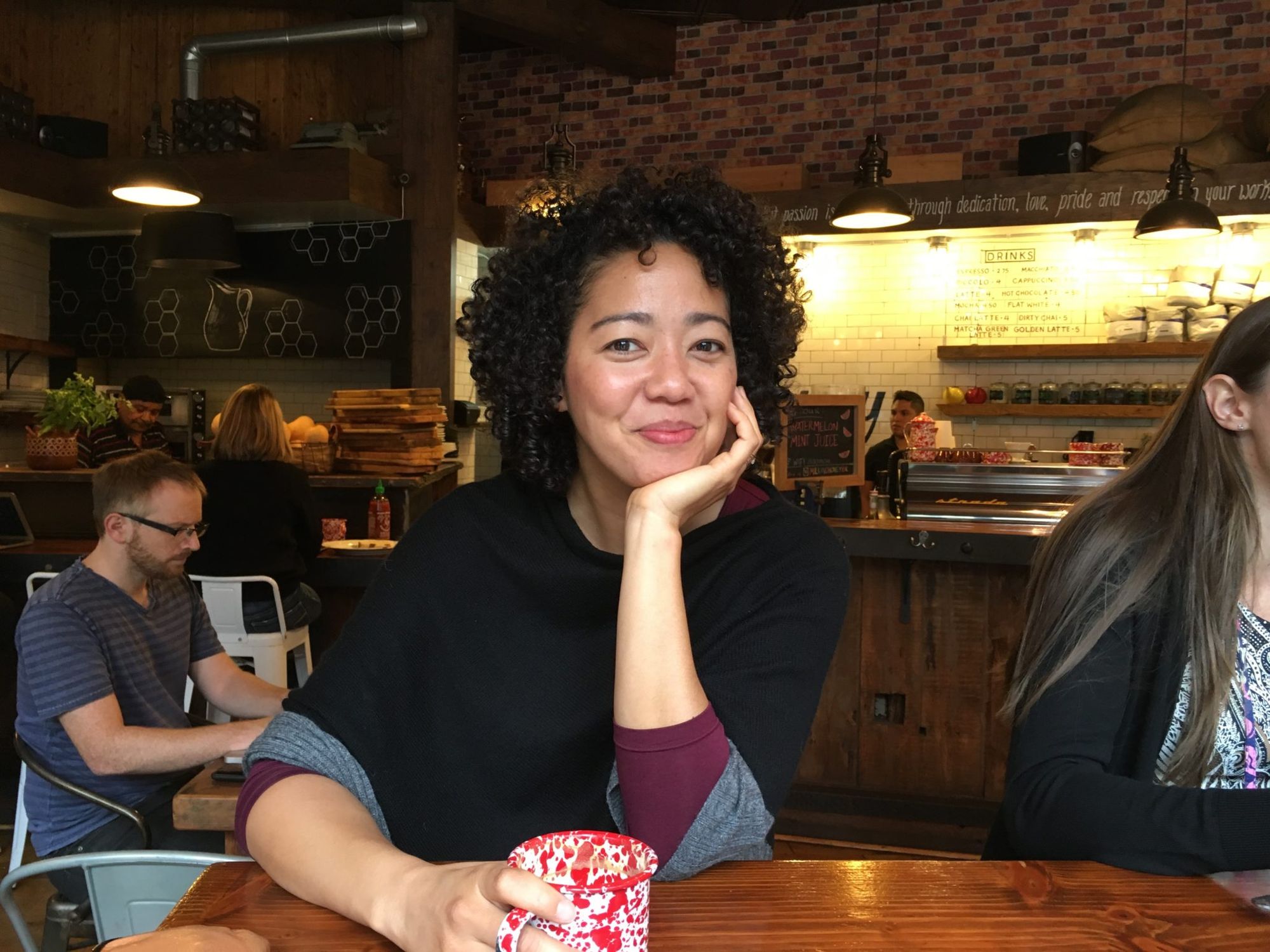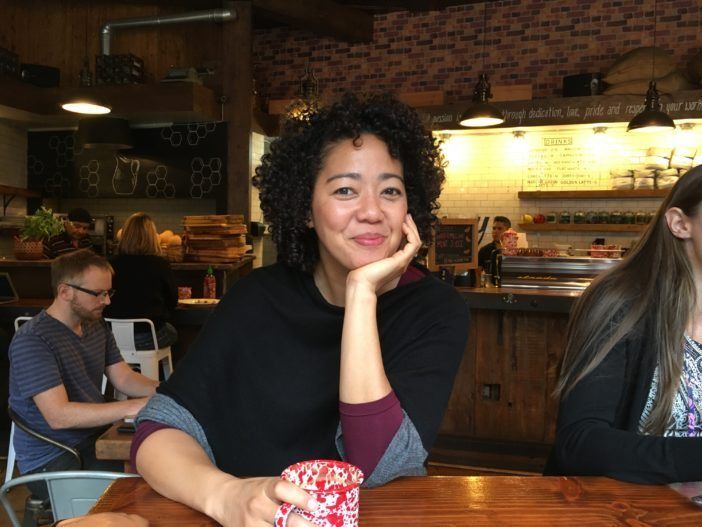 [Update 2017: Such Nice Shoes returns to the TheaterLab on April 6, 7, and 8. Buy your tickets here]
Ditmas Park-based actor, director, and writer Christine Renee Miller has taken on a powerhouse project: a one-woman show depicting a day in the life — with her portraying all 26 characters.
Miller begins the show, Such Nice Shoes, on a white stage, flanked by panels lit by superimposed abstract images of the subway. She appears first as Nay Nay, her name for the real-life woman who begs daily at Newkirk Plaza. "I've had this whole fantasy of who I think she is, and we've all been on subways with a lot of these people," said Miller.
From there, Miller plays 26 characters believably and honestly, with no help from sets or costumes. She'll turn around for a split second and embody the different accents, demeanor, and deep life histories behind each character.
The audience follows Miller's autobiographical character as she rushes between auditions, doctors appointments, and private yoga classes where she teaches wealthy clients how to relax. Though the details of her struggle are unique, the struggle itself is universal — and set to a hyper-local backdrop. "I talk about how the Q is the most diverse train line, we're all sitting next to each other. That makes me feel very at home," Miller told us over coffee at Milk & Honey.
Miller is used to diving head-first into her ambitions, a woman who left her Texas home at age 15 to pursue an acting career in LA. Within six months, she had landed a role on the popular 90s sitcom Sister Sister, and later Party of Five, Moesha and more. But she was eventually drawn to New York, a city that matched her artistic ambitions and latent fighter-spirit.
Growing up in Texas as a mixed race girl, Miller survived a sexual assault at her high school that awakened her sense of intrepidity. That same moxie serves her well in this city, where she chased down a kid that stole her cell phone on the Q train this past April. Still, Miller feels safest in this city, where she fits in as someone who doesn't quite fit the mold of expectations.
"I was always seen as an exotic thing — about my hair ["Korean girl with an afro"], my face, why am I eating that. When I think my food is stinky, I just walk down Coney Island Avenue — that's some stinky, delicious stuff!" she said.
Miller began writing plays, directing, and teaching and fell in love with the format. "I think solo shows, done well, can really impact people because it's such a personal story — there's something about getting to know someone's fears and struggles, that which is the most personal is the most universal," she said.
"Theater should make you walk away thinking about your choices and who you are, and that life is bigger than our own individual existence," Miller said over coffee.
Despite dark themes like poverty, sexual harassment, and cancer, Such Nice Shoes is hilarious. Miller had the entire audience laughing from fully-realized phone calls switching between a nonchalant nurse reading biopsy results and her Korean mother. "My mom always gets her idioms wrong!" she laughed.
In her writing, Miller explores the boundary between reality and embellished, artistically-constructed reality –which can sometimes be even more truthful. Her first solo show, Baby Cow, which debuted at the New York International Fringe Festival in 2008, was about her leaving her first husband — a show that she wrote before she actually decided to pursue a divorce.
"I wrote [Baby Cow] in Matt Hoverman's class, who said you can add fiction to help push the story along, even if it's autobiographical. When I wrote in the divorce, Matt said to me 'is there something we should talk about?' That show was really a vehicle to help me get my voice back," she said.
Miller now teaches solo playwriting with Hoverman, in Manhattan or via Skype. "One of the things I tell my students is that you have to walk through that desert, because what's waiting for you on the other side is that thing you've created, this stream of abundance," she said.
Miller met her current husband, photographer David Pexton, in 2008, and hasn't looked back. During the play, Miller's protagonist spends giddy asides on her sexy, British husband. "If it weren't for his support I wouldn't even be doing Such Nice Shoes, he was my cheerleader over the years," she told us. The couple moved to Ditmas Park after a bike ride around the neighborhood reminded Pexton of his home in London.
After directing other solo shows, New York became this place that Miller just couldn't leave. "People are more interested and eager to create something together, be part of a bigger conversation and have an impact," she said.
But Such Nice Shoes isn't just a celebration of the New York City dream, it's mired in the day-to-day slog with its minor epiphanies, personal and political dramas, and alienation. "As much as America is all about the American dream, it's also aggressive and competitive," she said. "There's a scarcity mentality — for women, for people of color, even for white dudes! Everybody has to fight and scramble for what little is there, so people keep their gifts to themselves."
"But I want the community to know that no one is in it by themselves, people are looking out for each other and we're rubbing shoulders with each other, so let's be a little bit more conscious about how we are to each other," she added.
The show comes full circle, ending the day with Nay Nay at Newkirk Plaza. "[The play] is a love letter to New York, with a few 'fuck yous' in there, which I think is something a lot of us can relate to."
See the show: Such Nice Shoes is playing at the Theaterlab, 357 West 36th Street, for one more weekend! October 20, 21 and 22. Tickets are $20, get yours here.
Watch the trailer for Such Nice Shoes here.
Take a class from Christine and Emmy Award-Winner Matt Hoverman in their GO-SOLO classes, playwriting for solo show performances.