District 21 Rallies Against Proposed Charter Schools In Gravesend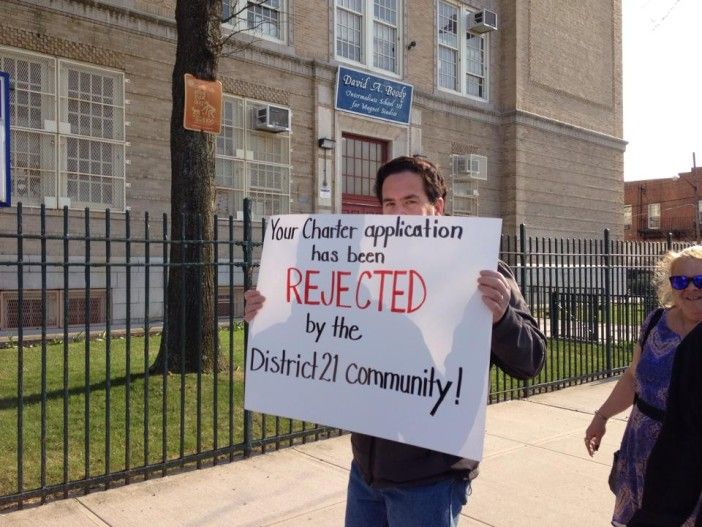 District 21 families have a strong message for charter schools: Stay away!
Though it was a school night, more than 75 parents and teachers rallied outside I.S. 288 David A. Boody Tuesday prior to a Department of Education [DOE] hearing on two charter schools that expressed interest in opening locations in the district.
District 21, which includes Gravesend, Bensonhurst, Coney Island, and Brighton Beach, already has two charter schools, which is more than enough, according to Community Education Council [CEC] 21 President Heather Ann Fiorica.
"What we are afraid of is, if we keep giving our seats to the charter schools, the schools that already exist are going to lose students," said Fiorica.
The proposed charter schools in question are Hebrew Language Academy [HLA], a dual-language elementary school which already has a popular location in District 22, and a globally orientated high school, Mentora International.
Fiorico also took issue with the way HLA marketed itself to private organizations in Brighton Beach, near P.S. 100 — a National Blue Ribbon winner with exceptionally high performance — without approaching CEC 21.
"They went to the Shorefront Y and Warbasse [Houses], where there is a Blue Ribbon school. It looks like they are fishing for those children," she said. "If you are only putting your fliers down there, then my Blue Ribbon school loses students."
Plus, Fiorica added, "the grades at P.S. 100 are unbelievable, and in 2013, HLA got an F. They've gotten better, but shouldn't they concentrate more on the building they already have?"
Regarding Mentora International, Fiorica said she testified that the district already has a great international school, International High School at Lafayette. Principal Jon Harriman also spoke at the hearing about the public high school's mission and expressed concern that a competing international high school would adversely affect his school's student body.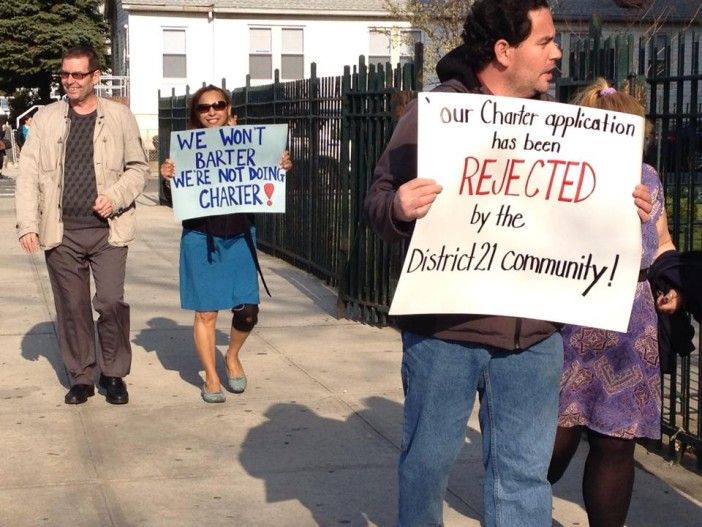 All participants in the hearing, including Fiorica, were allowed two minutes to speak. While most expressed fierce opposition to the charter schools, at least one parent told the DOE that she and others were interested in seeing another HLA in their community.
Several parents we spoke to expressed a similar sentiment.
"I've been told we don't have a zone high school," said Alla Perkis, a Bath Beach resident with a daughter in 7th grade. "I believe it was a Lafayette which I heard was so horrible that it was shut down. No other school was opened instead. The next closest high school is Dewey, which is not that great, and we have to compete to get in because it's not our zone school."
Fiorica argues that parents may not be fully informed about their options and encouraged parents to attend one of CEC 21's high school workshops for parents.
"If anyone has any questions, they should call our office. If there is a particular school they have issues with, then we can find out more for them. We want parents to stay in our district," said Fiorica.
The DOE has yet to make a decision on the charters. If the schools are approved, locations will be chosen to house them.
If you have questions about District 21 schools, you can reach out to CEC 21 at 718-648-2374.