Displaced Sandy Victims May Have A Home In New Coney Commons Development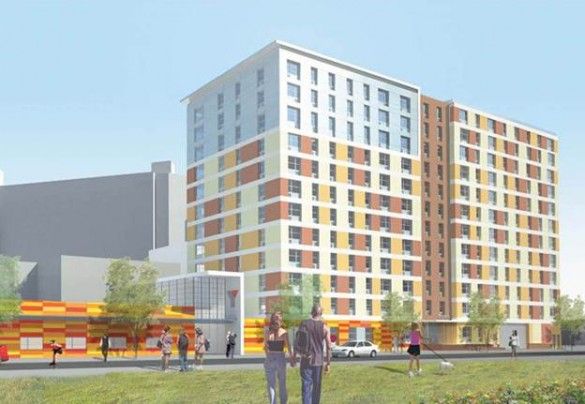 New Yorkers displaced from their homes because of Superstorm Sandy have a chance to gain some affordable housing via the Department of Housing Preservation and Development (HPD). Preference will be given to storm victims in a lottery to gain affordable housing in the new Coney Island Commons development, according to a press release.
HPD Commissioner Matthew Wambua announced that a 25 percent preference will be given to Sandy victims who meet the requisite income-eligible qualifications.
The new Coney Island Commons, located near Surf Avenue, is being developed under Mayor Bloomberg's New Housing Marketplace Plan (NHMP), a plan that sets to add 165,000 units of affordable housing across the city for half a million New Yorkers by the end of 2014.
The idea to provide a bonus for Sandy victims to get on the ground-floor of this new development was a matter of common sense.
"The destruction caused by Sandy has made it very difficult for many low-income families to find affordable housing. This initiative is a creative way to utilize the City's available resources to solve that problem," said Brad Gair, Director of the Mayor's Office of Housing Recovery Operations, in the press release.
Here are the relevant details for those looking to apply:
Coney Island Commons, near Surf Avenue, is currently accepting applications. Completed applications must be returned by regular mail only and must be postmarked by March 26th, 2013. Qualified applicants will be required to meet income and family size guidelines and additional selection criteria. To request an application, mail a post card to Coney Island Commons, c/o: ELH Mgmt. LLC 3rd FL, 98 Rockwell Place, Brooklyn, NY 11217. Or download the application from www.coneyislandcommons.com. As per the City's affordable housing lottery rules, current and eligible residents of Brooklyn Community Board 13 will receive preference for 50 percent of the units. In addition, income-eligible applicants who can document displacement by Hurricane Sandy and/or its related storms will receive preference for 25 percent of the units.
Located at 2960 West 29th Street and 2961 West 30th Street in Coney Island, Brooklyn, Coney Island Commons will have a total of 195 units—39 of which will be set aside for the homeless. The remaining 156 apartments will be affordable to households earning up to 60 percent of Area Median Income (AMI)—equal to a household income of $49,800/year for a family of four. Of the 156 apartments, there is a preference for qualified households displaced by Hurricane Sandy for 39 units in the building. There are a total of 20 studio units, 55 one-bedroom units and 80 two-bedroom units, with one unit set aside for the superintendent. The anticipated completion date for the development is summer of 2013.