Dine Across East Williamsburg at Grand Street Restaurant Week!
EAST WILLIAMSBURG – New York Restaurant Week might be winding down, but on Grand Street, it's just getting started!
This year's Grand Street Restaurant Week is underway and will run until Sunday, August 26. During that time, fifteen restaurants will be serving up prix-fixe lunch and dinner options at surprisingly good price points: two-course lunches for $10-15 and three-course dinners for $12-35!
The event is now in its 4th year, organized by the Grand Street BID.
Along with deals on delicious meals, diners can also score a $50 gift card to a Grand Street restaurant if they take a picture of their restaurant week meal for Instagram, using the hashtag #DineOnGrand and tagging @GrandStreetBID.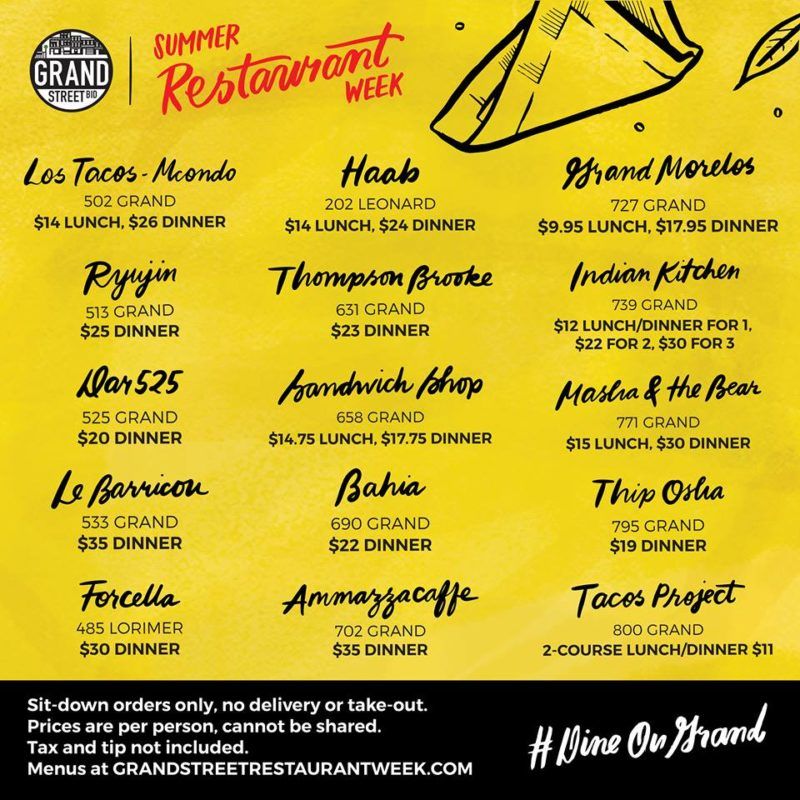 Check out a list of participating restaurants below!
Los Tacos-Bar McOndo:  Lunch $14 | Dinner $26
Ryujin: Dinner $25
Dar 525: Dinner $20
Le Barricou: Dinner $35
Forcella: Dinner $30
Thompson Brooke: Dinner $23
The Sandwich Shop: Lunch $14.75 | Dinner$17.75
Bahia: Dinner $22
Ammazzacaffe: Dinner $35
Grand Morelos: Lunch $9.95 | Dinner $17.75
Indian Kitchen: Lunch/Dinner for 1 $12, for 2 $22, for 3 $30
Masha and the Bear: Lunch $15 | Dinner $30
Thip Osha: Dinner $19
Tacos Project: Lunch/Dinner for $11
With 15 restaurants and 13 days left, you'll have to eat quick if you're gonna try 'em all!