Di Fara's Pizza Dragged Into Mayoral Race, Called Food For The One Percent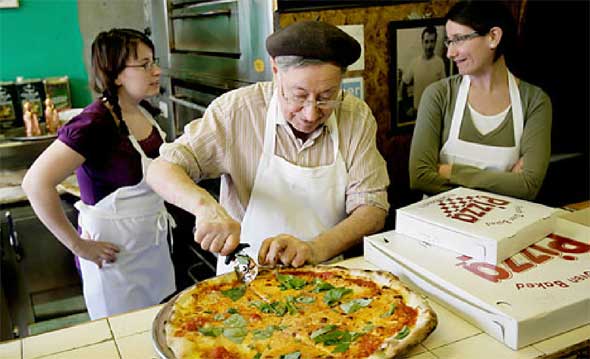 The beloved dough-tossers at Midwood's Di Fara Pizza were forced to defend themselves against allegations that they existed only to feed New York City's elite, after mayoral candidate Bill de Blasio declared it his favorite pizza.
The issue surfaced after the Daily News, in yet another hard-hitting policy report (akin to the "So… would ya' kill a kittie?" fiasco), asked Democratic contender Bill de Blasio and Republican Joe Lhota which pizzeria produced their favorite slice.
De Blasio, erring on the side of, well, every freakin' top-10 list in the city, said his heart and stomach are with Di Fara's (1424 Avenue J).
"To all the Manhattan foodies out there: it's not even close. This is clearly the best," he told the newspaper, fawning of Dom's use of "buffalo milk mozzarella, which is beloved in my grandfather's province in Italy."
The Daily News, in the business of creating controversy where there is none, declared that the rundown, generation-spanning family business is just a front for upper-crust snobbery, citing their $5 slice and $28 pie, believed to be among the highest in the city. They claim it's at odds with de Blasio's self-anointed status as a champion of the downtrodden.
"Mr. Tale of Two Cities eats his pizza with the 1%," the paper claims. "But the man who says he'll make the city a better place for the downtrodden if elected mayor insists the Brooklyn slice joint is worth the price — and the famously long line that snakes out its door."
New York Observer's Politicker blog, of course, wouldn't let sleeping dogs lie, and turned to the pizza king for a rebuttal.
"No, I feel like we have a very unique product," an employee told The Observer. "Anyone who tries it is going to find it to be a quality product. We hear people all day saying it's one of the best things they've ever eaten. No matter what percent you're in, once you try it, you'll love it."
And, of course, the whole idea that any pizza not laden with diamonds and the squandered dreams of Detroit factory workers is for the one percent is ludicrous. Even at the high price tag – $28 – a family of four can eat a meal and not break the bank.
What the Daily News should really be focusing on is Lhota's answer. Not only can he not name his favorite pizzeria, he claims that his favorite slice is – gasp! – buffalo chicken! From Queens!!!
Freakin' savage.