Di Fara Pizza Faces $1,600 Fine For Having Too Many Seats, Vows Fight On Facebook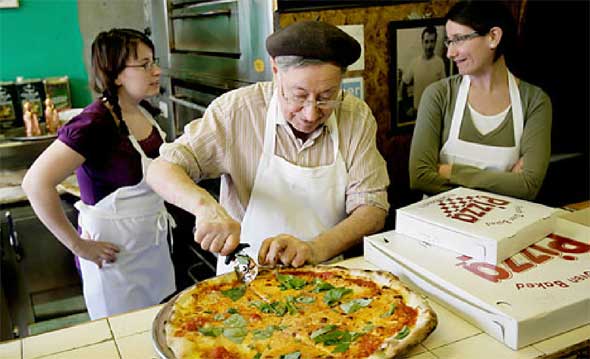 Legendary Midwood establishment Di Fara Pizza (1424 Avenue J) took to Facebook late last week and over the weekend, vowing to fight a $1,600 fine from the Department of Health for having too many chairs in the notoriously seat-strapped storefront.
Maggie DeMarco, daughter of famed dough-tosser Dom DeMarco, took to the social media site to explain a recent health inspection that left them with a B rating, saying that they had extra folding chairs in the kitchen.
Maggie wrote on Thursday:
A few years ago we purchased extra seats as we do get very crowded most of the time. We were always kind and would bring out an extra chair if someone asked … Those folding chairs caused us to get a B grade. As someone who has been doing this a very long time, I want people to know not to panic when they read grades on food service businesses . It rarely ever means anything hazardous to the public … At this time, we will no longer have anymore than 19 seats at all times.
According to city regulations, restaurants with 20 or more seats must have a public, handicapped-accessible bathroom. Di Fara does not. Their bathroom is behind the counter, in the kitchen.
On Saturday, Maggie updated Facebook fans on the developments. The city sent the business a letter offering to settle the case for $1,600 or spend a day attending a hearing. DeMarco suggested it's a racket, and one she won't stand for.
A business tends to settle just to avoid the inconvenience of attending the hearing. I , however will attend the hearing as I want the 19 seat rule explained to me clearer as we can not continue to pay fines for unexpected violations.
She also expressed her wish that the Department of Health assign dedicated inspectors to each restaurant, allowing them to build relationships and be subject to uniform standards on each visit – the inconsistent interpretation of regulations being a common complaint from restaurant owners.
DeMarco returned to Facebook again late last night, noting that the inspector appears to be a little ignorant of the laws. After some research, she discovered that the bathroom requirement is only applicable to restaurants opened after 1977. Since Di Fara Pizza opened in 1965, the eatery should be grandfathered in.
The hearing for Di Fara's appeal is scheduled for March 18.