Development Watch: How A Proposed New Law Could Let The Skyline Get Even Taller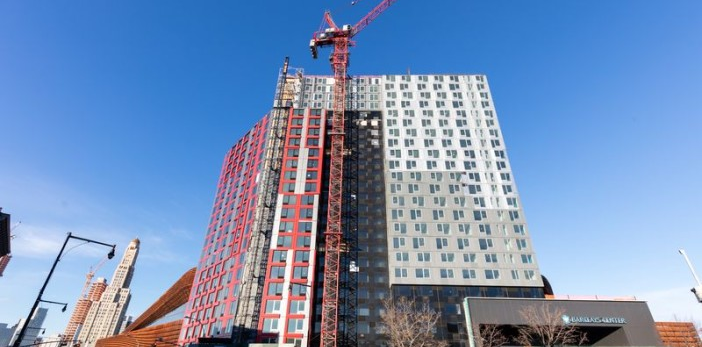 The ever-changing skyline could get even taller if a new bill in Albany passes.
Senate bill S5469 and Assembly bill A7807, which was introduced by Senator Simcha Felder and Assembly Member Keith Wright, would undo a 1961 restriction on density, allowing for New York City to zone itself for taller buildings if the bill and its sibling in the Assembly are passed by the end of the legislative session on June 25.
New York Magazine laid out how:
The rule change is subtle, affecting the formula called floor-area ratio, or F.A.R., that is used to compute the bulk and size of any building. Right now, residential buildings can have an F.A.R. of up to 12: A 5,000-square-foot lot, say, can be occupied by a 60,000-square-foot building, which usually works out (because of space set aside for setbacks, plazas, and so forth) to 20 to 25 stories.  Residential buildings' F.A.R. is capped by state rather than city law, and has been since 1961, when it was not only written into the zoning code but also enacted in Albany to ensure that it would stick.
The bill as introduced in the Assembly and Senate would eliminate that limit, although developers would have to get anything above 12 approved by the Department of City Planning (as well as the City Council, where public outcry might try to limit things again). That could mean a 40- or 50-story building, or even more, on that same 5,000-square-foot lot.
The changing skyline around Fort Greene has been highly controversial, raising topics like gentrification and affordable housing. Mayor de Blasio strongly supports the law as a part of his affordable housing drive, according to Curbed.
[poll id="17″]
The Pacific Park development's ongoing development continues to impact the neighborhood. As we reported, 550 Vanderbilt Avenue is nearing completion while remaining above target for minority and women-owned business enterprise (MWBE) participation in the construction process. Meanwhile, the FDNY has twice been called to 461 Dean Street in recent weeks.
Moreover, at a community meeting on Tuesday, questions were raised about falling debris from the tower at 38 6th Avenue. Developers explained they were the product of high winds, and assured residents that all appropriate steps were being taken to ensure safety. However, residents still had questions about what the high winds meant for them.
According to Atlantic Yards/Pacific Park Report:
That suggests that, for buildings of a certain height in the notorious wind vortex area around the Williamsburg Savings Bank tower (see 2003 article), the construction safety code is not enough. Indeed, the executives said they are taking several measures beyond the code to heighten safety.