Developing Story: Some Tenants Could Face Lockout Tomorrow At 415 East 16th Street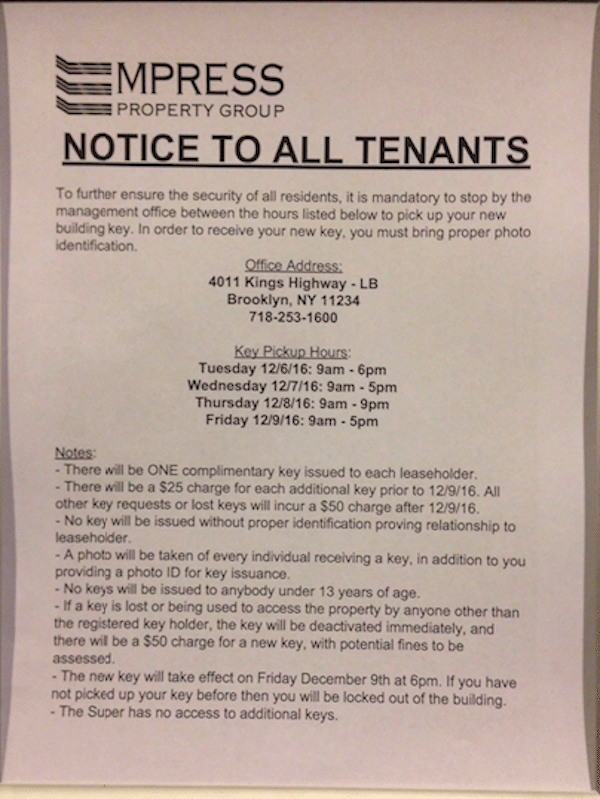 Today, we received an email from a concerned tenant regarding a notice about new locks in their apartment building tomorrow and a potential lockout for people in the building.
The sign at 415 East 16th Street between Cortelyou and Dorchester Roads, states that the management company is mandating every adult tenant to obtain a new key using a photo ID, by traveling to their Kings Highway offices during work hours only — and until 9pm today. We do not know how long these signs have been posted at the building.
The sign reads as follows: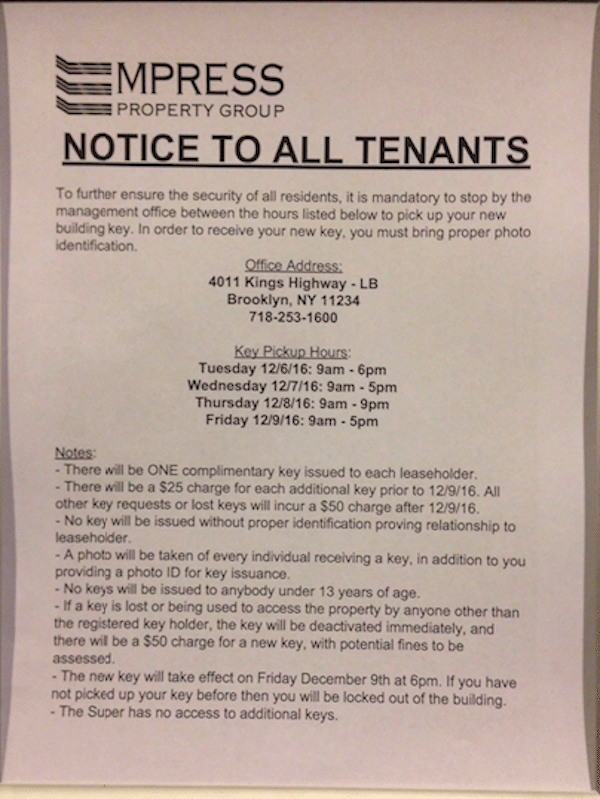 Tenants were given four listed days to pick up their key with a photo ID, or face a lockout by 6pm on Friday, December 9, with no keys given out by the super, according to the sign.
There are additional stipulations on the keys, including immediate deactivation if used by anyone other than the pictured resident, and that no person under the age of 13 can have one.
This mandate has serious consequences for working parents and their children, non-English speakers (who can't read the sign), subletters, and others who are unable to travel to the Kings Highway office during the week. One resident, who saw the sign because it was posted in the elevator, says the majority of the building's tenants are Spanish-speakers who have lived in the building for many years — but this person didn't see a Spanish translation.
The 6-floor, 54-unit rent stabilized apartment building is listed as a recipient of the J-51 property tax exemption and abatement program for renovating a residential apartment building, according to PropertyShark.
An anonymous neighbor also said that the building's front door has been broken for many years, and even though the door was replaced by a heavy "fancy" door, it still remains unlocked.
But in general, tenants cannot legally be locked out of their apartments, and tenants who are locked out tomorrow should see if they can file an illegal lock out petition in housing court, said a source at Brooklyn Legal Services. We are still trying to determine if it is legal to lock tenants out of the front door of the building.
We have reached out to housing legal experts, the management company, and tenants — but this is all we know right now. We will continue to follow this story as it develops.
If you are a resident of this building or have comments, please reach out to editor@ditmasparkcorner.com.
Resources for tenants:
Tenants who are locked out can call Brooklyn Legal Services at 718-237-5500 or call Flatbush Tenant Coalition at 718-635-2623.