Deutsch Funds Graffiti, Trash Removal For B/Q Subway Overpasses From Avenue M To Avenue Z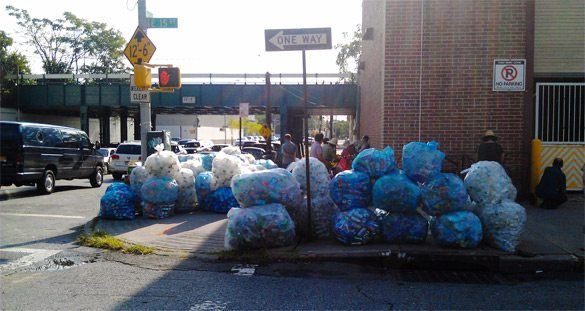 The trash problem beneath the Brighton line subway overpasses in Midwood and Sheepshead Bay is finally going to get a little better after years of complaints from residents.
Councilman Chaim Deutsch is sending $15,000 in additional funding to the Midwood Development Corporation to expand its Project Sweep Program, which is now responsible for cleaning garbage, debris and graffiti from beneath all subway overpasses spanning from Avenue M to Avenue Z. The project will also send cleaners to Sheepshead Bay Road, the Holocaust Memorial Park and a handful of other areas known to be eyesores.
The group goes out twice a week to hit several of the spots, according to information from Deutsch's office. Cleanups began in October and will continue until the end of June.
Project Sweep employs adults with developmental disabilities who work alongside job coaches to clean commercial strips. Since 1990, they've been tidying up other business corridors including Newkirk Avenue, Courtelyou Road and Avenue M.
"Graffiti and litter adversely affect our quality of life, and can even cause an innocent homeowner to incur summonses due to littered trash blowing onto their property. My goal is to enhance the beautification of our neighborhoods," said Deutsch in a press release. "I am eager to work with the leaders and members of Project Sweep on this endeavor."
If you'd like to report an area you want to see cleaned, contact Deutsch's office at (718) 368-9176.
Similar cleanups are being announced in other neighborhoods, including funding from Councilman Mark Treyger to local groups for cleanup initiatives on Mermaid Avenue and Stillwell Avenue.