Details Emerge On The Fort Hamilton N Train Shooting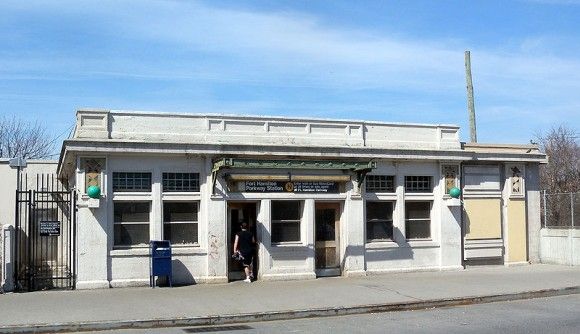 The two officers shot in the January 3 gun battle at the Fort Hamilton N train station are expected to survive. The suspect, however, was killed.
The plainclothes policemen were riding a Manhattan-bound N train that had pulled  into the Fort Hamilton stop when they noticed a walking man between the cars, according to DNA info. The officers approached the man and asked for his identification. He stood up, reached into his waistband and pulled a 9-millimeter Taurus gun on the cops. Then, he fired.
Officer Lukasz Kozicki, was hit in the legs and groin, and Officer Michael Levay, a Bensonhurst resident, took a hit in the back. Levay had on a bullet-proof vest.
Levay then returned the shot and killed the suspect. A straphanger in the same cart was injured when one of the bullets grazed his leg.
Witnesses on the scene said that everyone on the train was panicked. People ran from the subway platform and many fell as they scrambled to hide out.
The shootout in the subway car took place only an hour after Officer Juan Pichardo was shot in The Bronx. He is expected to live as well.
Senator Marty Golden responded to the incidents by focusing attention on re-establishing the death penalty. On his Facebook page he writes:
In the wake of the shooting of three New York City Police Officers this week, and the killing of a Nassau County police officer last fall, today I have renewed my call to reinstate the death penalty for criminals who kill police officers.
As a former New York City Police Officer, I know there is evil walking on the streets of the City and State of New York, endangering the lives of every single police officer. We only have to look at yesterday's headlines for the latest tragic incidents. It is our responsibility to re-establish the death penalty. We can no longer sit back and watch ruthless murderers take the lives of police officers. New York needs the death penalty to protect our society and our police officers who risk their lives every day for our safety and well-being. We must not let danger rule our streets.
In 2004, the Court of Appeals overturned death penalty sentences, saying that judges were improperly required to instruct jurors in capital cases that if they deadlocked and failed to reach a verdict during the penalty phase of a trial, the judge would impose a sentence that would leave the defendant eligible for parole after 20 to 25 years.
The identity of the man who shot the officers on the train is being withheld until his family has been notified. Police did say that he has a lengthy rap sheet from New York and Los Angeles, which includes a bust for possession of a deadly weapon.