Despite Commissioner's Plea, Cops Protest Mayor At Officer Liu Funeral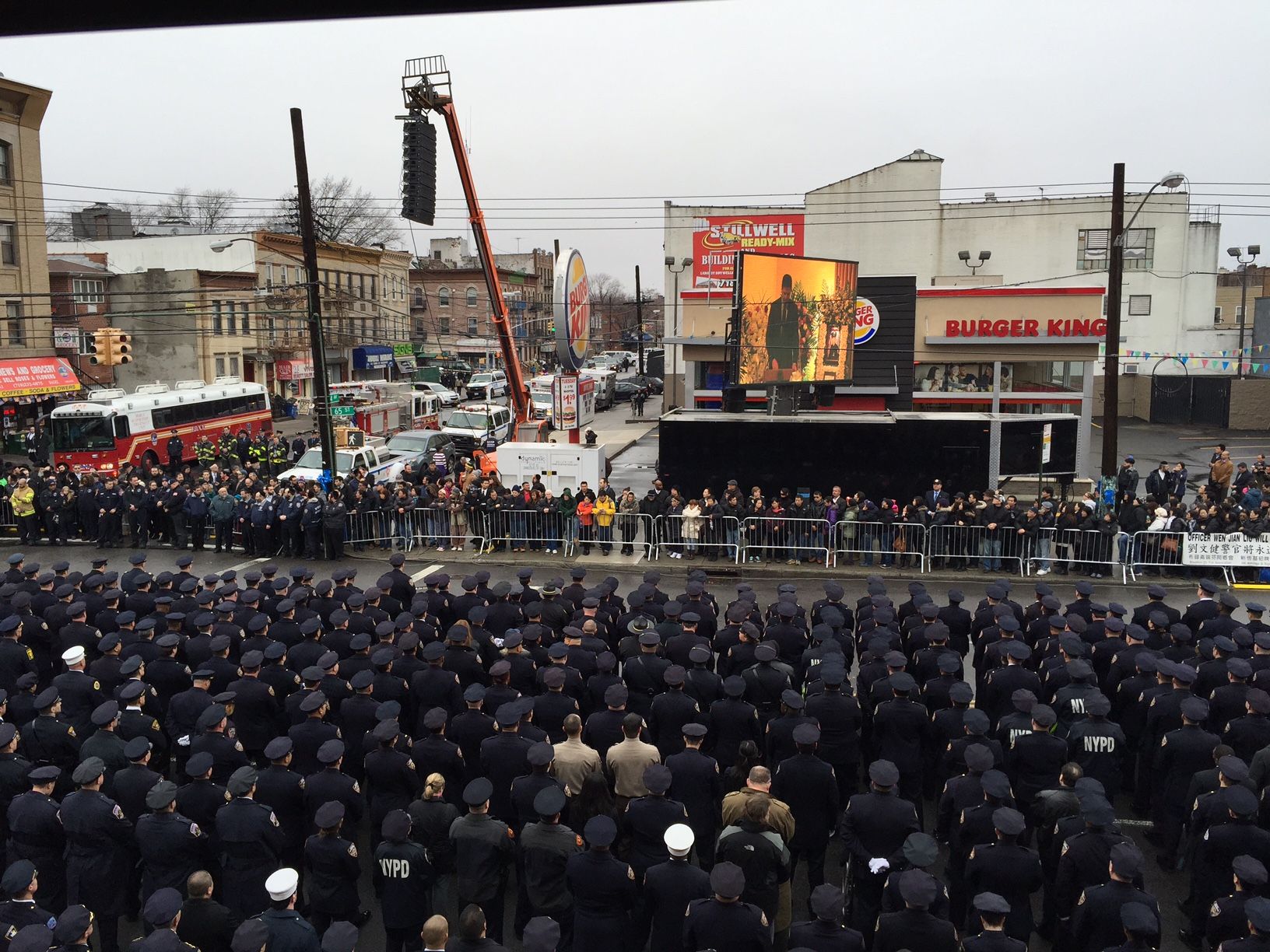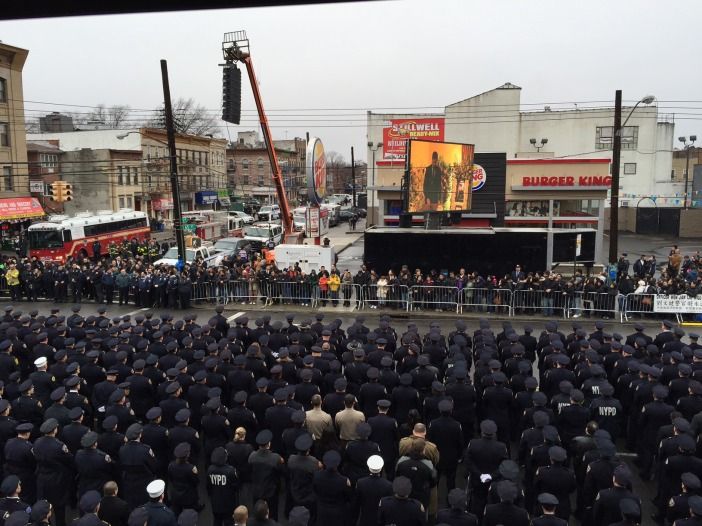 Thousands of NYPD officers filled the streets of Dyker Heights Sunday morning, forming a sea of navy blue at the funeral procession of Officer Wenjian Liu, the Gravesend resident who was shot dead with his partner Officer Rafael Ramos on December 20.
As Mayor Bill de Blasio appeared on a screen outside to eulogize the slain officer, groups of police in the audience turned their backs to the mayor's image in defiance, reports the New York Times. Only when NYPD Commissioner William Bratton took the podium did the officers turn back and face the screen.
While cops were not unified in their protest – only patches of officers took part this time, compared with nearly all of them at the funeral of Officer Ramos last week – their actions seemed brasher in the wake of recent attempts at reconciliation between the mayor and NYPD union leaders, as well as explicit instructions from Bratton not to "disrespect the memories of Officer Liu and Officer Ramos."
"A hero's funeral is about grieving, not grievance," the commissioner wrote in a memo on Saturday. "I issue no mandates, and I make no threats of discipline, but I remind you that when you don the uniform of this department, you are bound by the tradition, honor and decency that go with it."
Tensions between de Blasio and NYPD union leaders escalated during the weeks of protests that followed a jury's failure to indict the officer who killed Eric Garner. Members of NYPD said they felt betrayed by the mayor when he voiced concerns about police interactions with his own son, who is black. Using charged language, union chiefs penned a letter on the Patrolman Benevolent Association (PBA) website urging officers to ban the mayor and City Council Speaker Melissa Mark-Viverito from attending their funerals in the event of their deaths.
Then, after Officer Liu and Officer Ramos were brutally murdered in an apparent revenge attack for the deaths of Garner and Michael Brown by a mentally ill man, PBA President Patrick Lynch accused de Blasio of having blood on his hands. Yesterday, Lynch defended Sunday's protest since it happened outside the funeral home, though he, noticeably, did not participate.
"This was an organic gesture that started on the streets of New York, and it should be respected," he told the New York Daily News.
NYPD leaders and the mayor sat down last week to try to sort out their differences, but those attempts were unsuccessful, according to reports.
As he concluded his eulogy, de Blasio struck a conciliatory tone.
"As we start a new year, a year we are entering with hearts that are doubly heavy from the loss of Detective Liu and the loss of Detective Ramos, let us rededicate ourselves to those great New York traditions of mutual understand and living in harmony," he said. "Let us move forward by strengthening the bonds that unite us. And let us work together to attain peace."
The rest of the event went as planned, incorporating both NYPD and Chinese traditions. The casket was was draped in a green, blue, and white NYPD flag and the hearse was lead by a police motorcade, a marching band, and bagpipes playing a simple melody. In accordance with Buddhist custom, the hearse carrying the coffin was then driven by Officer Liu's house on West 6th Street, and the officer's widow, Pei Xia Chen, held a stick of burning incense in front of the home – a final farewell.
Here's some footage of the funeral procession, submitted by reader Peter De Angelis:
https://www.youtube.com/watch?v=fXAyw4ZDXzY