DEP, DEC Scope Out Harkness Ave Sewage Leak Site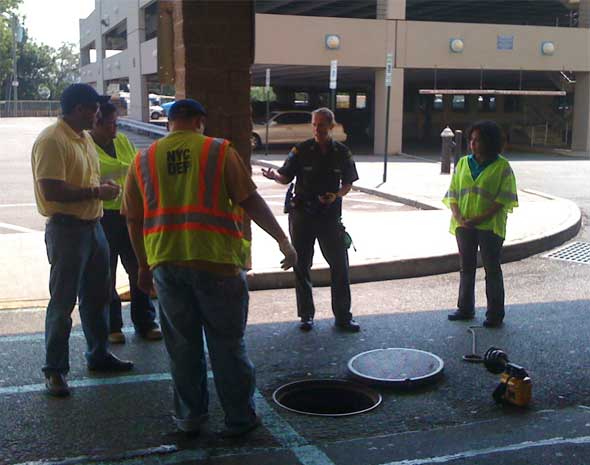 Arthur Borko snagged this photo of New York City Department of Environment Protection (DEP) and New York State Department of Environment Conservation (DEC) authorities checking out the sewage lines on Harkness Avenue, just off of Knapp Street.
(This article has been updated. The update is after the original post.)
The location, between the United Artists movie theater and the row of shops that includes Coldstone Creamery, Jordan's Lobster Dock and TGI Fridays, was the site of sewer lines that were being improperly maintained by the area's landlords, causing raw sewage to spill into Shell Bank Creek. Back in December, authorities arrested eight individuals and charged four businesses – Regal Entertainment Group, TGI Friday's, Knapp Street Bagel and the Deauville Marina – for illegal dumping, claiming that the businesses had ignored the problem since 2003 despite being notified by the city.
The dumping occurs through a stretch of leaky, poorly maintained pipes lining the waterfront. The businesses along Harkness Avenue and Knapp Street are not connected to the city's sewer system, so the privately-owned wastewater lines lead directly to the nearby sewage treatment plant. Brooklyn District Attorney Charles Hynes said the individuals charged face up to four years in prison, and the four businesses could be forced to pay up to $75,000 a day until problems with their sewage infrastructure are repaired.
The DEC officer on scene could not tell us if the testing had to do with the December case, only noting that it was a part of an "ongoing criminal investigation."
Calls to the DEP press office have not been returned.
UPDATE (4:28 p.m.): Minutes after posting, we received a call from the DEP saying that the testing was a part of the Industrial Pretreatment Program, an EPA-mandated monitoring of sewage lines around certain types of waterfront businesses. The DEP conducts more than 600 such tests a year around the city. When we pointed out that the DEC officer stated it was part of an ongoing criminal investigation, the DEP spokesperson said she was unaware of any connection.