Dems Hold Out Hope For Bob Turner's Seat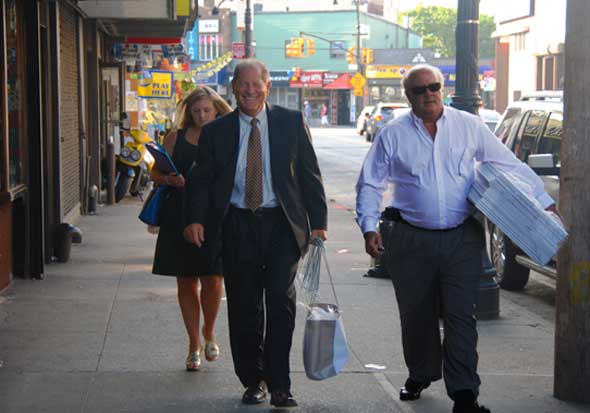 With New York State set to lose two of its 29 congressional seats in the House of Representatives, the Democrats hope a Republican's seat isn't one of them.
Democrats are hoping that Bob Turner's seat isn't on the chopping block because they strongly feel that they can win it back.
"I believe it's a Democratic seat and would be won by a Democrat," Assembly Speaker Sheldon Silver told the New York Daily News.
Despite Turner's upset victory in the race to replace Anthony Weiner last year, and the ensuing media reports that claimed it as evidence that area was becoming increasingly conservative, the party believes that the congressional district remains staunchly blue. They also think Turner remains a vulnerable candidate.
Those claims are backed up by Turner's own weak fundraising efforts. As the New York Observer's Politicker blog noted, the congressman's financial performance has been lackluster:
Recently elected GOP Congressman Bob Turner reported a relatively modest campaign haul today, showing just $76,000 raised with $71,000 cash on hand since the last reporting period. This is not an especially large pot of money to to proceed forward in what could be a tough reelection environment for him. For comparison, New York City's other Republican Congressman, Michael Grimm, raised hundreds of thousands of dollars this cycle and has over a million dollars in the bank.
Other Democrats are also pushing to end the narrative that the area is becoming a Republican enclave.
"This election is going to make a big difference. This is where we draw the line in the sand. This is where we break up the firewall," said City Councilman Lew Fidler during a meeting of the Brooklyn Young Democrats at Wheeler's (1707 Sheepshead Bay Road). The councilman noted that any further Republican victories in the area would encourage the party to focus more on ousting other local Democrats, sparking a red wave throughout the borough. "They are not going to turn Brooklyn red," he said.