Debate Between 33rd Council District Candidates This Weekend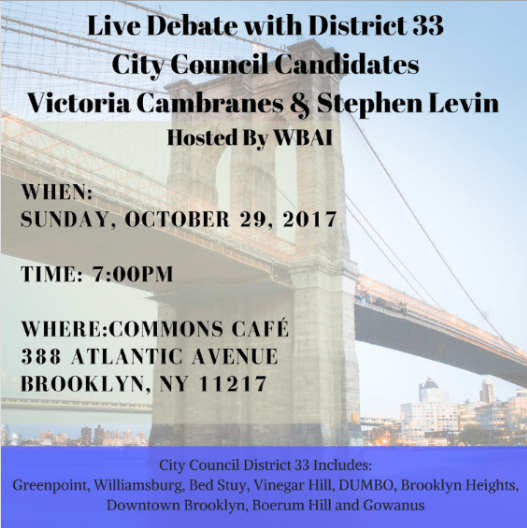 Incumbent Stephen Levin of the 33rd City Council District will debate his opponent, Victoria Cambranes, this Sunday, October 29 in Boreum Hill.
The event will take place at Commons Cafe, 388 Atlantic Ave, starting at 7:00 PM.
While Cambranes has planned the event for some time, she hadn't been able to secure an agreement to debate from Levin. Finally, on October 24, she posted to Facebook: "I have challenged my opponent Stephen Levin to a debate… at the Commons Cafe. Even after discussing it with him in person, he has yet to rise to the occasion – it's time to call him out."
The tactic worked, as Levin has agreed to sit down with his challenger and debate policy for the upcoming election. WBAI will be hosting the event, which will also be live-streamed on Facebook.
Major North Brooklyn issues such as truck traffic, infrastructure and affordable housing are sure to be up for discussion.
The event is open to all who wish to attend, but seating will be on a first-come, first-served basis. It's a great opportunity to see democracy in action, and to hear local politicians articulate the views that shape their constituency's daily lives.