Deadly Gravesend Crash Claims Three Lives Over The Weekend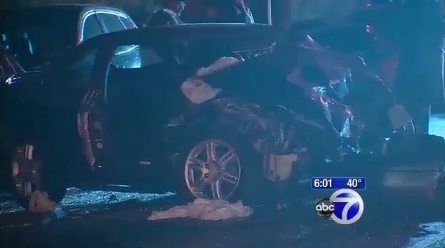 Approximately 100 people gathered Saturday night for a candlelight vigil to remember the three victims killed in a devastating car crash in Gravesend over the weekend, according to a report by ABC 7.
The accident, which also injured three others, occurred early Saturday morning when a black Acura smashed into a red Toyota Camry at the intersection of East 5th Street and Avenue U.
The ABC report identified the victims and the circumstances that led to the deadly collision:
Both people in the Toyota were killed: 24-year-old Leonora Lavaud and 26-year-old Andre Capers-Jones.
The driver of the Acura also died in the crash.
He has been identified as 21-year-old Jonathan Ishan-Sade.
Three passengers in his car were injured.
Police say Ishan-Sade was travelling east on Avenue U at a high rate of speed, went through a steady red light and smashed into the Toyota.
Lavaud, a Brooklyn College student and waitress, was described as being very active in her sorority.
Capers-Jones, a health administration major at New York Tech, had dreams of becoming of a special needs teacher.
The Linkedin account of Ishan-Sade, a graduate of Baruch College, lists him as having been a marketing and advertising executive manager, with a link to a personal Amway page. He was reported to be living here in Sheepshead Bay at 2626 Homecrest Avenue, according to CBS NY.
The crash has devastated the families of the young victims.
"He didn't deserve that," said Maurice Capers, Andre's cousin, to ABC 7. "He was doing everything, everything."
CBS New York provided details on the three injured passengers:
One of them was ejected and slid underneath the parked car behind the Acura.
That person was taken to Lutheran Medical Center in critical condition. People who saw him come into the hospital described him as unresponsive.
The other two were trapped inside and were pried out. They were also taken to Lutheran Medical Center, where their conditions were reported as stable.
Updates on the conditions of the injured passengers were not available Sunday.
A NY1 news report gives an update on the conditions of the victims:
"One of the girls, Rachel, she was getting surgery on her right leg. She had open fractures and closed fractures. And the other friend, Dimitry, he's on life support. He has a breathing tube down his throat," said Nick Castello, a friend of the injured victims. "When I went in there to check up on them, one of the nurses said Dimitry woke up and was trying to take the breathing tube out, so they sedated him."
Authorities also said that a firefighter who responded to the scene suffered minor injuries as well.