Deadline to Register Your Studio for GO Is Friday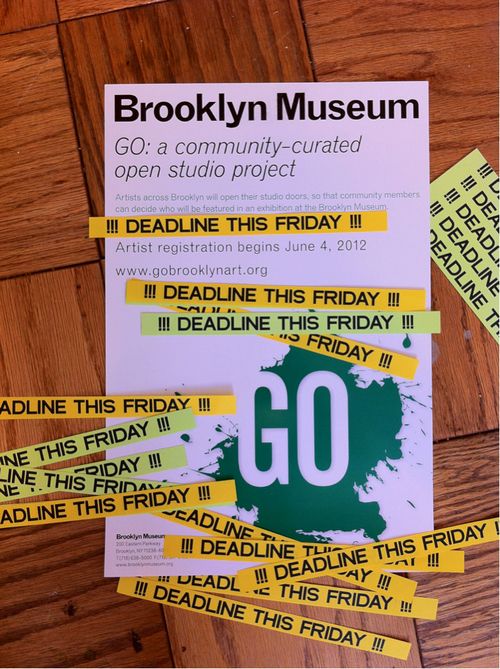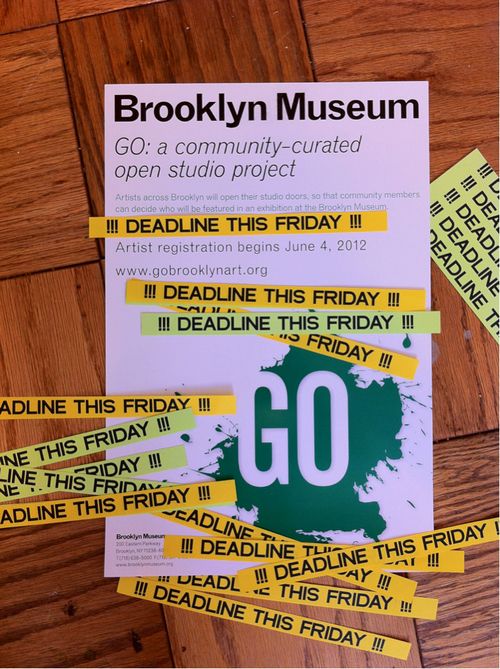 This fall, you can open your art studio for GO and then possibly end up in a show at the Brooklyn Museum. But you've only got until Friday, June 28 to register your studio!
If you've had any questions about it, we got some answers from the area's Neighborhood Coordinator (and Kensington resident) Renee McGarry:
DPC: What are the advantages for an artist in participating?
RM: There are many advantages beyond just the chance to be in an exhibition at the Brooklyn Museum! (Though that's a good one.) For artists in Ditmas Park and the surrounding areas, the open studio provides an opportunity for exposure and also a chance to show the community that (a) there are artists working in our neighborhoods and (b) how they work.
As I've talked to people in central Brooklyn I've come to realize just how many artists are here and also that there's a need for community! Opening studios for GO helps further establish a sense of artistic community and puts artists in contact with people whose work may inspire them in different ways. As with the Flatbush Artists Studio Tours or the mural projects on Church and Newkirk Avenues, participating in GO allows for a focus on how art can change and impact our neighborhood.
What if an artist's studio is in their home?
GO seeks to show how artists work, and in central Brooklyn many artists work in their homes. We want you to show your workspace, and if that's in your home we're asking that it be "visually separate" from your living space. Many artists still might have questions about whether or not their space qualifies, and I encourage people to get in touch with me. As neighborhood coordinator I can work through that question with you and help you determine if and how your studio will work in the project.
What if an artist shares a studio?
If you share a studio you can still participate, and not every artist in your studio must be involved. You'll just have to clearly distinguish between your work and the work of your studiomates. If more than one person in a studio wants to register that's great too! But unless you work collaboratively each artist in a studio must register as an individual.
Can artists sell their work?
No, artists cannot sell their work during GO, as we want to focus on process rather than product. Our goal is to create conversation among artists and community members and allow visitors to see active workspaces rather than exhibition spaces. (Here is a fuller explanation.)
What kind of promotion will be done for artists/what kind of promotion should artists do before the open studios?
We encourage artists to publish their profiles as they register, because that allows you to self-publicize the event on social media using the "Share" tab. Around August 1, the Brooklyn Museum will make artist profiles live and viewable to the general public. For the open studio weekend (September 8 and 9) we'll have a detailed map of the location of all of the studios in Brooklyn. As artists register we can talk more about how to spread the word in our neighborhood.
Can performance artists, jewelry makers, illustrators, photographers, and other art makers participate?
The answer to this is a resounding if you have a studio then YES! For me, one of the most exciting aspects of the project is that we're inviting all artists to participate, and all artists have the chance to be in the Brooklyn Museum exhibition. We've talked a little about what this means for performance artists on our blog.
What do you do as neighborhood coordinator? Should people contact you if they live in these areas and have questions?
As neighborhood coordinator my job is to spread the word about GO in our neighborhood, encourage artists and volunteers to register, and answer any questions people may have. As the event weekend closes in I'll also be working alongside volunteers to get people to and from studios.
Since we don't have any gallery space in our area, do you have any dream locations for one?
This is a great question! I like to think beyond storefront gallery space, and I think it would be interesting if artists could use one of Ditmas Park's large Victorian homes as a workspace and gallery. Shared workspace inevitably encourages creativity and the unique layout would encourage site specificity in a way that more traditional space wouldn't.
The Brooklyn Museum is putting together a map of all of the studios, so we'll share the map of our area as we get closer to the open studios (and when you register, be certain that your location is absolutely correct so they send people to the right place!).
If you have any additional questions for Renee, you can contact her at renee [dot] mcgarry [at] gmail.com.