Deadline To Enroll In Health Insurance: Tuesday, January 31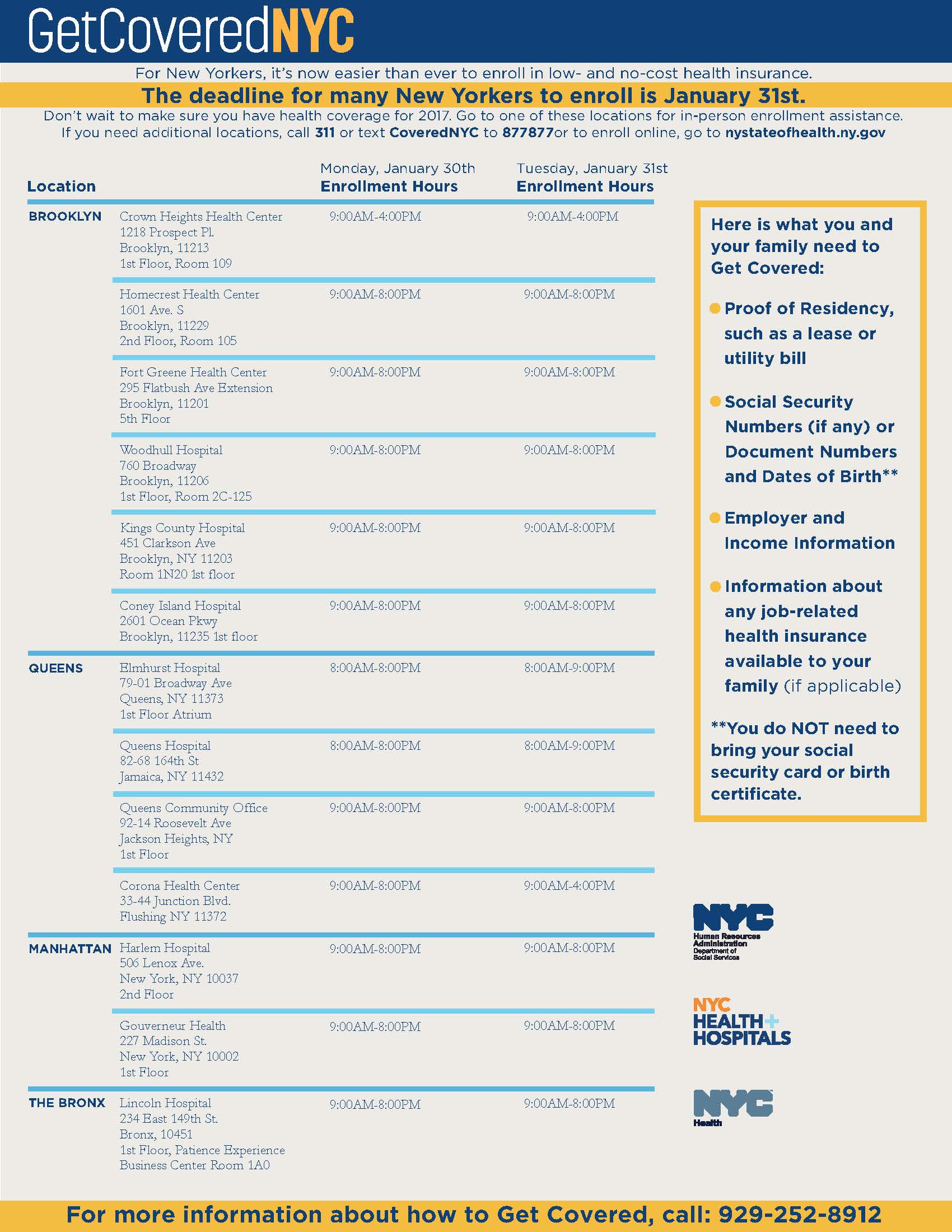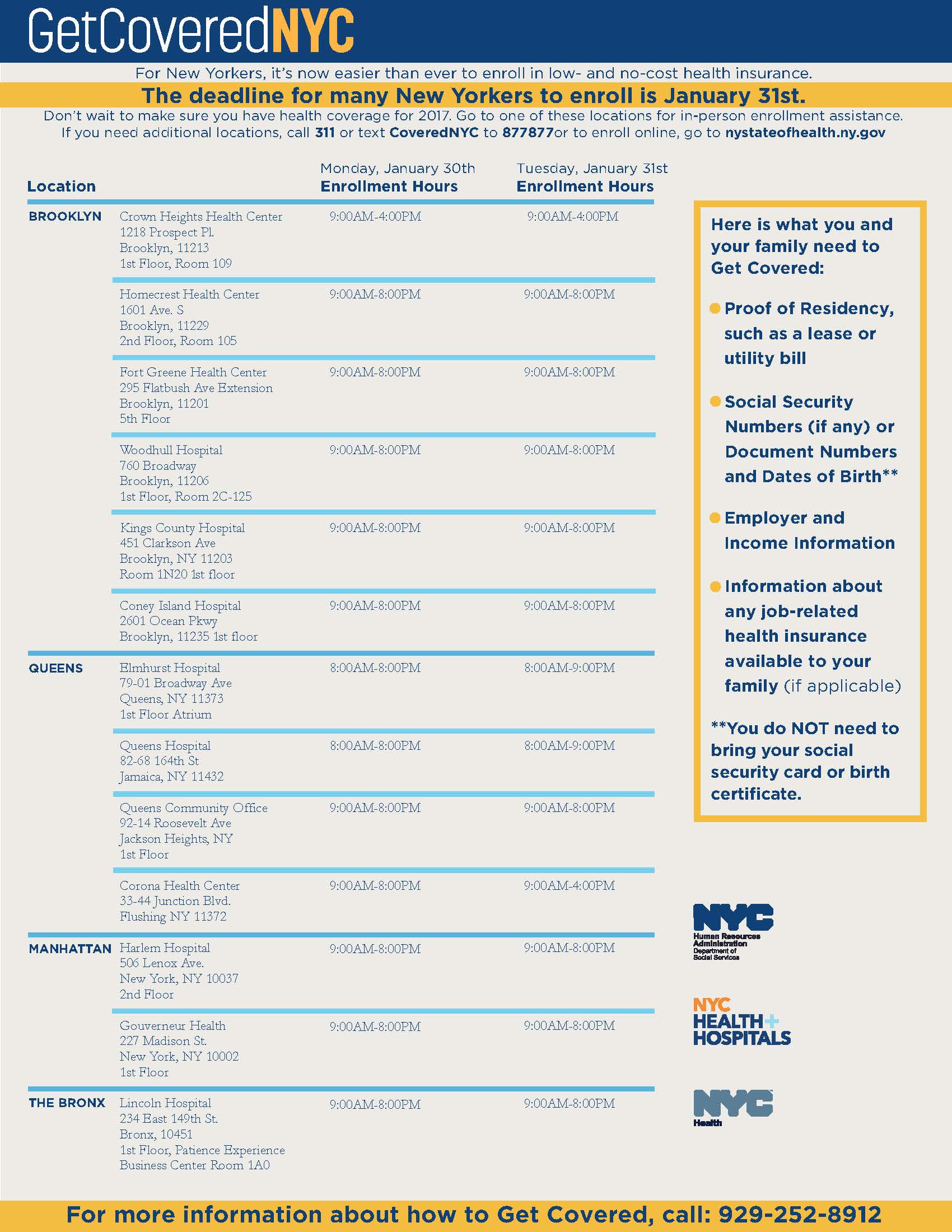 Still don't have health insurance? Call 311 or text CoveredNYC or SeguroNYC to 877877 for free, in-person enrollment assistance information.
"Despite President Trump's actions to undermine the Affordable Care Act, our efforts to provide every single New Yorker with quality, affordable health care continues," said Congressman Joe Crowley. "With the deadline for enrollment just around the corner, I'm glad to see the Health Department, through its GetCoveredNYC initiative, is ensuring that residents who are uninsured can obtain the assistance they need in order to obtain coverage through the New York State of Health Marketplace."
Today and tomorrow, GetCoveredNYC team will be out across the city  to sign up as many New Yorkers as possible. Enrollment facilities will have extended hours to provide convenient, free, in-person enrollment assistance.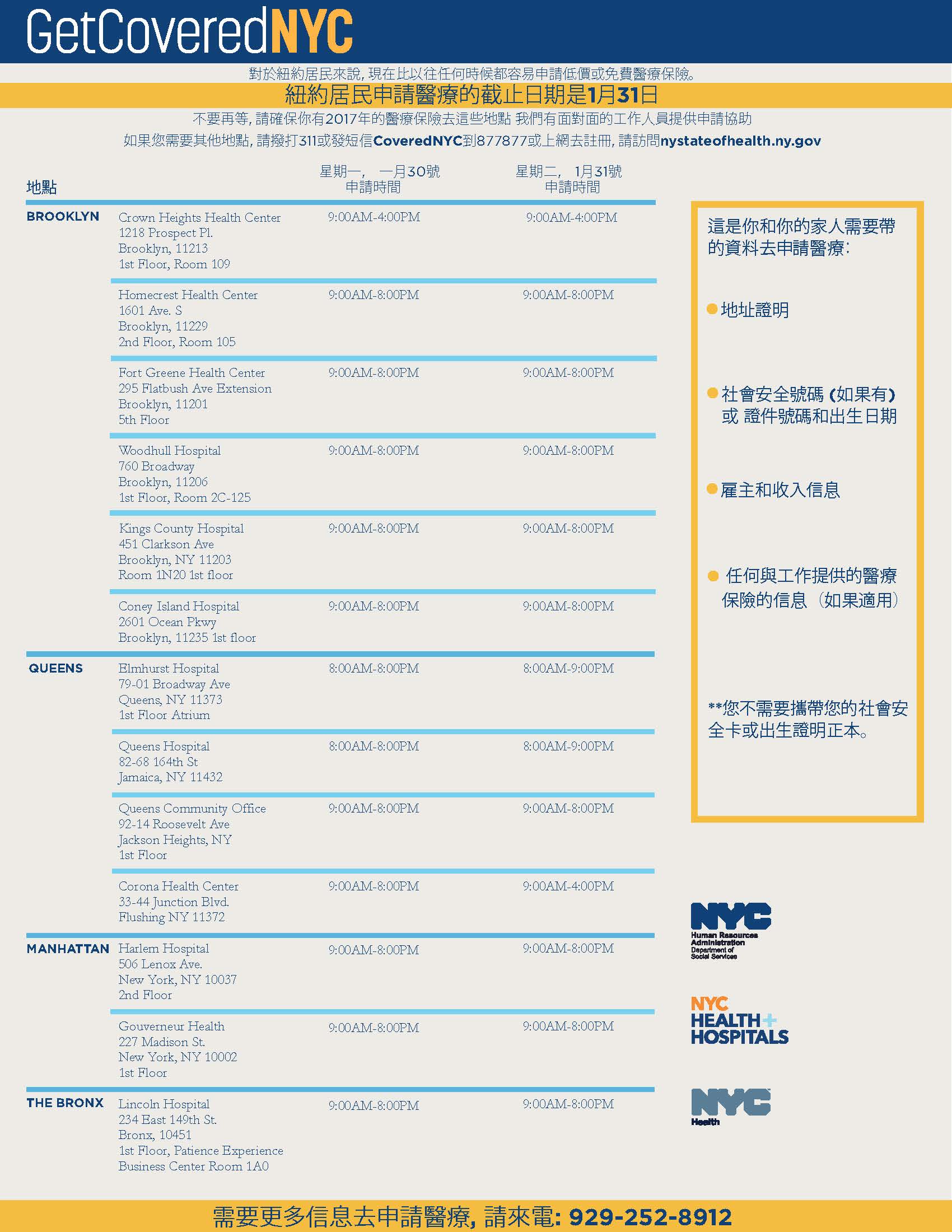 "Getting health insurance is the first step toward accessing affordable and quality care, and living a healthy life," said Health Commissioner Dr. Mary T. Bassett. "If you don't have health insurance, we're here to help you find a plan that works for you. Don't wait to get covered."
Many New Yorkers may still qualify for low and no-cost health coverage throughout the year even after open enrollment ends, so the GetCoveredNYC team will be proactively engaging New Yorkers and case managing them through every step of the enrollment process, ensuring they come prepared to their appointment, and following up afterwards to facilitate access to care.
U.S. Senator Kirsten Gillibrand said, "Having good quality health insurance is often the only way families in New York can afford treatment and medical care. The Affordable Care Act has given more New Yorkers access to affordable health insurance than ever before, but many families still haven't enrolled in a plan. The deadline to sign up is approaching fast, so if you don't have health insurance yet, make sure to enroll today."
The City provides free enrollment assistance, in person at its Health Centers in all five boroughs, but New Yorkers can also call 311 or text CoveredNYC or SeguroNYC to 877877 for information on where to enroll or visit NYStateofHealth.ny.gov to enroll online. Residents who are uninsured after the deadline may face penalties.
"New York City is living proof that the ACA covers millions of people in effective and accessible ways," said Council Member Corey Johnson, Chair of the New York City Council Committee on Health. "We have a strong, successful healthcare marketplace, and we are going to continue to ensure that all New Yorkers have access to insurance regardless of what the Trump Administration says. Because of the great work of our City and state's public health officials, enrolling is easier than ever, and it is critically important that all uninsured New Yorkers enroll before January 31."