The Day: A Park Avenue Light Display and Bus Rapid Transit Plans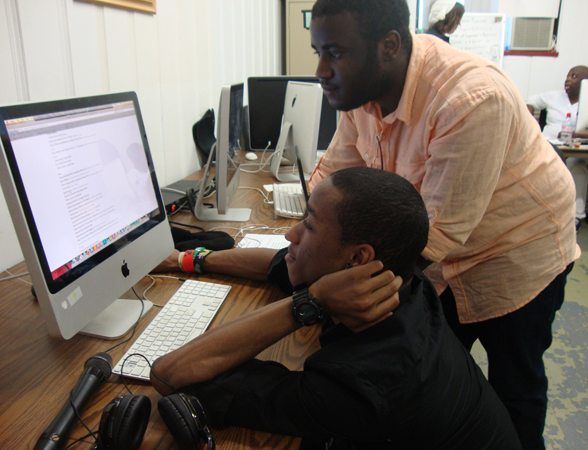 Christmas will be upon us in exactly a week. If you put up a Christmas tree in your home, we want to know what kind you prefer, locals. Take our survey to let us know. As the holidays draw near, the cold weather also continues today, according to the National Weather Service. Later this week and into the weekend, though, it will be unseasonably warm, with temperatures in the 40s and 50s.
With traffic whizzing by, it's rarely silent under the Brooklyn-Queens Expressway at Park Avenue and Navy Street. Although a new art display on that street – appropriately named "Silent Lights" – doesn't make a sound, it's programmed to respond to the noise under the BQE, News 12 reported. The display is embedded with 2,500 tiny LED lights and microphones that change color in response to nearby honking, screeching and other traffic sounds. Designers at interdisciplinary design and technology group Urban Matter, along with the city and its non-profit partners, collaborated on the display, a two-year project aimed at bringing art to overlooked public spaces.
The Clinton Hill-based Pratt Center for Community Development came out with a report yesterday outlining eight routes that would be strong candidates for Bus Rapid Transit (BRT) lines in the city, StreetsBlog reported. BRT routes, an idea originally presented by the Pratt Center in 2008, are intended to serve outer borough neighborhoods that are distant from the subway, according to the blog. Routes proposed in the report include: Sunset Park to JFK Airport via Linden Boulevard, connecting with a cluster of medical centers in central Brooklyn; LaGuardia Airport to the Rockaways via Woodhaven Boulevard and Cross Bay Boulevard in Queens; East Harlem to Co-Op City via a cluster of medical centers along Eastchester Road in the East Bronx; and Richmond Avenue in Staten Island to Manhattan via Jersey City and the Holland Tunnel, among others. None of the routes include stops in Fort Greene or Clinton Hill. Public Advocate-elect Letitia James, who thinks Bill de Blasio should appoint a deputy mayor responsible for BRT and street safety matters, told the blog that tax-increment funding from new development along BRT routes should be used to finance the routes' construction.