Cymbrowitz: NY Needs Comprehensive Plan To Combat Underage Drinking!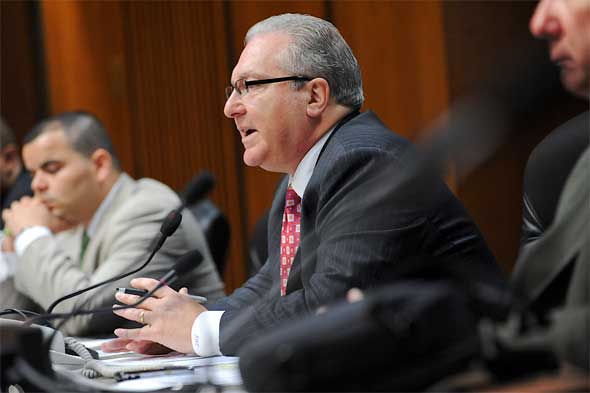 Assemblyman Steven Cymbrowitz, as chair of the Alcoholism and Drug Abuse Committee, recently held a hearing on underage drinking. Through testimony presented at the hearing, the assemblyman concluded that underage drinkers comprise 17 percent of New York State's alcohol purchases, representing a major public health issue, and resulting in an unacceptable number of deaths and diseases. Cymbrowitz has a history of vocal opposition to expanding access to alcohol, most recently when he bashed Governor Paterson for his push to permit wine sales in bodegas, gas stations and grocery stores. With testimony from the hearing bolstering his case, Cymbrowitz is now calling for a comprehensive plan to reduce or eliminate underage drinking throughout the state.
Here's the full press release from Assemblyman Cymbrowitz's office:
Assemblyman Steven Cymbrowitz (D-Brooklyn), Chairman of the Assembly's Alcoholism and Drug Abuse Committee, conducted a hearing looking into underage drinking in New York State.  Annually, underage drinkers purchase over $2 billion dollars worth of alcohol, 17 percent of the entire market.  Witnesses provided testimony confirming the seriousness of the problem and showing that the most effective way of addressing the underage drinking problem is by enhancing our state's prevention programs.
"Underage drinking is a problem that we must address, not just to protect our young people, as important as that is, but to reduce costs to the State and society as a whole.  In 2007, it cost New York State $3.5 billion due to work loss and medical care and other problems related to young people using alcohol," Cymbrowitz explained.
NYS Office of Alcoholism and Substance Abuse Services (OASAS) Commissioner Arlene Gonzalez-Sanchez echoed Cymbrowitz' concern, "Underage drinking is a leading public health and social problem throughout the State and throughout the nation.  The problem of underage drinking in New York State is widespread resulting in costly and tragic health, social and economic difficulties including youth violence, alcohol related traffic crashes, injuries and premature death."
The NYC Department of Health and Mental Hygiene's Assistant Commissioner, Bureau of Alcohol and Drug Prevention, Care and Treatment, Daliah Heller, PhD, MPH, highlighted the immediacy of the problem with the statistic that the number of underage drinking-related emergency room visits nearly doubled in New York City since 2003.  Dr. Heller, pointed out, "Youth continue to be exposed to considerable alcohol-promoting advertising.  For example, in New York City hundreds of thousands of children are exposed to alcohol advertising every day simply by riding on subways or buses to school."
Dr. Heller said that "retail outlets, bars and clubs should meet their legal obligation by enforcing the minimum legal drinking age.  Further, bar and club owners should require that service staff participate in responsible beverage service training and monitor their staff for adherence to the law."
Cymbrowitz said that it was clear from the testimony of many of the witnesses that New York State must invest in providing a full range of preventive services.  "Now is not the time to cut spending on prevention programs.  With a multi-billion price tag on underage drinking we can't afford to ignore the problem, we must deal with it head on."
"OASAS Commissioner Gonzalez-Sanchez concurred, "We need to be proactive by utilizing a wide range of prevention efforts and strategies…Using proven effective programs and environmental strategies that are culturally competent and sensitive to the diverse needs of the community to prevent or reduce alcohol and substance use in individuals and families."  The Commissioner detailed the collaborative relationships that have been developed by OASAS with other State agencies such as the NYS Police, State Liquor Authority and New York Division of Criminal Justice Services to decrease youth alcohol access and availability.
Cymbrowitz voiced his concern about the widespread availability of alcohol to young people and proposals that would allow wine to be sold in supermarkets, gas stations and bodegas, sometimes by clerks who are under the legal drinking age themselves.  "We currently have a problem, making alcohol available in more locations is in direct contradiction of what is needed.  It is asking for more DWI's, suicides, unplanned pregnancies, STD's violence and truancy."
John Coppola, Executive Director of the NY Association of Alcoholism and Substance Abuse Providers (ASAP), further stated that, "There is cause for alarm because we are decreasing prevention resources when the use of alcohol is on the rise.  Support for prevention programs in both schools and the community are grossly under funded. We have a crisis."
The New York Alcohol Policy Alliance's Robert Cornegy called on the Committee to, "resist the misguided plan to put wine in grocery stores.  Such a great expansion of access and availability of alcohol at this level would be detrimental to our young people."
Dan Sisto, Chairman of Law Enforcement Against Drunk Driving, concurred, "The Legislature has continued to reject the proposal to allow wine to be sold in the same outlets that currently sell beer.  Wine contains higher content of alcohol than beer by volume.  Putting such a product in closer reach of our underage youth is not in our best interest.  The wisdom to reject this dangerous idea must be commended."
Cymbrowitz pledged to continue the fight against wine sales in supermarkets, gas stations and bodegas.  "The testimony that I heard at this hearing confirmed that easy access to alcohol poses a serious threat to the wellbeing of our young people.  We cannot allow this to happen.  We have a responsibility to be proactive in identifying the prevention programs that are most successful and doing what is necessary to be sure that they are available to protect young people throughout our state."