Cymbrowitz Honors Verizon Worker, Police Officers For Saving Man's Life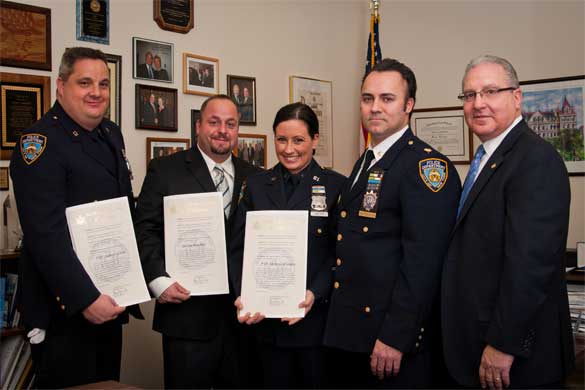 The following is a press release from the offices of Assemblyman Steven Cymbrowitz:
Assemblyman Steven Cymbrowitz lauded the quick-thinking heroism of Verizon employee Steven Baudille, and 61st Precinct Police Officers Andrew Gibbs and Melissa Waldon during a presentation of Assembly citations for the three heroes at his district office.
The 36-year-old Baudille was en route to a job at approximately 11 a.m. when he noticed that smoke was pouring out of a building's basement on East Eighth Street in the Midwood section. The Staten Island resident flagged down the two cops nearby and, unconcerned for their own personal safety, the three of them broke through the basement's window frame and Baudille was able to drag the critically injured Offir Shachar, 40, to safety.
"I am pleased to be able to honor the prompt and selfless actions of Verizon employee Steven Baudille, and Police Officers Melissa Waldon and Andrew Gibbs. The noble actions of these three prevented an otherwise potentially tragic outcome, and further reminded us that there truly are heroes among us. It is very important that we take the time to thank these individuals for their bravery, and for helping to ensure that our community is a better and safer place," said Assemblyman Cymbrowitz.