Cymbrowitz Concerned About Seven New Casinos In NY, Increase In Addiction Problems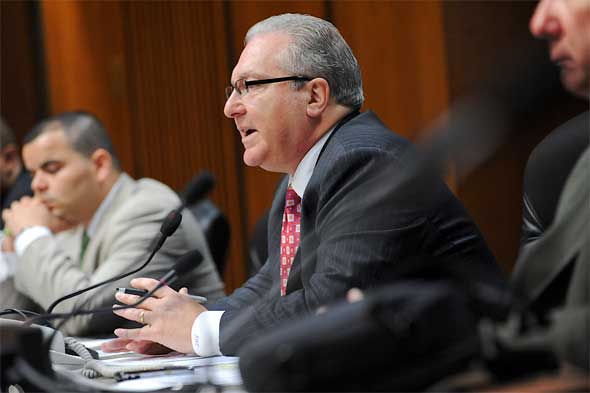 The following is a press release from the offices of Assemblyman Steven Cymbrowitz:
Assemblyman Steven Cymbrowitz, Chairman of the Committee on Alcoholism and Drug Abuse, which has jurisdiction over compulsive gambling issues, has voiced his concern, in an address before the Assembly, that increased casino gambling opportunities in New York State will lead to a serious rise in problem gambling.  Earlier this week the Assembly passed a concurrent resolution to put an amendment before voters in November authorizing as many as seven full-service casinos, at locations yet to be determined, throughout the State.
(Don't forget to take Sheepshead Bites' poll: Do you think New York should legalize gambling?)
"These new casinos have the potential to bring in millions of dollars for New York State, but it must not come at the cost of adding additional gamblers to the ranks of the problem gambling population.  Once the additional roulette wheels are spinning and the craps tables are functioning it will be too late to take preventive action.  Now is the time to plan on having the necessary programs in place to prevent problem gambling and provide treatment for those who have a gambling problem," Cymbrowitz stated.
"The statistics are alarming.  According to the National Gambling Impact Study Commission, gambling addictions increase by approximately ten percent within a 50-mile radius of casinos and bankruptcy rates are about 18 percent higher in communities with casinos.  This issue affects everyone, as University of Georgia researchers pointed out, a problem gambler costs society $13,586; other studies put that figure as high as $52,000 annually.  Add to this a myriad of public health problems including drug addiction, domestic violence, divorce, child abuse, suicide attempts, and crime and it becomes obvious that allocating money for problem gambling prevention programs is an investment not an expense," Cymbrowitz explained.
"New York State already has one million problem gamblers. Offering New Yorkers additional gambling venues will surely add to this number.  As we move ahead, I look forward to working on a comprehensive proposal that includes a prevention and treatment component," Cymbrowitz said.
Cymbrowitz, who voted for the concurrent amendment earlier this week, has been calling for a proactive plan to prevent an increase in problem gambling since the amendment was first proposed last August.  In a letter to Bennett Liebman, New York State's Deputy Secretary for Gaming and Racing, he called for a percentage of revenue generated from any new gambling offerings in New York State to be dedicated to prevention and treatment of problem and compulsive gamblers.
Assemblyman J. Gary Pretlow, Chairman of the Assembly's Racing and Wagering Committee and sponsor of the concurrent resolution has committed to allocating funding for compulsive gambling prevention and treatment programs.  The details will be worked out next year when the enabling resolution will be deliberated and written.