CUNY Students Speak Out Against Inadequate Funding As The Facilities Crumble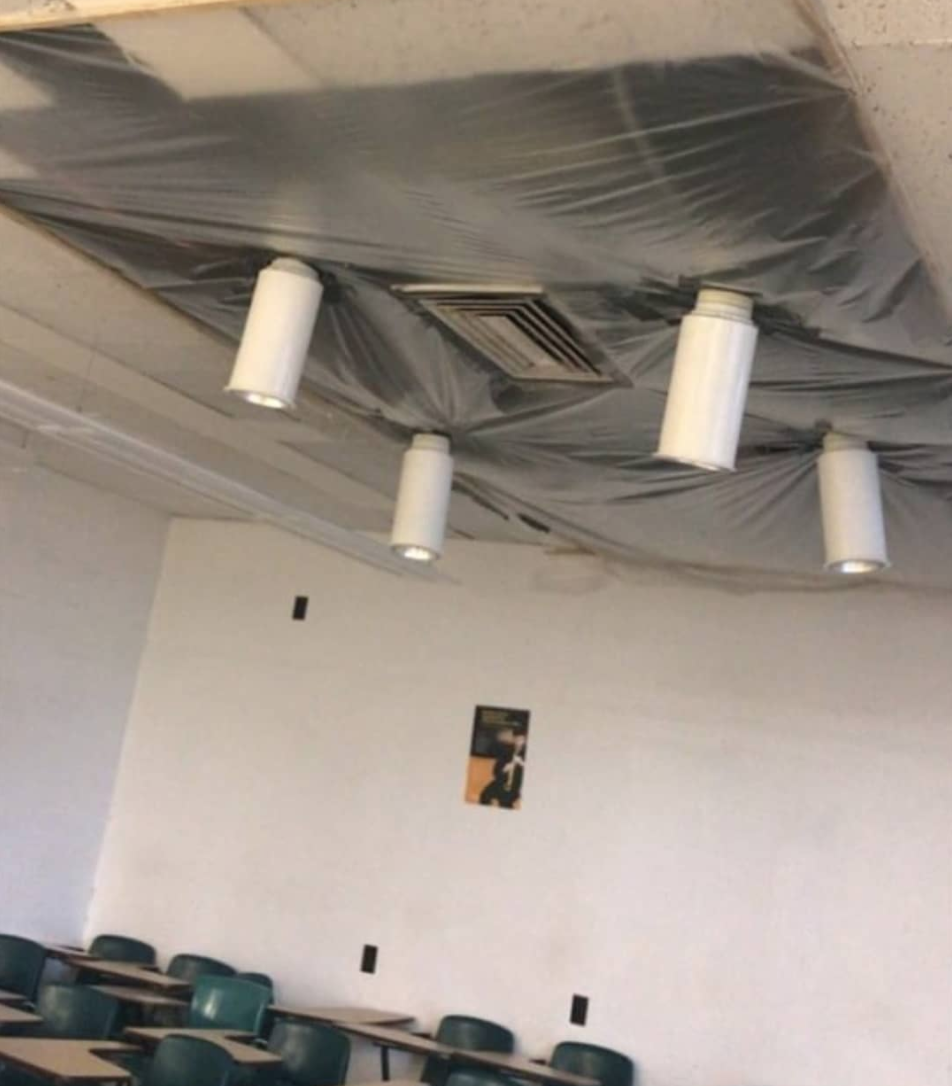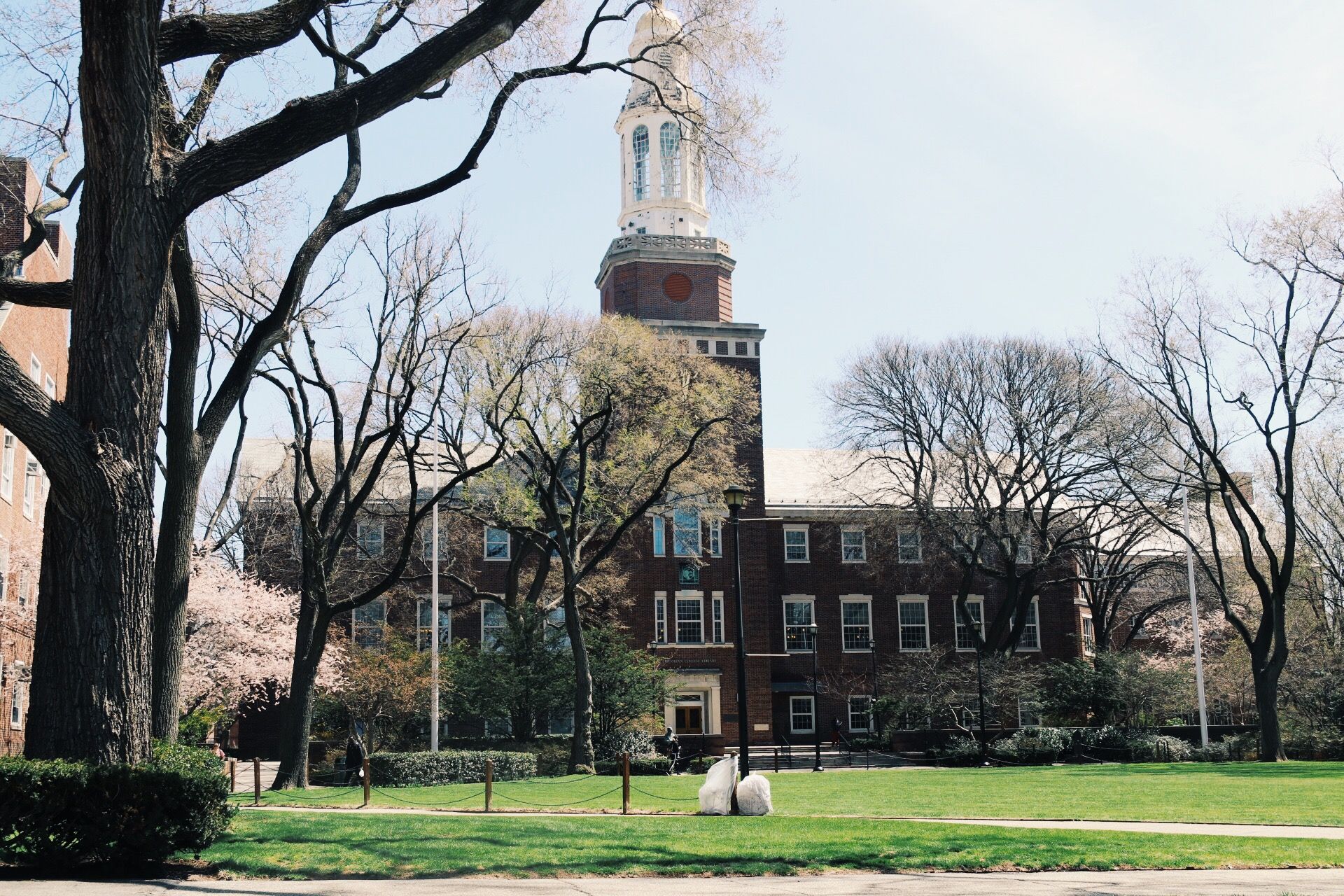 FLATBUSH – Tuition is going up, the faculty is fearing more cuts, and facilities not in direct public view are crumbling. Students are demanding full, proper funding.
Students of the City University of New York (CUNY), the largest urban university system in the US comprised of 24 campuses, including Brooklyn College, testified before elected officials on Wed. April 25 at Brooklyn College. Their message? Please don't let our university collapse on us.
"We are basically a university in crisis," said Michael Fabricant, the vice president of the Professional Staff Congress (PSC). "It's really left up to us to protect this university, to enhance it, and to build it."
The hearing last Wednesday was hosted by the CUNY Rising Alliance, a coalition of over 30 organizations fighting for free and quality CUNY, and offered an opportunity for students to tell their concerns about CUNY to elected officials.
Brooklyn College student Andrea Di Salvio is the founder of the "Brokelyn College" campaign of inadequate funding. In February, she created an Instagram page allowing students to send in photos of the abysmal conditions of the campus. The page currently has over 170 images documenting broken facilities. Here are a few:
"If you're not a student or faculty member here at Brooklyn College and you just come to our library, which honestly is the most well-maintained building on campus because it receives the most outside traffic, you're not going to know truly how bad the situation is here," Di Salvio said. "If you walk into any of the other buildings… and you see all the mold and water damage, and exposed wiring, you're going to ask yourself, how is this building not condemned? How are we still housing students in this building?"
Di Salvio began the campaign to bring awareness to what "the physical manifestation of improper funding looks like."
According to a City report, nearly 60% of NYC public school students who go to college attend a CUNY college, and roughly 74% of first-time freshmen at CUNY are graduates of NYC public schools. City data also shows that there has been a steady increase in student enrollment in CUNY colleges from 1999 to 2017.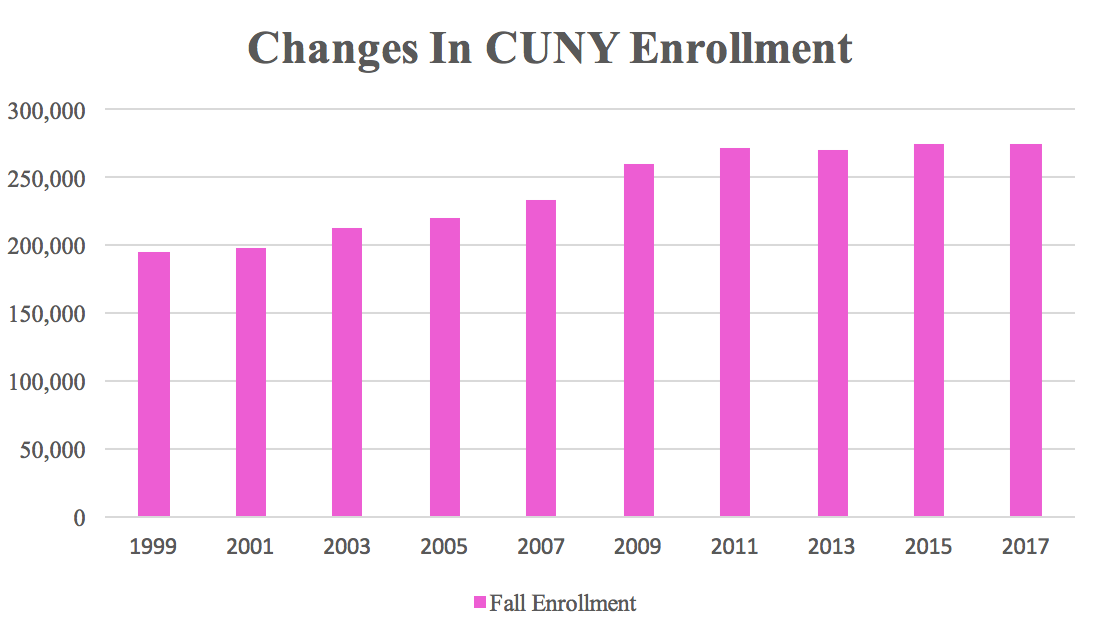 In 1999, the total CUNY enrollment was 194,994, by fall of 2017 it was up over 40% at 275,099 students.
With the rising numbers, came increases in tuition to offset disinvestment from the city and the state. When you look at tuition for undergraduate students, there has been a 26% increase in since 2011 for both in-state and out of state tuition, according to CUNY data.
James Davis, Brooklyn College's PSC chapter chair says, other ways the college can try to close the funding gaps is to do exactly what CUNY has had to do:
"You can raise enrollment limits on classes; that way you don't have to hire more professors to teach more classes.  You can stop hiring full-time professors and hire adjunct faculty to teach the classes that might otherwise be taught by professors whom you would need to pay more and provide medical and retirement benefits," he said.
"You can automate the enrollment and advising processes so you don't have to employ as many academic advisors and registrar's office staff.  You can refuse to hire plumbers, electricians, painters, and other skilled tradespeople to maintain the facilities in order to tighten the belt on the budget."
In 2011, the State Legislature passed a measure that would allow a $300 increase in tuition per year in the next five years. Then last year, it was decided that CUNY students will see about $200 in increased tuition per year over the next five years.
"Tuition is a source of revenue for the university to compensate for inadequate support from direct state aid," Davis said. "[T]here was indeed a 4% increase in State aid to CUNY, which not only is insufficient but also includes student tuition revenue as one-third of that 4% increase.  It's really dishonest.  There's a difference between using public funds acquired through the State's tax base vs. hiking tuition, putting it in NY State's coffers, then calling it 'State support' when the budget comes out."
The Trump administration is planning on cutting at least $4 billion in annual funding for aid programs such as FAFSA (federal student aid) that make it possible for many at CUNY, like Corrinne Greene, to afford a college degree.
Greene is a Brooklyn College student and the national strategist of the Young Progressives of America. Greene loves the school dearly, she said, but believes students should not have to organize to get at least some of the following: funding for maintenance, a departmental advisor for every student, and full-time faculty positions and contract negotiations and ideally -a fully free tuition program.
Zoey Wolfe is a US Navy veteran. She served for six years on active duty and is paying for education through the Post 9/11 GI Bill. Wolfe acknowledges that this puts her at an advantage compared to the rest of her peers "who are left to fend for themselves."
"Although I served honorably for those years, I've never been the type of person to embody institutional pride until I came to CUNY," she said. "The faculty here helped me feel like I belonged and helped me feel what I say matters."
The burden of fixing facilities should not be placed on students, she said.
"We at CUNY do not need charity," Wolfe said. "We need investment."

The Excelsior Scholarship, created by Governor Cuomo, potentially allows qualified students to attend a CUNY or State University of NY (SUNY) tuition free. The promise of free tuition has resulted in about 10% increase in applications for CUNY and State University of NY (SUNY) schools, typical CUNY students don't qualify, defeating the purpose.
Assemblywoman Rodneyse Bichotte says "When we talk about Excelsior, I say it's BS. It was always BS."
Another issue that was brought up continuously at the hearing was about the Student Activity Fee (SAF). All CUNY students pay a SAF that goes toward amenities and resources on campus such as the campus newspapers, health clinics, and New York Public Interest Research Group (NYPIRG). On Feb. 26, the CUNY Board of Trustees (BOT) proposed changes insisting all SAF decisions to be made by college associations, most of which include faculty and administrators. At several protests, students argued that the SAF should be decided by the students because it's for the students.
"The university's BoT attempting to take control over student fees is a big issue for us because some of the student groups that have waged the most effective fights in order to promote investment in this university… are being undermined by the BoT," Fabricant said.
At the hearing, a video of CUNY students speaking about SAF issue was played. As if to prove a point, the video wouldn't play in the beginning and lagged at certain parts.
Save the Student Activity Fee at CUNY!
The Student Activity Fee provides hundreds of thousands of students accross 23 campuses with more than 37 million dollars worth of activities and services every single semester. The CUNY Board of Trustees is trying to take control of the SAF away from STUDENTS, instead of trusting them to know their needs and to control their OWN MONEY.Get involved!! Together we can win. -Come protest with us at the next Board of Trustees hearing at LaGuardia Community College on 4/30!-Join NYPIRG and CUNY Rising at a public hearing next 4/25 @ Brooklyn College!-Sign our petition condemning the CUNY Administration and their attack to Students Rights: https://actionnetwork.org/petitions/end-the-attack-on-student-democracy-fund-cuny-now?source=direct_link-Fill out on our contact form here: https://goo.gl/forms/HragWWhLoGZ9RsWv2
Posted by CUNY Coalition for Student Rights on Tuesday, April 17, 2018
Students felt Governor Cuomo wasn't addressing their needs, and that there should be a lot more money dedicated to funding CUNY. In addition to holding hearings and educating the public, advice from those on the panel was to engage in the politics.
"The elected officials who are here are your friends, they are supportive of your endeavors. But not every elected official is," Earnest Skinner, a representative from Council Member Jumaane Williams office said. "It's critical for you to identify… those who are not supportive, and showing up at the polls, showing up at their offices, writing letters or emails so that your voices will resonate with the changes that are made."
Council Member Robert Holden of Queens suggested for students to go after the governor. "It's an election year, he's challenged. That's the best way to get funding in an election year."
Out of the six people in the panel– Skinner, Holden, Bichotte, Brooklyn College student Zunera Ahmed, Council Member Inez Barron, and Public Advocate Letitia James– the most passionate, perhaps, was Barron.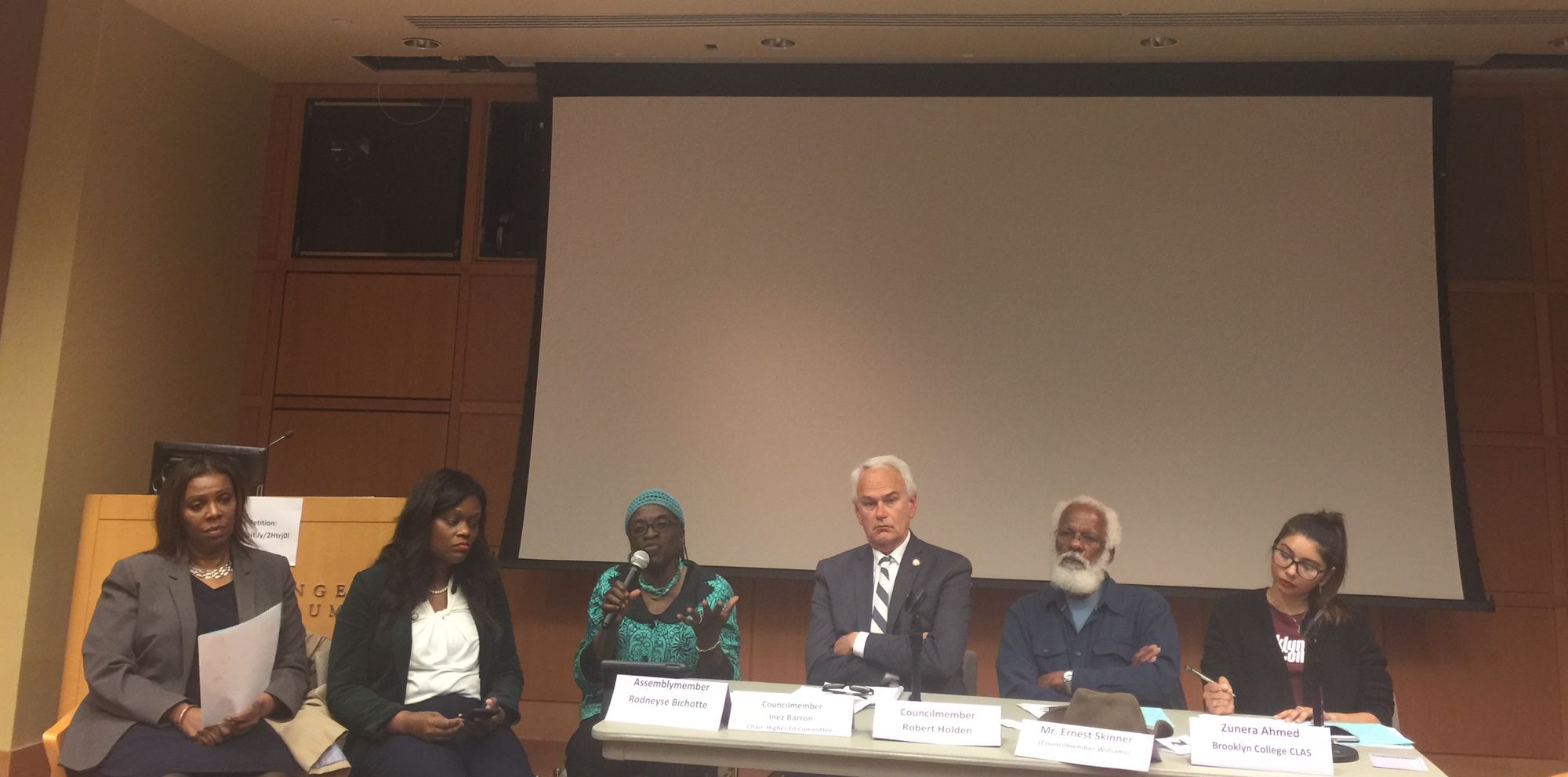 Barron is the chair of the Committee on Higher Education. In 1967, she graduated Hunter College, a CUNY school, with a Bachelor of Arts in Physiology. At the time, CUNY was free, which allowed her to "get a fantastic world-class education," she said.
"Education was compulsory to eighth grade during the agricultural times," she said. "Listen, eighth grade is not enough, you got to extend it to twelfth grade. Well, you know what? If you're looking at the world today, twelfth grade is not enough. And the State and the City have an obligation to provide education beyond the twelfth grade free of cost."
Barron argued that "the State has dismally failed CUNY."
"Student's tuition should not be the way in which colleges are run to provide the courses and to pay instructor's fees," she said. "That should be the obligation of the State."
Tish James spoke about the 9-day Howard University student protest which ended with an agreement between students and the college to meet their demands. She said that it is students who make change happen.
Davis believes that even though issues are not often resolved, public hearings are "absolutely worth having."
"They serve several important functions: they inform the elected officials or other panelists who are present; they inform members of the audience, galvanize their energy around the issues, and inspire them to take subsequent actions," he said, "they spark debates and raise questions for further investigation; and they help those in attendance to identify the levers of power that may be required for subsequent steps to be more broadly effective."
Next time though, he'd like to see Cuomo and de Blasio in attendance listening to students.
"Why is a beautiful system like CUNY not being funded?" Ahmed said. "Why is a beautiful system like CUNY not being looked at, and honored, and showcased around the country?"
We reached out to CUNY twice but did not hear back.