CUNY Research Team Unveils Storm Resiliency Ideas For Jamaica Bay
After a year of research, a team led by City University of New York (CUNY) associate professor of landscape architecture Catherine Seavitt Nordenson has completed a proposal for an "adaptable framework for a resilient Jamaica Bay." If implemented in any way, these ideas could not only prevent major flooding, but manage the overall risk of damage to both the coastal environment and the urban environments within.
Nordenson's team's proposals are part of a larger project called the Structures of Coastal Resilience (SCR), funded by funded by the Rockefeller Foundation and involving a larger team of four East Coast universities (Princeton, Harvard, and the University of Pennsylvania) that studied and proposed coastal resiliency designs. The other areas studied were Narrangansett Bay, Rhode Island; Atlantic City, New Jersey, and Norfolk, Virginia.
SCR's Jamaica Bay proposals include three strategies:
"the improvement of water quality and hydrologic flow and circulation throughout the bay,"
"the enhancement of coastal verges at back-bay communities, and
"the development of atoll terraces through bay nourishment and sediment capture via the natural processes of an "island motor" at the salt marsh islands."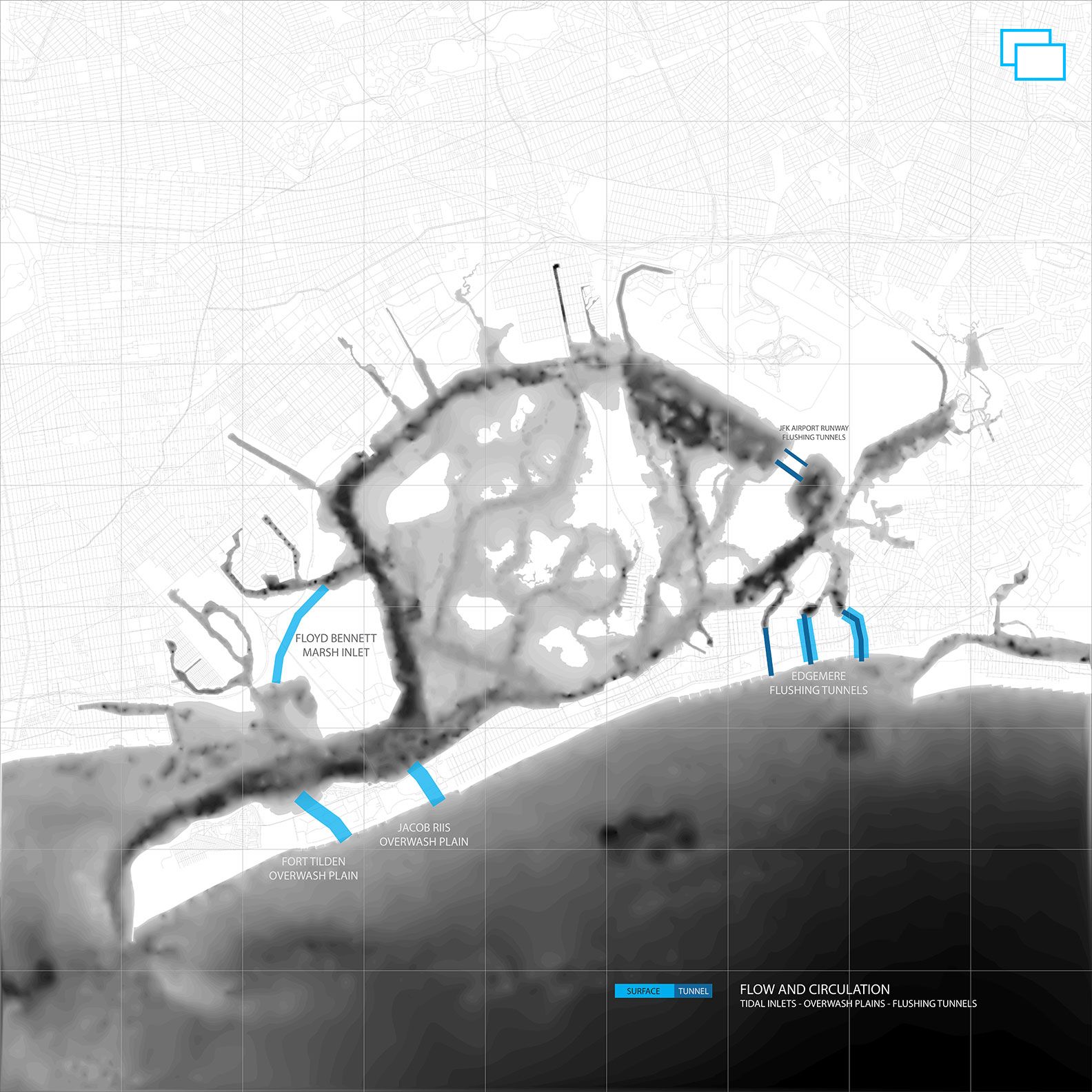 The Flow and Circulation strategy takes the form of a tidal marsh inlet, an overwash plain, or a flushing tunnel, depending on the existing local context.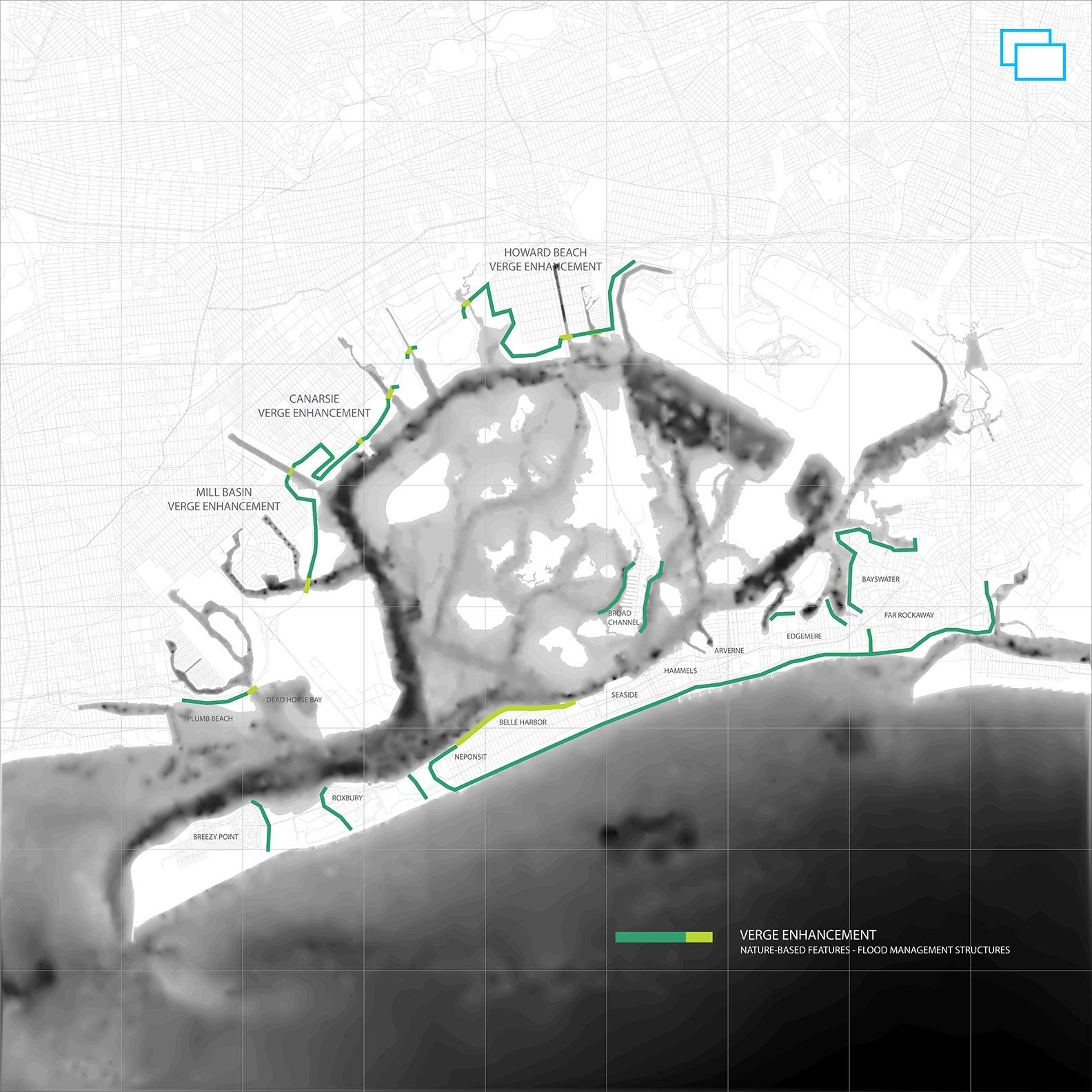 Verge Enhancement may simply increase the height of existing high ground through an earthen berm, tie into existing infrastructure, or become an integrated hard structure at certain locations.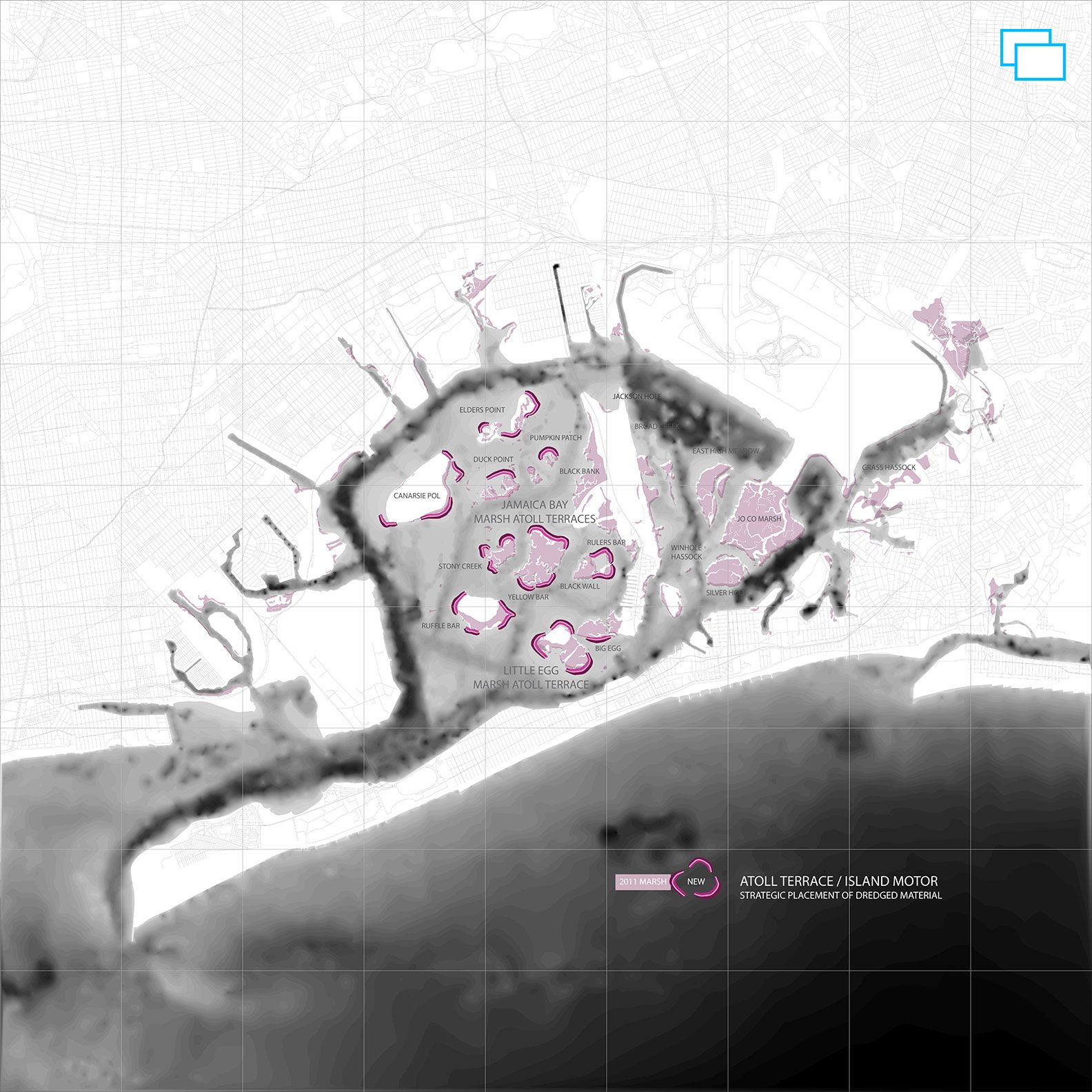 The Atoll Terraces are established within existing shallow intertidal areas, allowing for sediment deposition and bay nourishment to increase the marsh island footprint as well as encourage fringe marsh development at appropriate zones along the perimeter of the Bay.
The CUNY/SCR study comes on the heels of a $19.5 million North Atlantic Coast Comprehensive Study by the U.S. Army Corps of Engineers (USACE) which includes "nature-based features — among them dunes, oyster and coral reefs, barrier islands, maritime forests, and wetlands."
According to Nordensen, these features in the USACE study "marks a radical paradigm shift, [meaning] it's not about flood control any more, nor is it about flood protection. Now, the concern is management of risk, hence the adoption of coastal storm risk management as the new guiding nomenclature."
USACE's focus on nature-based resiliency is also a pat on the back, of sorts, for CUNY/SCR's work, she said.
One post-Sandy USACE report argues that recent marsh island restoration projects at Jamaica Bay effectively reduced the potential for erosion that threatens the critical infrastructural evacuation route provided by the Cross Bay Boulevard's North Channel Bridge.
This speaks to our contention that the future success of the marsh islands is truly an infrastructural argument, rooted in plant morphology. With wetter and warmer climates coming, the nature of the plantings too calls for further exploration — imagine plant selections that are truly resilient, including submerged aquatic vegetation and low marsh species that tolerate these warmer waters.