Cumbo Announces Bedford-Union Armory Plans Drop Condos, Gain More Affordable Units
CROWN HEIGHTS – At a City Council land use subcommittee meeting on Tuesday, November 21, Council Member Laurie Cumbo (District 35) announced that a modified agreement for the controversial Bedford-Union Armory project has been reached, with the removal of 60 market-rate condos that were previously proposed and the inclusion of more affordable apartments.
"As a result of Council Member Cumbo's advocacy, there will be no condo units included in the final Armory project and the property will remain entirely in public ownership. The more than 400 homes in the project will now be rental units," an announcement from Cumbo's office reads.
The original proposal included 60 condos and 330 rental units, of which 166 would have been set aside as affordable units while the remaining 164 would have been market-rate. Sixty-seven of the affordable rentals would have been available to residents earning below 60% of the Area Median Income (AMI) which equals to a family of four making $57,000 a year or less.
Forty-eight of the 60 condos would have been market-rate while 12 would have been reserved for families making up to 120% AMI. Proceeds from the development's market-rate rentals and condo sales were intended to finance the development's recreation center.
The modified plan now includes 400 rentals, with approximately 250 affordable units that will be available to households earning below 60% AMI, increasing the levels of affordability for a greater number of units.
The breakdown of affordable units in the Bedford-Union Armory project is now:
50 units at 30% AMI (with 25 apartments set aside for formerly homeless individuals and families)
24 units at 40% AMI
24 units at 50% AMI
152 units at 60% AMI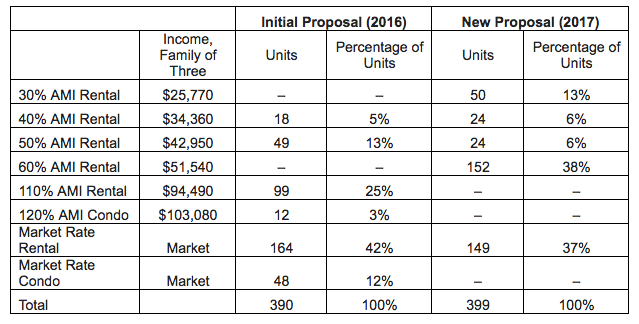 While the new plans increase the number of affordable units, they do not meet the 100% affordability that some, including Senator Jesse Hamilton (District 20), demanded. In a letter Hamilton addressed to the Economic Development Corporation (EDC) regarding the modified proposal, the Senator says, "while we express our appreciation for drawing nearer to the 100% affordable housing perspective we set forth, the most recent proposal does not meet that goal. It is evident that the development does not fully meet the needs New Yorker's face, given the current housing crisis which embodies a perspective that is especially salient given the record levels of homelessness and displacement."
The revised agreement also includes the Armory's historic Drill Shed being converted into an affordable recreation center featuring three full-sized basketball courts, multipurpose court space, a six-lane indoor swimming pool, and fitness rooms. At least 50% of the recreation center's memberships will be reserved for community members at discounted rates of $10 a month for adults and $8 for kids under 16.
Affordable office space will also be available to non-profit organizations at $6 per square foot as opposed to to the average $30 per square foot in the area. Yearly increases to rents for these office spaces will be capped at 3% annually.
The project's developer, BFC Partners has committed to providing 20,000 square feet of community facility space in the 542,000-square-foot complex to Brooklyn Medical Plaza who will offer healthcare services to the community.
BFC has also committed to hiring locally for construction and permanent jobs at the site and has agreed to a 25% goal of working with M/WBE businesses for construction.
A community advisory committee will be assembled to assist with the programming of the recreation center and ensuring that the needs of the local community are met throughout the project's duration.
The City Council will vote on the modified agreement on November 30, according to Curbed, who says the new plans will likely pass "as Council members tend to side with the opinion of the member representing the neighborhood."