Cucco, McCreight & Purvis Demand Answers Regarding 42-Story Coney Island Tower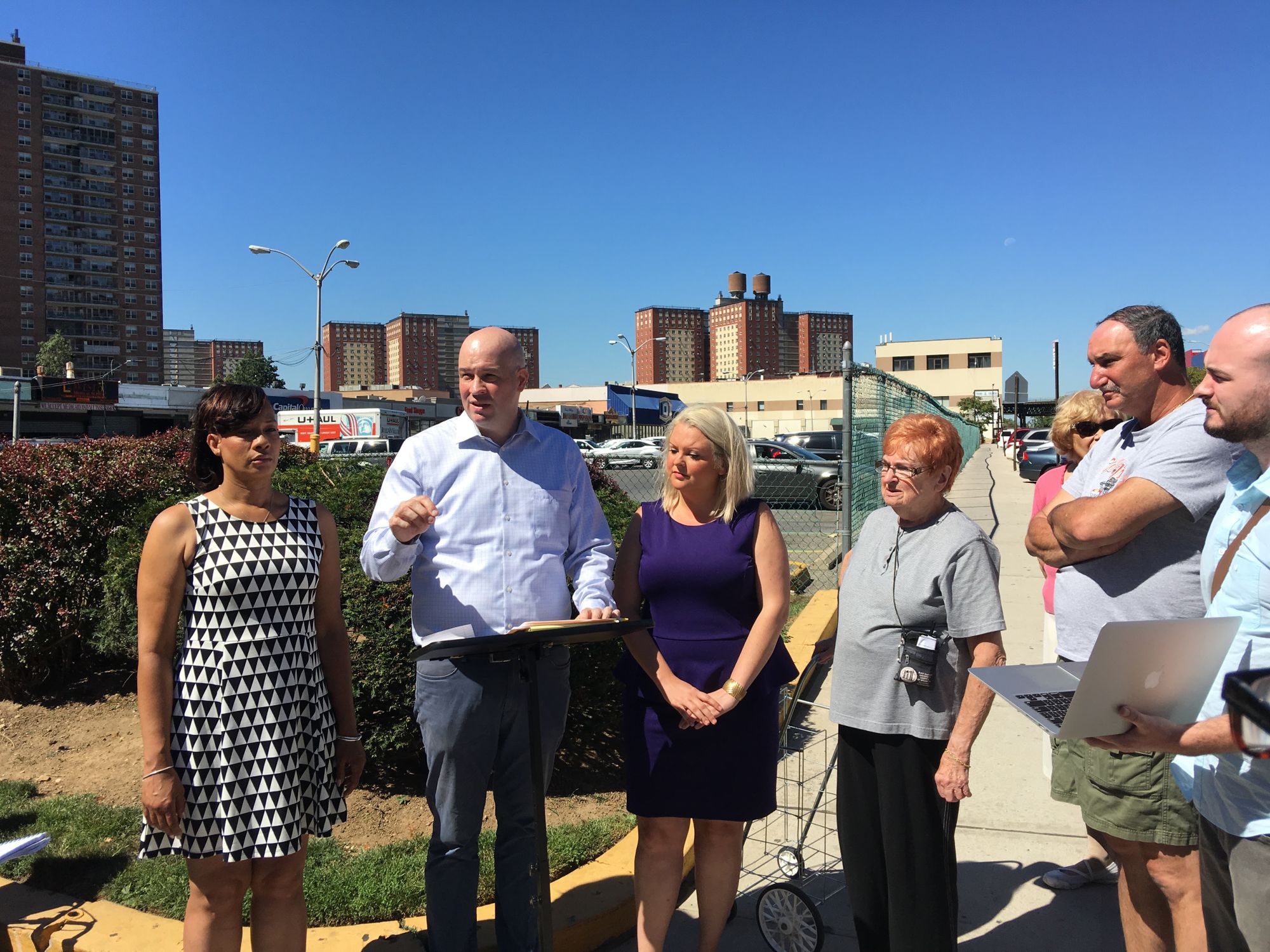 At a press conference today, Kate Cucco, who is challenging Assemblywoman Pamela Harris for the 46th Assembly District seat, along with state committee candidates Chris McCreight and Brigitte Purvis, called on the developers behind the 42-story tower coming to Coney Island, to come clean with the community.
At a heated town hall hosted by Councilman Chaim Deutsch and Comptroller Scott Stringer last year, residents had to the opportunity to address representatives from Cammeby's International Group — which bought up the properties at 532 Neptune Avenue and 626 Sheepshead Bay Road across the street — raising concerns about the size of the tower, environmental contamination, traffic, parking, and the loss of shopping amenities.
However, Cucco says their voices have not been heard.
"After talking with hundreds of concerned residents in the area, it became clear to me that too many question marks remain about what is exactly in store with this development," said Cucco. "Development projects of this scale must provide the community with regular updates so they are made aware of any changes or unforeseen issues that may arise as construction happens."
As a concession, Cammeby's agreed to build three floors of commercial space at the complex — which will be called Neptune/Sixth — as well as at the adjacent property. They also agreed to provide 800 parking spots.
However, the development appeared in limbo after complaints were made in May about late night work being done without proper air monitors. However, recent news reports indicate that the development has significantly grew in size. Plans for both the tower and the shopping component have seen an increase in the number of floors. The site, which sits on a sealed toxic brownfield, needs remediation before works can continue.
The Brooklyn Paper reports that it is still
unclear
how the developer, city officials or the Department of Environmental Conservation plan to remediate the site.
Chris McCreight expressed concern about the scale of the building and slammed local elected officials for failing to take sufficient action.
"The idea of a 42-story — or however big it will be next week — tower here on Neptune Avenue is absurd. What's worse is that its construction would be dangerous and risky," he said. "The developer needs to come clean with the community and be upfront with his intentions. The lack of resistance we see from some of our local politicians implies that they may know the plan, but just aren't sharing it with us."
Purvis continued on the theme of putting the local community first.
"All over Coney Island, billionaires and developers are buying up property to turn into luxury condos," she said. "What about the people already living here? We count too. No developments should move forward without input from the local community and without benefitting the residents who live nearby."
The State Assembly candidates were briefly heckled by Coney Island resident Ida Sanoff — a longtime supporter of Councilman Mark Treyger and Harris — who said that McCreight was not at the last meeting, that Treyger and Deutsch are "the only ones" fighting for residents' interests.
We reached out to Cammeby's, but a woman who answered the phone said, "We do not respond to media requests."
Additional reporting by Rachel Silberstein.