Need To Get Away? Consider Cruising In Jamaica Bay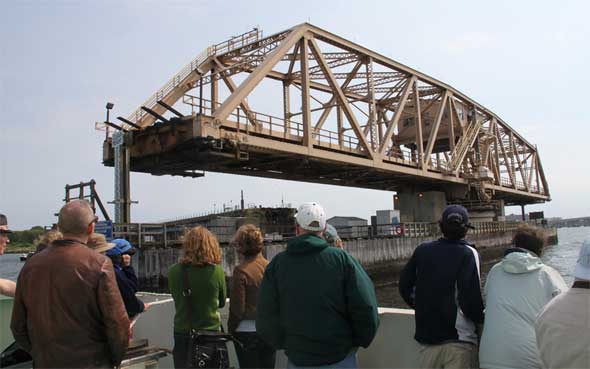 Ever needed a break from city living? The cars, buses, trains; streets teaming with people and noises and smells… the hurrying everywhere. A trip out of town will cost you, but Sheepshead Bay's blessed with a local, cheap option: a beautiful Saturday afternoon sail along Jamaica Bay, learning about its history and wildlife.
That's what I did on a recent Saturday afternoon on-board the Golden Sunshine; a three-hour cruise around Jamaica Bay, from Brooklyn to Queens.
The cruise was run by Don Riepe, the director of the Northeast Chapter of the American Littoral Society and the Jamaica Bay guardian, and Mickey Cohen. Talking naturally and unscripted, these two men know their stuff. They were able to point out every bird that flew by, leaving me wondering how they were able to tell these birds apart from so far away. It turns out there are 342 species of birds recorded in Jamaica Bay, many of which are rare. Riepe and Cohen also had tidbits of information for every piece of land that we rode by.
The three-hour cruise took us on a journey through the Jamaica Bay Wildlife Refuge, one the most important urban refuges in the country. We started off passing by the shores near Kingsborough Community College. (On a side note: you can't really appreciate the immense size or beauty of that campus until you have sailed around it.) We set sail for the open bay, going past the gated communities of Breezy Point and Roxbury, and then onto Rockaway.
We rode under the Gil Hodges Memorial Bridge and even got to see a peregrine falcon that was nesting in one of the columns. I take that bridge every day and I never knew that falcons nest in there. But ccording to Riepe, they're in almost every large bridge in New York.
After passing by Rockaway we rode through Broad Channel, the heart of the wildlife refuge. On the way there, we passed by large pieces of untouched green land in the middle of the bay; one of these marshes, Ruffle Bar, is home to the largest colony of barn owls in New York. Another marsh is the Little Lake Marsh, which really isn't so little, and is the place where most of the gulls in the area nest.
The cruise then took us near JFK airport and the surrounding marshes. Many birds nest in there, causing problems for the airport, but as Cohen mentioned, these marshes are the life supply of the bay. The two entities have to coexist peacefully.
About an hour-and-a-half into the ride it was time to turn back towards home. As the winds picked up, more people went inside the boat and two guitar players entertained the crowd with some flamenco music. Our guide even performed an impressive little flamenco dance.
The ride was friendly and relaxed. Most people on the boat seemed to have an interest in the wildlife. People had a great time pointing out birds they saw flying after Riepe and Cohen taught us about the different species we would see around. The refreshments never ran out and actually rivaled some of the Manhattan cruises I've been on. Instead of something that resembled fast food, riders on the Golden Sunshine were treated to a more sophisticated selection of fruit, cheese, crackers and pretzels, along with spreads like hummus, whitefish and guacamole. Wine and soft drinks were provided, and people moved freely along the boat choosing to sit outside or inside.
Even if you consider yourself a city person, like I do, and your idea of wildlife extends only to the raccoons and possums that run wild in Brooklyn, this cruise is something you'll enjoy. Riepe has been hosting the Jamaica Bay cruises for about 14 years, three to four times a year, and attracts a significant turnout.
Riepe's goal to educate people about the importance of the bay hit home with me. I pass by the bay every day and never give it a second thought. But now I realize the high-stakes contest playing out inthe city's most important ecological reserve, surrounded by urban threats. And when I drive over the Gil Hodges Memorial Bridge I will think about that peregrine falcon nesting in there. While I do consider myself to be more of a city girl, it's still nice to see untouched land in the middle of a seemingly never-ending bay.
The next cruise will be a sunset cruise on Sunday, June 27, from 5 to 8 p.m. Tickets are $45 per person and can be reserved by sending a check to the American Littoral Society, c/o Don Riepe, 28 West 9th Road, Broad Channel, NY 11693. For more information call (718) 318-9344 or e-mail:
driepe@nyc.rr.com
.
You can also visit the
American Littoral Society's website
to find out other activities they have planned. While Sheepshead Bay is a great place to spend the summer days, it's also nice to get away from the streets for a little while and get back to nature.