Modern Southern Food Comes To Crown Heights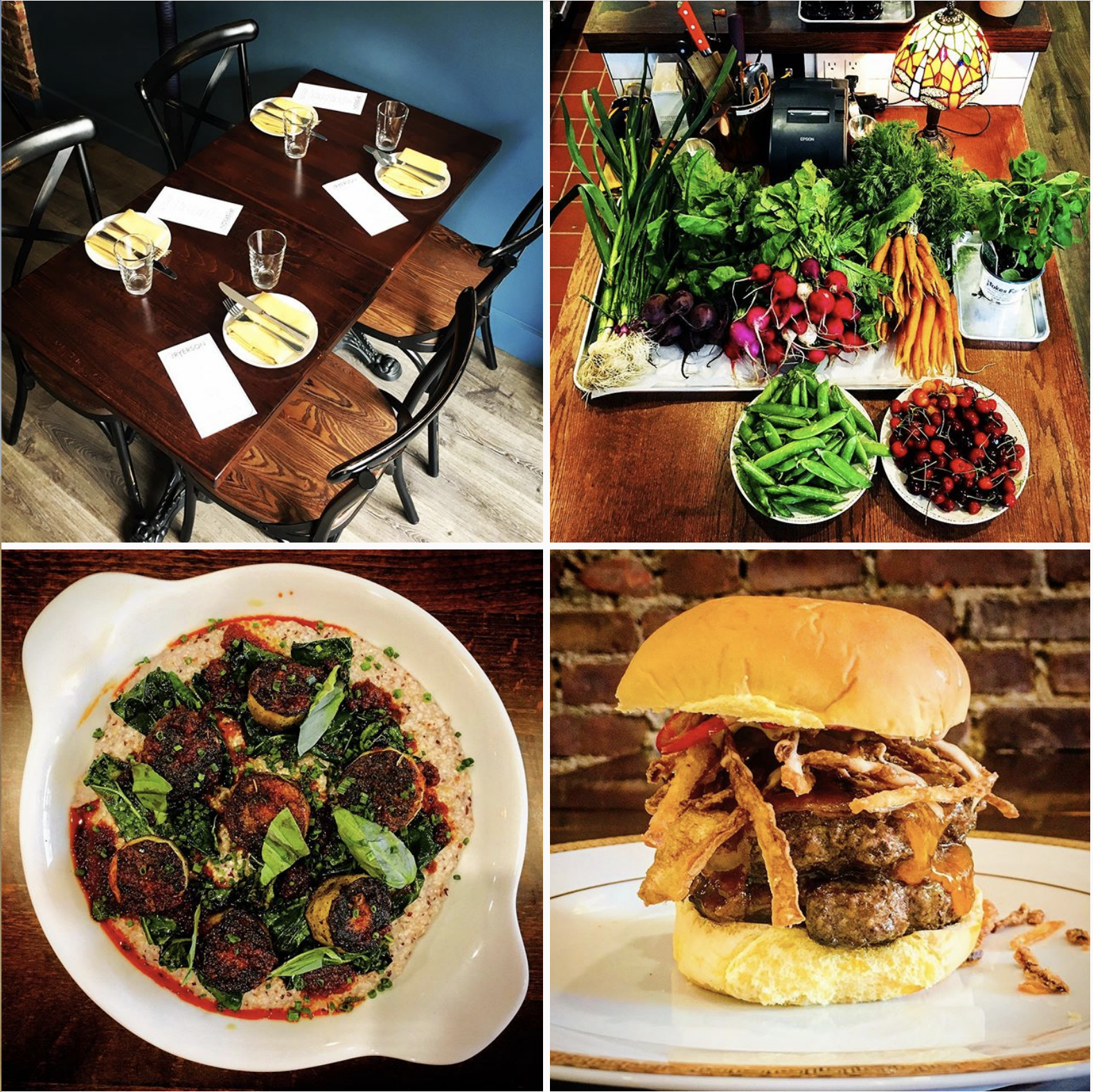 CROWN HEIGHTS—The Ryerson is on a mission to bring modern Southern food to the neighborhood. The restaurant, located at 698 Nostrand Ave. (between St. Marks and Prospect Place) had it's soft opening last night, and is working towards offering a full menu in July.
The Ryerson was expected to open as the Benjamin, which Eater previewed the spot back in April, noting that the team behind it had experience at upscale spots like "Jean-Georges, Olmstead, and Gramercy Tavern." The team is Larry Glogau, who co-owns The Ryerson with Vince Ferrentino and is the general manager, his son Max Glogau, Matt Rudolph is the floor manager, and executive chef Sean Underwood, who promised Eater "there will be a burger and étouffée, as well as fried chicken for two or four" is in charge of food.
The name was changed, we are told, after the similarly named Benjamin Steakhouse in Manhattan took issue with their name and threatened legal action, and in turn the new sign went up earlier this week. So, why The Ryerson? Because Walt Whitman lived at 99 Ryerson when he lived in Brooklyn, the floor managers told us. Their liquor license, however, still lists the Benjamin as the trade name.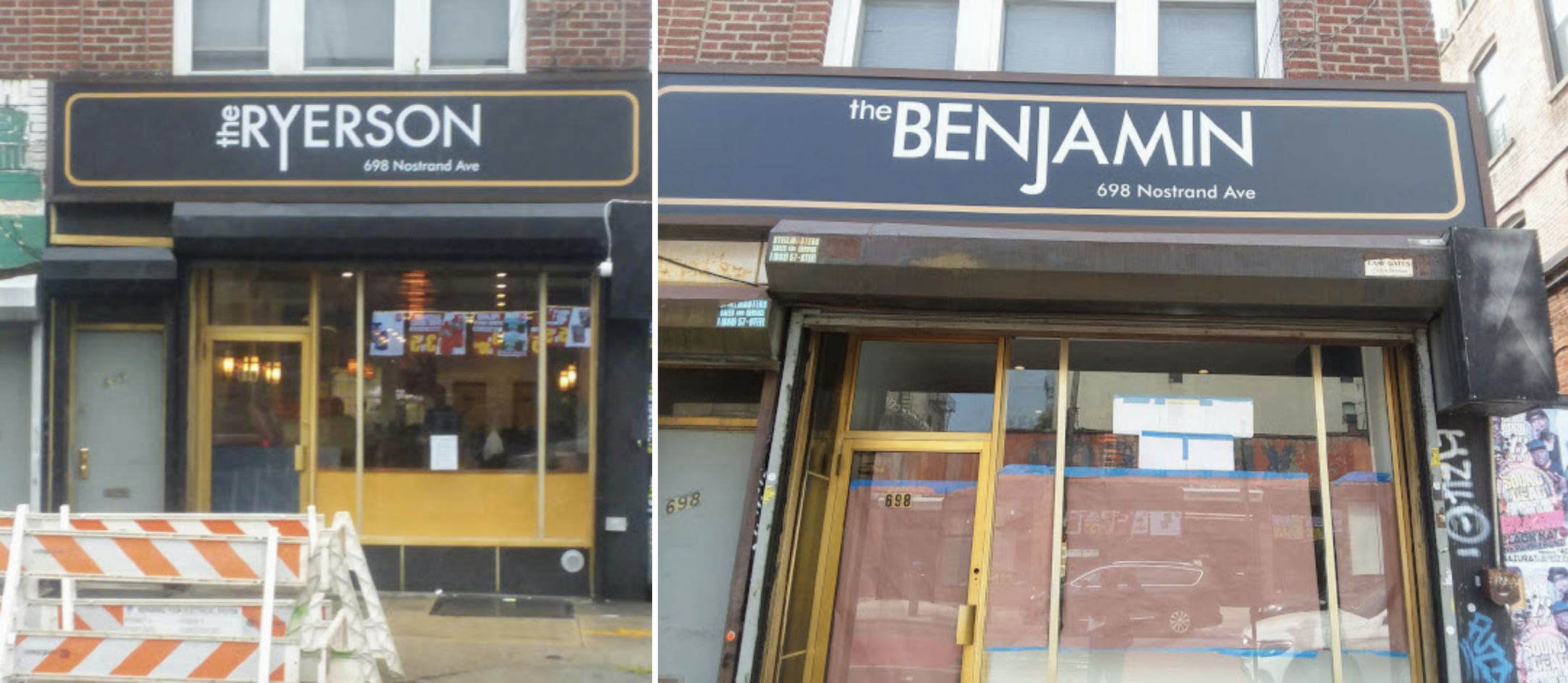 The Ryerson, located at 698 Nostrand Ave. between St. Marks Avenue and Prospect Place, seats 63 —36 for meals inside, 11 at the bar and 16 outside. The soft opening means limited hours and a limited menu, so you will need to wait a bit long for the etouffee.
On the nine-item menu are dishes like black-eyed pea hummus, deviled eggs, mac and cheese, oysters, a strawberry salad, fried chicken served with two sides, and a cheeseburger. It also features an imitation "scallop" dish, made from eggplants, served with grits and greens, one of three vegan options the restaurant offers. The menu will in the coming months feature 15 to 18 options, according to staff.
"'Modern Southern' is what we've been calling it," Sean Underwood, the restaurant's chef, told Bklyner of the menu's theme. "This doesn't necessarily read as Southern food, but it definitely has that feel."
Prices range from $8 to $10 for starters, $10 to $15 for small plates and the entrees are $17. The restaurant also serves alcohol, with four draft beers, more than 10 cocktails and 12 wine options.
"We're not trying to reinvent the wheel, we're just trying to polish it," said Matt Rudolph.
"The theme you'll find with some of the cocktails here … is we try to make some things southern,"  said Max Glogau. "It's a wide range."
"We kind of have a few of our own signatures, like the 76 Firebird, however, we're also doing our own renditions of classics, like the Farmer's Tan here is a play on a Manhattan, but we're using a sherry base and scotch."
Currently, the restaurant has 11 people on its staff and is open for dinner five days a week: Thursday through Monday. On Weekdays and Sunday, the restaurant serves dinner from 5 p.m. to 10 p.m and is open during those days beginning at 3 p.m. On Fridays and Saturdays, the restaurant serves food from 5 p.m. until 11 p.m. The restaurant does not currently deliver, but hopes to offer delivery and to be open for weekend brunch by the fall.
Correction: A previous version of this story misstated Matt Rudlph's position at the restaurant and the restaurant's hours.