Crime Blotter: A Home Invasion, An Umbrella Assault & More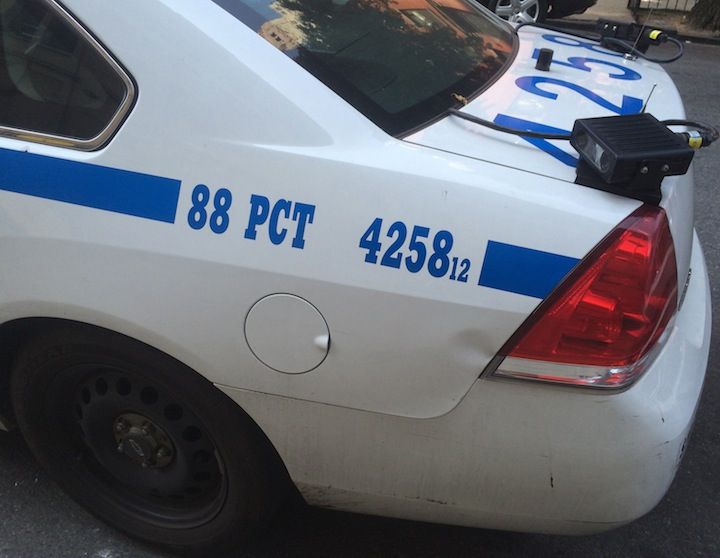 Between July 15 and July 20, 11 felonies and four arrests were reported in the 88th Precinct. More on these crimes below.
Rainy Day Rage
Police arrested James Lydon for allegedly snatching an umbrella from a man as he was leaving the Clinton-Washington G train station–and then hitting him with it–on July 15. Lydon is charged with menacing, petit larceny, criminal possession of stolen property, criminal possession of a weapon, attempted assault, and harassment, according to the Kings County District Attorney's office.
Other Assaults
Police arrested Shakeem Wright July 18 for allegedly choking and punching his girlfriend on July 1. Wright is charged with strangulation, assault, menacing, criminal obstruction of breathing or blood circulation, criminal possession of a weapon, attempted assault, and harassment, says the DA.
Police arrested Linda Hicks for allegedly throwing a garbage can at a man, cutting him on the hand, outside the Crown Fried Chicken at 963 Fulton Street on July 19. Hicks is charged with assault in the third degree, menacing, criminal possession of a weapon, attempted assault, and harassment, says the DA.
Cops say a man hit a woman on the head with a metal pipe July 20 in front of her home on Carlton Avenue near Park Avenue. The victim was treated for cuts to her head and face.
Thefts & Break Ins
A thief broke into a man's house on Greene Avenue near Grand Avenue and held him up at gunpoint on July 14 at noon. The victim told police the perp ordered him to  "Gimme what you got," then stole $120 in cash.
Two laptops, a camera, headphones, and a necklace were stolen from a woman's apartment on Classon and Park Avenues during the day on July 16.
Two laptops, a bike, and jewelry were stolen from an apartment on Washington Avenue near Greene Avenue on July 18.
Two perps struck a man on the back of his head while he was walking on Lafayette Avenue near Classon Avenue at around 10pm on July 18, then robbed him of his iPhone and backpack.
Someone smashed the passenger side window of a car parked on North Elliott Place near Flushing Avenue July 15, making off with a radio and an iPod.
Motorcycle and Car Thefts
A man parked his motorcycle in front of his house on Hall Street near Myrtle Avenue at 4 am on July 18, discovering it missing upon his return at 11:30pm.
A woman told police she parked her 2000 Volvo on Fulton Street near South Portland Avenue at 9 pm on July 19, discovering it missing two hours later. Police say that video surveillance from a nearby restaurant shows three men getting into the car at 9:30 pm and driving off.