Court Tree Gallery Grows In Brooklyn
SUNSET PARK – Carroll Gardens' Court Tree Gallery is expanding. On Friday evening, the gallery debuted its second space at Industry City's Innovation Alley.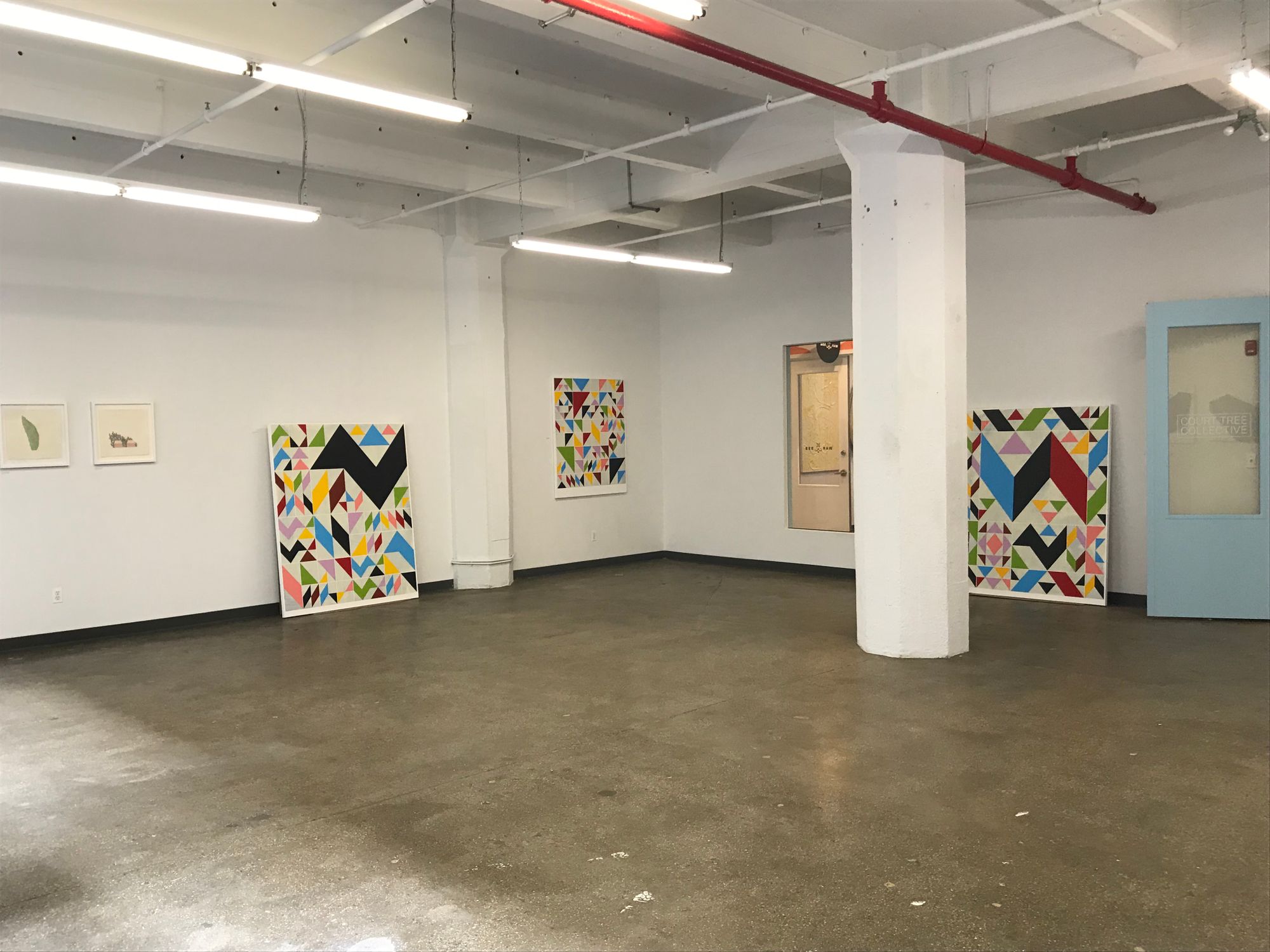 "We just found out that we were going to have this space on Monday," gallery owner Stephen Lipuma told Bklyner the day after the opening party. "We pulled everything together in less than a week."
Lipuma, a photographer, and his wife Amy Ng, a graphic designer, opened the original Court Tree Gallery at 371 Court Street in 2013. "My wife and I decided to combine our passions. Her passion is food and mine is art," he explained. Ng's father is a chef and she grew up with a love of food and cooking.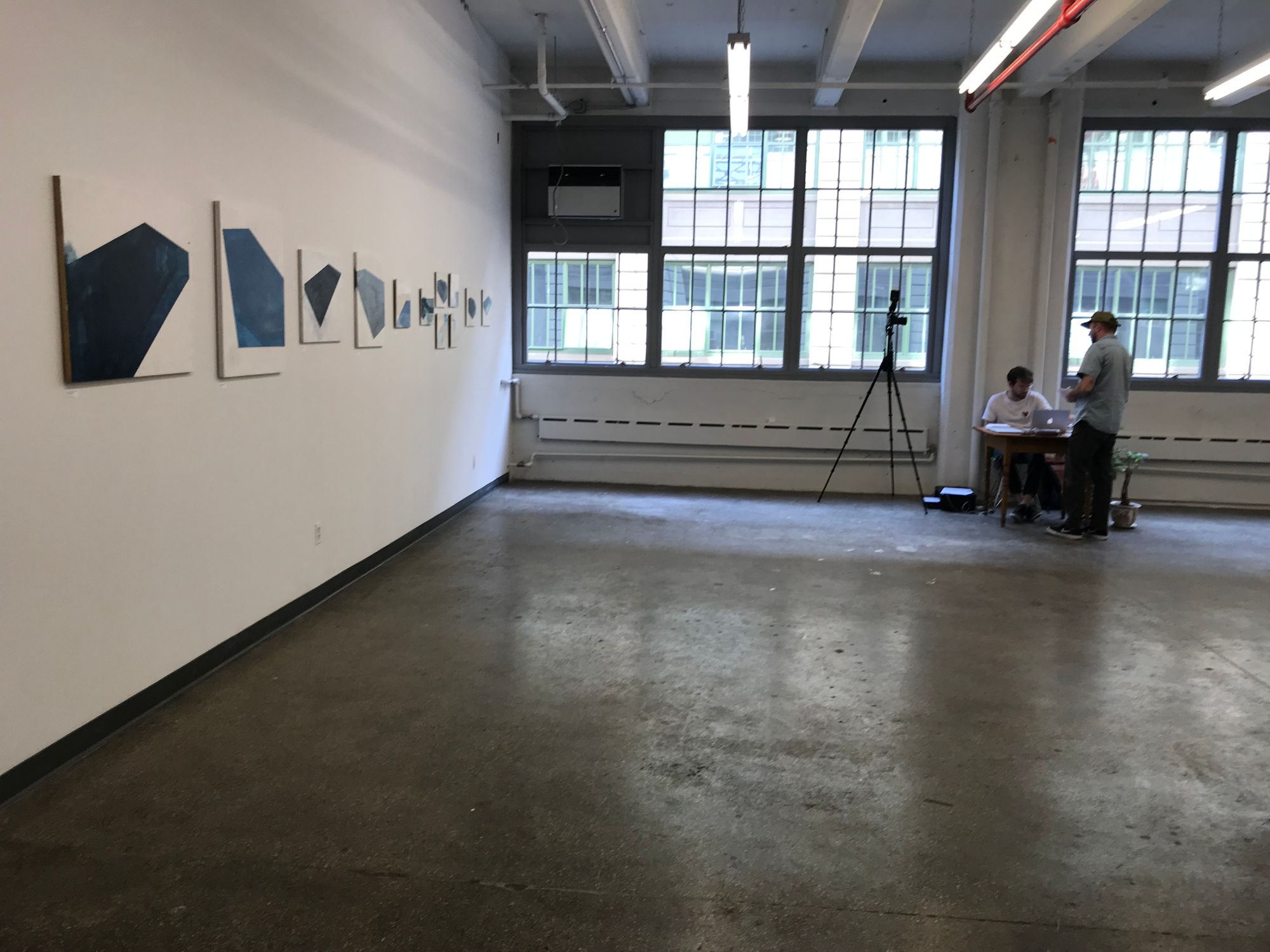 "We got lucky. Right across the street from where we were living at the time, there was this space," he said of their first gallery. "It had a kitchen and it already had the gallery lights in there. Right before we got it, it was a salon. The lighting was exactly what we needed."
The couple used the space to host dining pop-ups and art exhibitions. "In the beginning we were turning the gallery into a Cantonese pop-up, like a Hong Kong noodle shop. It was amazing," Lipuma recalled. Shortly after opening the space, the couple had a baby and Ng began devoting more of her time to their daughter. Working with other chefs, Court Tree continued hosting pop-up dinners, and focused more on art exhibits. The gallery currently represents more than 20 artists, many of whom are based in Brooklyn.
Court Tree Gallery's inaugural show at its new Sunset Park location features three local artists: Christian Nguyen who works nearby on 44th Street; Blanca Guerrero who works in Gowanus; and Jung Eun Park, the recent winner of Court Tree's first open call show currently on view at the Carroll Gardens space. Her intricate embroidered pieces prevailed over nearly 100 submissions for the gallery's The Great Paper Show.
"We had our first open call for the Paper Show. We had almost 100 submissions. We narrowed it down to 30 and then we picked one winner," Lipuma explained. Court Tree will represent Park for one year and present a solo show of her work in 2020.
"We really want to focus this space on local artists as much as we can…[and] artisan workshops," Lipuma said of the new location. "We're going to focus more on art workshops and have more of a selection of work at this location. It might take a little bit of time to get everything organized, but there are so many creatives in this lot that I'm sure we can collaborate with them."
When asked what he likes best about Industry City, Lipuma replied, "It's the people. There are so many like-minded creatives. I can't wait to keep the ball rolling and find ways to have people work together."
Lipuma's family moved from Carroll Gardens to Sunset Park about three years ago. They visit Industry City often for their morning coffee, lunch, or activities with their daughter. During lunch at Japan Village four months ago, a man saw the Grateful Dead t-shirt Lipuma was wearing and started a conversation with him about music. The man turned out to be Jim Somoza, Director of Development of Industry City.
The two men would continue to run into each other at the complex and chat. Then last Monday, Lipuma said Somoza offered him the pop-up space on the second floor of Building 5. Lipuma and his wife had been thinking about expanding the business for a while, as a way to "refresh things a little bit," so when this unexpected opportunity came up, he did not hesitate. "It's amazing. I'm still pinching myself," he said.
Court Tree Gallery's current exhibition in Sunset Park, I Sink Into The Blue, will run through October 11 and The Great Paper Show will be on view in Carroll Gardens through October 12. Artist Blanca Guerrero (currently featured in Sunset Park) will have a solo exhibition at the Carroll Gardens' gallery opening on November 2.
As for the next show at Industry City? "It's so new, we're going to figure it out," Lipuma said laughing.
Court Tree Gallery
371 Court Street (between Carroll Street & 1st Place), Second Floor, Carroll Gardens
Hours: Saturdays 12pm to 6pm or by appointment
Industry City, Building 5, Innovation Alley, 67 35th Street (between 2nd & 3rd Avenues), Second Floor, Sunset Park
Hours: Thursday-Sunday, 11am to 6pm