Councilmembers Rally Around Effort To Landmark Riegelmann Boardwalk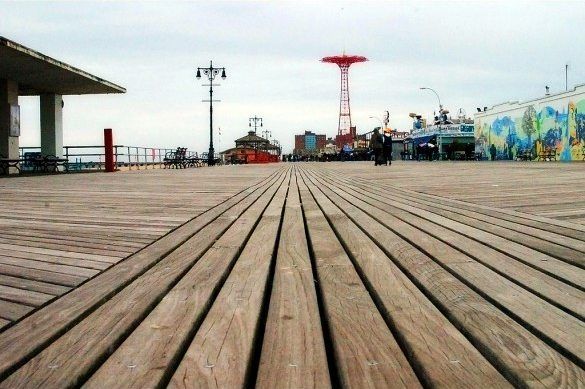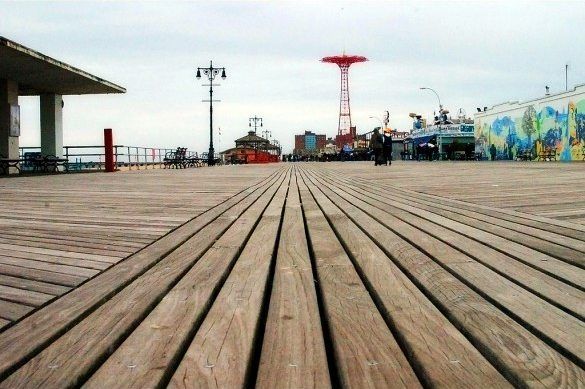 City councilmembers are pushing back against the effort to rip up parts of Coney Island's Reigelmann Boardwalk and replace the wood planks with recycled materials and concrete.
All but one of the council's 50 active members have signed on to support a resolution introduced by councilmen Mark Treyger and Chaim Deutsch requesting the boardwalk be designated a scenic landmark.
"The Boardwalk is one of our community's most precious assets," Treyger said in a press release sent by his office. "This beloved local treasure deserves official status so that its defining structural and aesthetic characteristics are preserved and protected."
The resolution would not grant landmark status to the iconic 93-year-old structure. Instead, it calls on Landmarks Preservation Commission (LPC) to provide the designation, which would recognize the boardwalk as one of the city's historic locations and prevent future changes from being done without a public review.
"The Landmarks Preservation Commission needs to recognize the cultural significance of the boardwalk and preserve its character for future generations," said Deutsch.
Several community leaders and advocates have also argued the wooden planks provide greater protection against storms surges than the new materials. Concrete does not flood waters to drain and increases the risk of beach erosion and flooding during storms, they say. So far the city, has rebuffed requests for a study to look into the advantages of wood versus other materials.
"The Riegelmann Boardwalk is Southern Brooklyn's first line of defense against floodwaters, and keeping it as a wooden structure is important for our resiliency. Our wooden boardwalk has survived many storms, including Hurricane Sandy, with minimal or no damage," said Deutsch.
Public Advocate Letitia James has also thrown her support behind the resolution, as have Comptroller Scott Stringer, Borough President Eric Adams, Congressman Hakeem Jeffries and several state legislators.
"Those classic wooden planks have witnessed New York legends ranging from Fiorello La Guardia and John Lindsay to David Dinkins – as well as millions from around the world who came to visit the greatest city in the world," said Jeffries. "Replacing them now would be akin to knocking down the Empire State or Chrysler Building."
The LPC has already rejected previous requests by Treyger requests to landmark the boardwalk. The commission has argued the structure has been altered too much since its construction to be designated a landmark. However, advocates argue that without the designation, the boardwalk is in danger of losing its character and charm.
Brooklyn already has three scenic landmarks: Prospect Park, Eastern Parkway and Ocean Parkway, the Daily News reports.
"Coney Island's historic Boardwalk is endangered, and if nothing is done, it will soon be transformed into an ugly concrete sidewalk," said Charles Denson, director of the Coney Island History Project. "The Boardwalk needs recognition, care, and respect in order to preserve and protect it."