Councilmembers Laurie Cumbo And Jumaane Williams Arrested Along With Rent Laws Protesters In Albany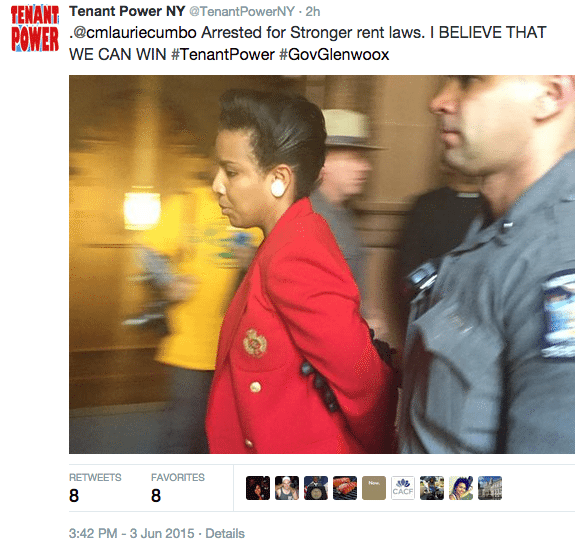 New York State Police arrested dozens of protesters and advocates of rent control laws — including Councilmembers Laurie Cumbo, Jumaane Williams, and Corey Johnson — as they stood outside Governor Andrew Cuomo's office in Albany.
The arrests began just over an hour ago, according to the Twitter feeds of Cumbo and Williams, as well as activists with the Flatbush Tenant Coalition, Make The Road NY, Tenant Power NY, Neighbors Helping Neighbors, and New York Communities For Change.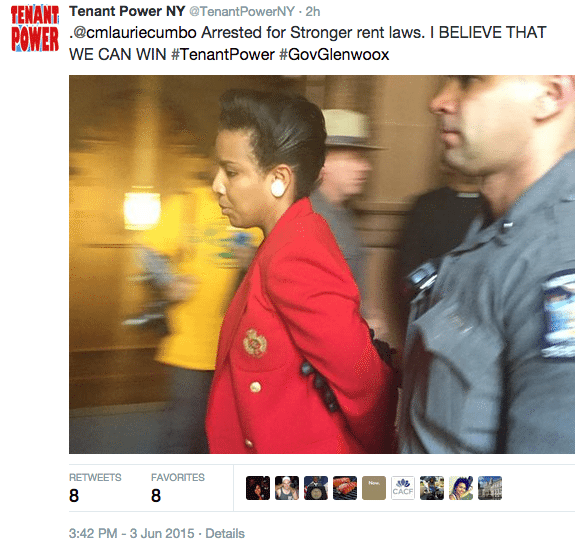 Cumbo's Communications Director, Kristia Beaubrun, confirmed that Cumbo was arrested in an email to us: "At this time, CM Cumbo is in Albany and was arrested while advocating for stronger rent laws."  "I want to make sure that I stood on the right side of history. So I stand with the tenants," Cumbo said to the assembled group of protesters shortly before arrests began.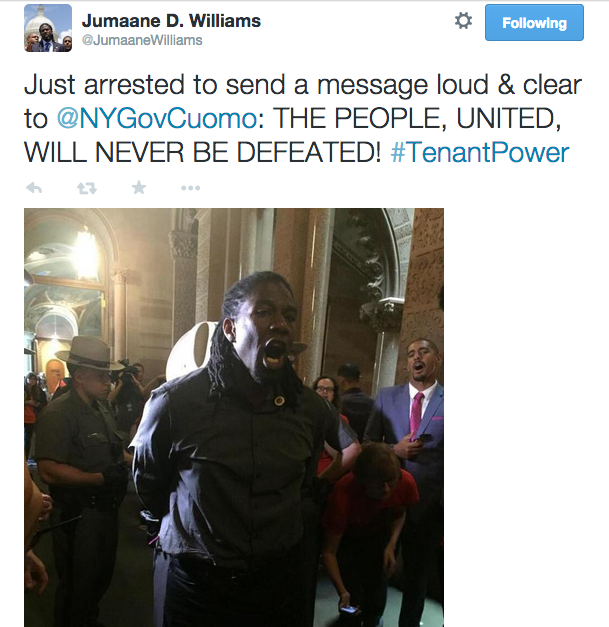 As our sister site, Ditmas Park Corner, noted:
There are numerous issues at stake with these laws, and leaders with the Flatbush Tenant Coalition have repeatedly said that diluted rent laws have caused Flatbush to lose thousands of rent-regulated apartments in recent years (for example, the FTC has cited that Flatbush lost 3,500 rent-regulated units between 2008 and 2011).
With the current rent laws, landlords are able to charge a market rate on rent-regulated units once the rent hits $2,500 and the current tenant vacates the apartment — which, tenant organizers and other neighbors have said, can result in landlords illegally pushing rent-regulated tenants from their homes, including by not conducting necessary repairs to fix everything from ceilings that have caved in to longstanding electrical problems.
Today's rally and protest is just the latest in an increasingly vocal and impassioned movement in support of tenant rights and affordable housing.
Gothamist also noted that  "advocates would also like to see reforms to the Individual Apartment Improvement (IAI) and Major Capital Improvement (MCI) rent increases in regulated apartments. Currently, landlords have the right to permanently increase the rent when individual apartments, or entire apartment buildings, undergo renovations. However, as the deadline approaches, the Post reports that Cuomo has spoken out in favor of extending the current laws with one adjustment: setting the vacancy control threshold at $2,700, rather than $2,500."
Update on 5/4/2015: All 56 lawmakers and tenant advocates were released by 8pm last night and are due back in Albany soon for their court date.
We'll update with more information as it becomes available.